Elisabeth Easther finds this Bay of Plenty farming hub is well worth exploring.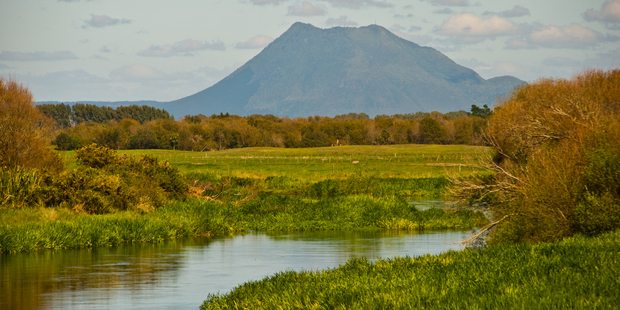 Where is it? In the Bay of Plenty, 15km west of Whakatane, 8km south of the coast, forming the hub to several smaller towns.
Origin of name: Some accounts credit Captain Cook as naming the mountain after Sergeant Edgecumbe, who was along for the ride on the Endeavour in November, 1769. The town kept its name but the mountain had its name officially returned to Putauaki in 1925.
Lovely legend: There's an explosive tale of Mt Putauaki having an affair with neighbouring Whakaari (White Island). One can only imagine the earth would've moved.
Population: 1638 (2013 census).
Town slogan: Heart of the Plains; this describes the town to a T.
Town mascot: There isn't an official one but it could be Mt Putauaki, The landscape sports a bunch of volcanoes from Taupo to White Island.
Shaken to the core: On March 2, 1987, a 6.2 earthquake struck the town and, although there were no direct fatalities, the event rocked Edgecumbe and the rest of the country. The most spectacular effect was a rift 7km long that appeared across the Rangitaiki Plains - the Edgecumbe Fault.
Famous locals: Eve Rimmer, the famous paralympian. The town is also very proud of Leo Simpson, who came 4th in the Isle of Man Junior TT motorcycle race in 1954.
Locally famous: Jonny Arbuckle and his saxophone.
Best website: Edgecumbe has a very helpful Facebook page.
Big business: Fruit and milk. Fonterra's dairy factory is a major employer, ditto Eastpak, the kiwifruit packing people.
Source of pride: The community spirit. Edgecumbe is filled with service groups from Blue Light Youth to the volunteer fire brigade, the ladies at the op-shop, the sports coaches and the people who run Edit (Edgecumbe Development and Improvement Team), to name a few.
Big events: The Lions hold a Paddy's Market every year, there's the Blue Light Christmas in the Park and Thornton, five minutes away, throws the Rangitaiki River Festival every year.
Here for a short time? Walk alongside the Rangitaiki River or visit the skate park. Edgecumbe has a laundromat, takeaways, supermarket, cafe, service station, chemist, ATM, a $2 store and a hair salon, making it a great service town for both motorhome and caravan holidays.
Best reason to stop: To impress your friends by telling them you've been to Edgecumbe.
Best place to take the kids: The skate park is really cool; a fitness circuit is coming soon.
Best park: Edgecumbe Domain has sports fields and a really good go-kart club with regular racing events, although you'll need to bring your own wheels if you want to race.
Best walks: The 2.7km Rangitaiki River Walkway (an Edit initiative) is lovely. You used to have to walk through fields of cows and climb over fences but now it's sectioned off. It follows the embankment and has access to the river. Also, nearby Lathams Track near Awakeri on SH30, (five minutes' drive from Edgecumbe). Don sturdy shoes and climb through bush for about 45 minutes to admire the view across the plains and over to the sea.
Best view: Unless you want to climb Mt Putauaki, the outlook from Latham's Track is stunning.
Best place to pull over: Everywhere from Awakeri to Edgecumbe offers beautiful views of Mt Putauaki. You don't even need to get out of your vehicle. Or head to Thornton for views of Whale (Moutohora) and White (Whakaari) Islands.
Best swim: Thornton Beach and Thornton River Mouth. Thornton also has an awesome motor camp with huts and camping. Or go to Awakeri Hot Springs where you'll also find cabins and tent sites.
Best museum: Nearby Whakatane has a super museum.
Best shop: The local op-shop is a beauty - some people saying you'll find the best-value second-hand gear in the Bay of Plenty there.
Best choir: Edgecumbe Choir is a community-based secular singing group performing everything from 17th century to contemporary pop songs.
Tops for coffee: Vee's Coffee House is open Monday to Friday or, in the weekends, drop in to The Red Barn Bakery between Thornton and Whakatane where they also sell interesting bits and pieces.
Best icecream: Blueberry Corner in Thornton does the best berry icecreams in waffle cones as well as delicious home baking and coffee. They employ loads of local people to pick blueberries, strawberries and raspberries and they sell frozen berries, too.
Out for dinner: The Cosmopolitan Club does meals on Friday nights and it's a great place to meet the locals.
Wet your whistle: Edgecumbe Plains Hotel or the Cosmopolitan Club are where to go for a pint.
Best mountain biking: Onepu Community Park, 10 minutes from Edgecumbe, has wetlands and mountain biking. It's no surprise it won the Supreme Award at the second annual Trustpower Whakatane District Community Awards.
Best adventure: The Amazing Maize 'n Maze and, if you like a bit of a fright, take a walk through the haunted horror maze.
Best-kept secret: Braemar Springs. Ask a local to point you in the right direction. You'll drive into the bush, park the car, walk down the track to find a freezing cold pool, the water like ice. Defibrillation by nature.
Hook, line and sinker: Fishing is big here, for kahawai and flounder, or trout in the river, whitebaiting when it's the season too. Or try your luck off Thornton Wharf.
When a local has visitors staying: They take them to the hot pools at Awakeri, Thornton for fishing, Matata for the lovely beach, quirky shops, pub and fish and chips too.
The neat thing about Edgecumbe: Drive five to 10 minutes in any direction and you'll find something beautiful and free.
Locals say: Watch this space. Edgecumbe is on the up and up.
Visitors say: Who knew Edgecumbe was so awesome?
Thanks to Kathryn Davis for shedding some light on this beautiful region.