Penny Lewis and family escape to an island paradise and revel in all it has to offer.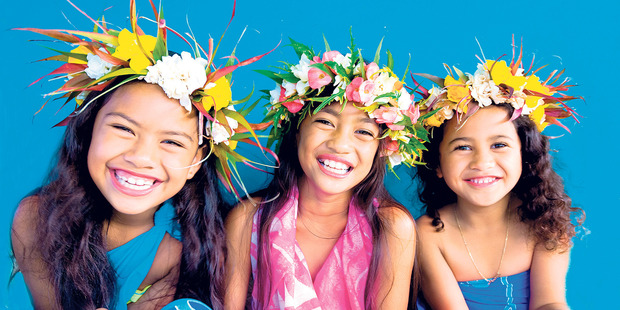 Going through Customs and Immigration when you arrive in any country is always a serious business, given the number of authority figures in an airport terminal. But there are exceptions, as my family found out when we made our first trip to Rarotonga.
After collecting our suitcases, we headed towards the exit, relishing the thought of holiday freedom. But first, we had to talk to the Customs man. After asking us questions about any illegal quantities of alcohol, cigarettes and cash we might have in our possession and our "no, no and no" answers, he asked us "are you on the right island?" We all had a laugh about that one.
The Customs man set the scene for our impressions of the Cook Islands - Rarotongans are friendly, have a great sense of humour and fun, but they're very much in charge of their own island, despite the fact they're obliged to travel on New Zealand passports and use New Zealand currency.
Because the seven great waka carrying the ancestors of New Zealand Maori came from these islands circa 1350, there is a comforting familiarity about Cook Islands Maori culture for New Zealanders.
Don't expect to see fast-food brands or large international hotel chains here, though. When you come to Rarotonga, you're visiting the capital and largest of the Cooks' 15 islands, not a generic tourist resort bubble with Big Macs and mass-produced souvenirs. Perhaps this is because only Cook Islanders can own land in the Cook Islands - everyone else can lease land for up to 60 years, but that's it.
And what a land it is. Being able to get out and about, thanks to a rental car and an easy 32km coastal road that encircles the island, meant plenty to see and do for Michael and me, plus our two primary school-aged daughters, Nina and Eva.
With a speed limit of 50km/h and no traffic lights, it's a relaxed pace. A host of tourist activities, plus an azure-blue safe reef, tropical fish and snorkelling, meant the girls were never at a loss for fun.
Our accommodation for the holiday was split in two. The first three nights' base was a three-bedroom beachfront villa at Edgewater Resort & Spa, a 40-year-old complex only a few minutes' drive west from the airport at Avarua.
Our villa was enormous and only a few steps from the sand and sea although, inexplicably, the washing machine and laundry tub on our balcony had the best view of the water. Not that it mattered a jot, because most of our time was spent snorkelling in what felt like the most sheltered part of the island, or by the pool, where our girls spent hours when they weren't learning about coconut trees and making floral garlands at Coconuts Kids' Club.
We heard from Sheryl John at the Whale and Wildlife Centre that Edgewater is the best place to see whales when they visit to breed.
"Because Edgewater has such a long beach frontage you get to see so much of the whales who swim just off the edge of the reef," Sheryl said.
"Someone told me she saw whales every day at breakfast when she stayed there."
The second half of the trip was enjoyed at a two-bedroom beachfront serviced apartment at Moana Sands on the southern side of the island, directly opposite Wigmore's supermarket. As well as this impressive complex of six apartments, there is also the Moana Sands Hotel, a few minutes' drive away heading towards Muri Beach.
The location of our apartment was great. As well as the supermarket and ATMs directly across the road, right next to us was Coco Latte cafe, where we breakfasted on a couple of mornings. Its neighbours are a gift shop and day spa.
A couple of minutes' walk down the road is Vaima Restaurant where we enjoyed two dinners, one of which was on Nina's 10th birthday. Also dining there that night was All Black Jerome Kaino and his wife, Diana. We'd known for a while that Nina shares a birthday with Jerome, so asked the birthday boy for a photo. He was happy to oblige and even came to say goodbye as they left. Thanks Jerome - you really made Nina's day (and her dad's too).
Besides meeting Jerome Kaino, here are some other highlights. It was just the right mix of fun activity, but there was plenty of time to relax. I spent ages just staring at the water and palm trees and also managed to finish two books (sadly, one of them wasn't The Luminaries).
We loved visiting Rarotonga so much, we are already dreaming of a Cook Islands holiday in beautiful Aitutaki.
Captain Tama's Lagoon Cruizes
Muri Beach, ph +682 273 50 or +682 55 002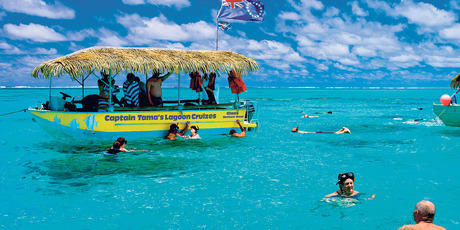 The entertainment starts even before you step foot on one of Captain Tama's glass-bottom boats. Captain Tama's "qualified beach bums" are also talented musicians, and their band NSA, or No Strings Attached, entertains tourists while they wait for others to register at the beachside office. There's also plenty of good-natured banter, led mainly by Captain Chocolate, aka Paraone Brown.
Then, it's all aboard the boats for a trip to the marine reserve and 45 minutes of optional snorkelling, with gear provided. On our boat, Captain Chocolate was the consummate host, informing and entertaining us all the time. His colleague, Captain Cook, a man of fewer words, skippered the boat.
After the snorkelling, we headed to Koromiri Island, just off Muri Beach for a barbecue lunch of yellowfin tuna and salads, followed by more entertainment - we learned more about coconut palms - "the tree of life" and the correct way to tie a pareu (sarong). Keep an eye out for the crew's dog, the gorgeous Caesar, as he treads in the shallows looking for small fish. This endearingly docile rottweiler is great with small children.
Raro Mountain Safari Tours
Ph +682 23 629 or +682 55 639
Besides its beautiful water and beaches, Rarotonga is blessed with picturesque hills and rainforest. The only way to get a 300m-high vantage point is with Raro Safari Tours and its 4WD vehicles.
Our guide Captain Tiko and his colleague Big Mac were full of fun and facts as they drove us around and up the island, including to "the biggest waterfall in the world". This may be have been a comical exaggeration by Captain Tiko, but nevertheless, Papua (Wigmore's) waterfall was still pretty and is said to be the only waterfall in the Cook Islands.
Captain Tiko also drove us past the decaying remains of the never-quite-finished Sheraton resort, explaining to his 10 passengers how 25 years ago, developers wanted to re-route the main road behind the resort and re-shape the lagoon. Thankfully, this plan was never realised.
Tours end with a barbecue lunch at a beach near Avarua before you're returned to your accommodation.
Cook Islands Whale and Wildlife Centre
Back Rd, Atupa, opposite Mike Tavioni carvings
Ph +682 21 666, open Sunday-Friday 10am-4pm and on public holidays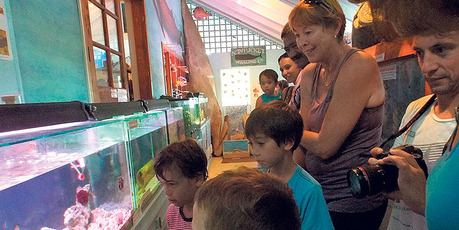 Run by Kiwi Sheryl John and her Welsh husband Huw, the centre isn't a big building, but it's perfectly formed. Packed with exhibits which visitors of all ages are encouraged to handle, it is popular with locals and tourists alike. The inexpensive entry fee is paid once and you can return as many times as you like for a further year at no cost.
Luckily, our attitude towards magnificent whales has changed since the days whale fat was used to power London street lamps. I also learned at the centre that whale oil was still used in Rolls Royce gear boxes until the 1970s.
In a side room at the centre are tanks containing Slitherine the dancing eel, Rocky the stone fish, plus an enormous crab whose name I forget. With food and coffee available, the centre feels more like a community centre than a stuffy institution.
Te Vara Nui Village
Muri Beach, ph +682 24 006
When we arrived at Te Vara Nui, we were greeted by a beautiful Cook Islands woman who presented us with shell necklaces. Later, when our guide George hosted us as part of a village tour, he pointed to black and white photos on the wall of a stunning Cook Islands girl. The photos were in fact of Te Vara herself, the lady we had met on our arrival. She and her family run Te Vara Nui, a professional operation that showcases Cook Islands history and culture, set among incredible gardens.
On Tuesdays, Thursdays and Saturdays you can enjoy over-water night shows and a buffet dinner.
What the kids said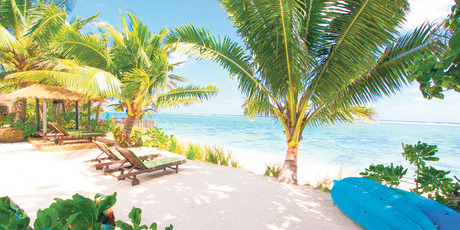 Eva (7)
On Saturday, we went to Rarotonga. It was awesome. We went on Captain Tama's. It was amazing. We went on treddle cats and everyone was looking at us. Nina and I met some new friends. I think it was the best holiday that someone can ever have. We did heaps of swimming in the sea. I made up a poem about the sea. I learned how to open a coconut. Mum said "this is the best holiday ever". We went on a safari up the mountains. On the safari we met heaps of people. They were nice. Nina had to wait for her birthday because Rarotonga is a day behind us. We got a ukulele at a police shop. We went snorkelling at a beach. My favourite thing was snorkelling out in the sea. I loved Rarotonga and
I want to go there again.
Nina (10)
As soon as you get off the plane and step into Rarotonga, a heat wave hits you and you need to take off your jacket. You are welcomed with beautiful leis. As soon as you get out of the airport, your adventure begins. The first place we stayed at was Edgewater.
Edgewater is a good place to stay at during whale season (May to November). You can sit on your balcony and watch the whales play. You can also go down to the activities hut that's next to the pool and borrow snorkelling gear. You have to go snorkelling in Raro, it's absolutely amazing. On Captain Tama's Lagoon Cruizes you go out deeper in the reef in a glass-bottom boat to see lots of fish. At the end there is a fish barbecue.
If you are looking for a place to go for dinner, I would suggest Vaima. I went there for my birthday and it is very good. It is on the beach and you sit on the sand and eat your dinner. If it rains, there are spare tables inside. At the Whale and Wildlife Centre there are lots of facts about whales and other sea creatures. I liked learning about the cookie cutter shark and Rocky the rock fish.
Driver licence changes
Until now, part of the Rarotonga holiday experience has been to queue at the police station to obtain your Cook Islands' driver licence. Recent changes, still being finalised, now mean you will most likely be eligible to use your New Zealand licence, driving the same class of vehicle you're entitled to at home, for up to six months. Check with your travel agent about the rules, especially if you're planning on riding a scooter on holiday and you don't normally at home.
IF YOU GO
Where to stay: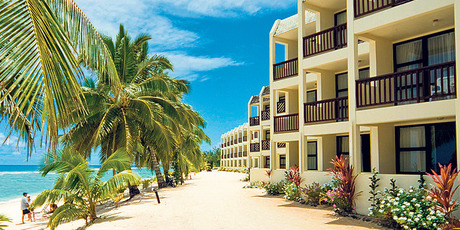 • Edgewater Resort & Spa, 5 minutes' drive anti-clockwise from the airport, ph +682 254 35.
• Moana Sands Beachfront Villas, Vaimaanga, ph +682 261 89.
Where to eat:
• Vaima Restaurant & Bar, ph +682 261 23.
• The Sands Restaurant and Bar, ph +682 261 89.
• Trader Jack's, ph +682 264 64.
• LBV Cafe - Avarua, ph +682 276 19, and Muri Beach, ph +682 286 19.
• Spaghetti House, Edgewater Resort
Where to shop:
• Avarua, on the northern side of the island, is the main hub of shops and services.
• Market browsing at Ara Tapu, Avarua taownship - Punanga Nui Cultural Markets.
• For health and beauty products made from cold-pressed virgin coconut oil - Rito Cook Islands - 150m past the Fruits of Raro on the way to Muri Beach, ph +682 201 34.
• For noni juice - one of the most commonly used herbal medicines in the Pacific Islands. Reported to be good for you, but tastes terrible - Cook Islands Noni Marketing, ph +682 23 666.
• For handmade, hand-painted ukuleles - crafted by prisoners as part of their rehabilitation - visit the local prison's craft shop. The shop is open week days and is straight-forward to visit. You will find the inland road to the prison sign-posted, not far from Edgewater Resort & Spa.
Penny Lewis and family stayed and played in Rarotonga courtesy of Cook Islands Tourism and operators. Cook Islands Tourism also covered Penny's flights on Air New Zealand.