Catering for many tastes requires a juggling act, finds Diana Dobson.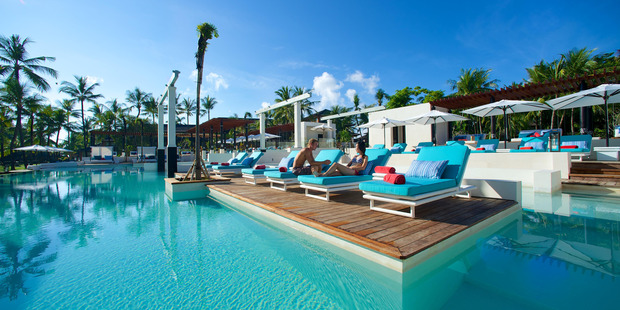 Relaxing poolside at Club Med Bali, it's easy to forget about anything in the outside world. The temperature is perfect, the company ideal and I feel pampered in every way.
I could go on for hours about all that I love about holidays like this but topping the billing is the food. Every meal offers the most divine array of international cuisine all made on site by an army of chefs.
We were met on arrival by the chef de village Belgian Jean Benoit Nisin, who welcomes everyone to his resort. After a day or two here, it is easy to see his friendly, laid-back ethos is woven into his international teams: 24 nationalities are at the Nusa Dua resort - 110 internationals and 300 Balinese locals - who ensure our every wish is taken care of.
The resort is stunning - spacious grassed areas have palm trees for shade and roll down to the white sand and blue ocean. Huts, chairs and loungers are readily available throughout.
The four trident family-friendly and discovery-oriented village in Bali has just had its 27th birthday.
To celebrate, it has received a revamp that includes a Zen pool tucked away for quietness, but still overlooks the ocean. A seafood restaurant and gourmet bar, also overlooking the water, will join it this year.
Club Med Bali is on 16ha so there's no shortage of space for children to play, but there are plans to add a new family space, allowing all to enjoy activities tailored specifically for families.
The Kids' Club caters for 2- to 17-year-olds and the young team running the club quickly become friends with the youngsters, who race to check in daily. A Baby Club Med for those aged 4 to 23 months will soon be launched.
Families are very much at the fore of Club Med Bali; those seeking a little quiet can opt for the child-free areas, pools and restaurants.
Within hours of our arrival, my 10-year-old son has covered the grounds, quickly finding other boys to play with, and scoping out the activities, including archery, tennis, golf, trapeze, soccer and more.
He and his new buddies quickly sign up for a tennis tournament - I don't let on to the other mothers that he's never played before, but it does become apparent very quickly. The lads become a little band of brothers, encouraging each other as the field is whittled down to the final two. Medals are awarded and they head off for a swim.
I head poolside for a cocktail. Most of the staff come from other Club Meds around the world. A subtle peek at name tags quickly tells what languages each speaks. Friendship and fun, though, are international and, despite long days at work, which often shift seamlessly into nights and performances, they all have smiles and kind words at the ready.
Nisin tells me that with sometimes 20-plus nationalities on the guest list, it can be challenging to match the needs and expectations of all.
"Working for Club Med is the best school of life," he says.
"It is such an experience and we meet so many people. It is the best part of my job. I meet people from all over the world and learn about their different cultures."
Head chef Ravin Balhoo has been with Club Med for 23 years. Unsurprisingly, food is his passion.
"I am crazy on cooking," says the man from Mauritius.
Each day, he and his 36-strong team produce cuisine from Japan, China, Indonesia, Korea, Europe, Italy and more. The bread is made daily at the resort, as are the pastries. Only the best of ingredients are used, including some from New Zealand.
Each meal is a treat, and we wander around choosing delicacies from all over the globe - sushi, frog legs, gorgeous fresh-but-dainty salads and fruits and cheeses.
The fussy child declares the crepes the best ever and lives on them for our entire stay. Many of the families we meet are return visitors and it becomes an annual reunion for the children.
I learn to relax and let my son join the crew. The outside bar has special raised steps for the children to order their favourite mocktail. Their energy means they know the complete layout of the resort within hours and, while hard to keep up with, are safe and have lots of fun.
The daily meet-up at the trapeze and circus school area is quickly established. It's a beautiful spot under tall palm trees with a gentle sea breeze. Everyone celebrates each other's successes as tricks and flips are mastered.
The lawn stretches down to the beach where we can see local fishermen at work. A short walk to a nearby market is a fun outing and we return with pretty beach dresses, handbags, T-shirts and other souvenirs.
Our accommodation is comfortable and cool. The expansive ponds near the covered walkways shelter giant monitor lizards and beautiful birds - it's easy to spend a lot longer than necessary getting from point A to B ... but then, who cares? We're on holiday.
Bali is a year-round destination but it's best to avoid the high humidity of December through to March. Mid-June to mid-September is the ideal time.
Bali escape
Escape to the sun and relax around Club Med Bali's new chic adults-only Zen pool while the kids are entertained at Kids' Club. Take advantage of an early booking bonus and save up to 40 per cent. Kids under four stay free.
Stay for seven nights, all-inclusive, at Club Med Bali starting from $1040*. Deal includes; accommodation, all meals, snacks, open bar, evening entertainment and a range of activities. Flights and transfers not included.
* Book by September 18, 2014. Offer is subject to availability. Flights and transfers not included. Blackout dates may apply and price may change without notice. Travel period: November 1, 2014 - April 30 2015.
Diana Dobson was a guest of Club Med Bali.