Elisabeth Easther took a quirky rail trip and has been singing the little engines' praises ever since.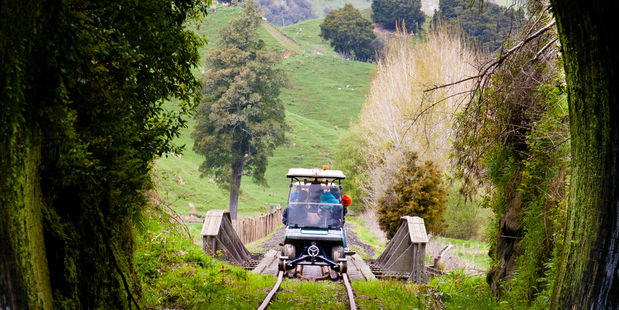 Ever since we discovered people could pilot golf carts along disused rail lines between Stratford and Taumarunui, my son and I had been eager to give it a whirl.
Forgotten World Adventures, the brainchild of Ian Balme, recently won some big prizes at the Ruapehu Tourism Awards, which is hardly surprising, as this is a brilliantly novel enterprise that visitors, young and old, will love.
Yes, it's always a bit of a risk when one's expectations are high, but this adventure was even fruitier and more fun than we'd hoped. Forgotten World Adventures have options ranging from half day to two-day tours, so there's a trip for every timetable and taste.
To ensure we were ready for our early morning start, we spent the night at The Railway Cottage Studio in the Taumarunui suburb known as Sunshine.
Run by the affable Wendy, our home was stylish and cosy with pretty views across to the river. The help-yourself catering and a swag of drink options made rising early a piece of cake.
Arriving at FWA HQ, we were whisked by our hosts Ian and Maree from Taumarunui to Whangamomona to embark on the full-day Twenty Tunnel Tour. We travelled through quintessentially Kiwi countryside, all dense green bush and narrow winding roads arriving in a little over an hour in the deliriously quaint, one-horse town of Whangamomona.
Where? You might ask. Good question. Whangamomona is 90km from Taumarunui, or 60km from Stratford. Not only is the name fun to say, the town is also a republic. Back in 1979, when the area was being rezoned this little town looked set to be handed over to the Manawatu District (long story). So the locals declared it a republic instead.
Past presidents have included a dog, a Czech backpacker and a goat, who enjoyed a couple of terms before dying in office.
We mustered at the local hotel, an old-style county pub filled with artefacts, photos and yellowed clippings reflecting the town's lively past. The new owners run it with relish, caring for overnight guests and those who are just passing through.
We were given the safety briefing while we fuelled up on muffins and excellent coffee.
"There's the accelerator, the brake's the pedal with 'stop' written on it, maintain a respectful following distance of 30-50 metres and don't steer unless you want to go off the rails."
With a top speed of 20km an hour, our vehicles were in little danger of getting speed wobbles. Instead of brake lights, when slowing, driver and passenger needed to indicate deceleration by flapping an arm each out the side of the cart - which made me think of albatrosses in flight.
The day is about seven hours long, includes morning and afternoon tea, a hearty lunch and plenty of comfort stops in rustic, picturesque places. Guide Maree proved an excellent host, informative and passionate about the area's heritage.
The countryside, dotted with dilapidated houses and falling down farm buildings, gave a strong sense of the area's formerly lively nature, a history that has quietly fallen away. It's staggering to imagine how built-up and bustling these settlements were: the guidebook in the glove box is filled with interesting facts and figures about the boom times.
Trundling along the tracks in our carts, we traversed lichen covered bridges spanning rivers and streams. We penetrated tunnels ranging from 55m to 1500m long and we couldn't get enough of the livestock. Alpacas, an emu, a hedgehog, turkeys, cattle, goats, the odd deer and, if you peeled your eyes, you could find fossils of the creatures that had come before. A flock of more than 1000 sheep, mustered by two women on horseback and six hard-working dogs, was an extraordinary sight.
Rail travel has always been romantic. It gives travellers the sense of being behind the scenes, beyond the main road; but to pilot one's own engine along the tracks, among the elements, is even more fabulous.
Thus it's no surprise the region is experiencing a spike in visitor numbers thanks to the legions of tourists who come to ride the rails - and the cycle paths too.
Trips run from October to May. If the weather isn't great, simply roll the plastic sides of the cart down, wrap yourself in the rug provided and carry on. There are plenty of accommodation options if you choose to do the two-day trip and visitors can bunk down in everything from an old prison to a farm house, depends what tickles your fancy. And regardless of your fitness or health, anyone can ride these trains.
Now is the perfect time to plan for this school holidays or next spring's holiday. Our own advice is to dress warmly, just in case, keep your camera handy, as there is so much to marvel at. And prepare to suffer sore cheeks from excessive smiling.
NEED TO KNOW
Forgotten World Adventures: Choose between the Rail and River Run, The Republic Rail Picnic, The Twenty Tunnel Tour or The Ultimate. Simply fabulous.
The Railway Cottage Studio: Cosy, well appointed and elegant. Great views too.
Elisabeth Easther and her son were guests of Visit Ruapehu.