Megan Singleton gets glamour tips from Emirates' cabin crew.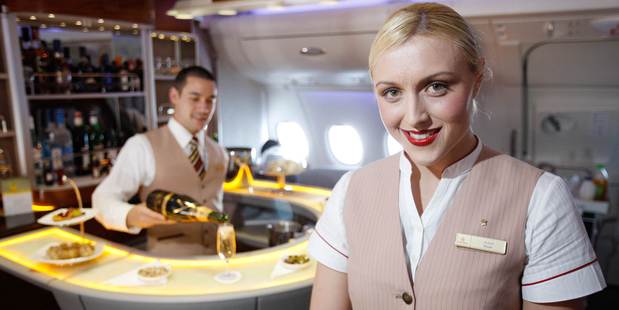 When in Dubai, do as the Emiratis do. And so it was that I found myself sitting in a class with newbie Emirates Airline crew members learning about the effects of flying on the skin.
Low humidity leads to dehydration, dry eyes and dry skin. (And it makes my hair behave.) But if I flew too often, I'd be needing remedial attention, so here's what they teach you at flight school.
1. Maybe it's apocryphal, but it sounds true
They say that for every night you fall into bed with your makeup on you age your face 14 days. So no matter how jetlagged or exhausted you may be, at least get some facial wipes and get that stuff off. Here's how Emirates crew members create their perfect looks.
2. Dehydration causes wrinkles
Nothing makes you look more like an anti-ageing cream "before" picture with each passing day than hours and hours of dry air sucking the life out of your skin.
Moisturise before you fly and carry a small (under 100ml) bottle to reapply halfway through your flight.
3. Drinking water really helps
Drinking water really helps. The general rule is to drink 500ml per hour of flying. Pack an empty bottle into your carry on luggage so you can get through x-ray and scanning un-accosted, and fill it up airside or on the plane. Laying off the alcohol, tea and coffee is also a good idea.
4. Eye drops are your best friend
I always carry a bottle and strive for sparkling movie-star whites on a daily basis. But they are also soothing in dry conditions. Not only will you not look shattered on arrival, but the itchy, red dryness will be gone.
5. Low cabin pressure can cause swelling and possible DVT
Avoid this by wearing comfy loose-fitting clothes clothes (ever wondered why they give out pyjamas in some business classes?). Try to go for a walk every hour or two and be sure to stretch your legs, twirl your ankles and lift your heels off the floor regularly. And change into slippers.