Lifelong animal agnostic Louise Richardson discovers her inner Noah at Australia Zoo.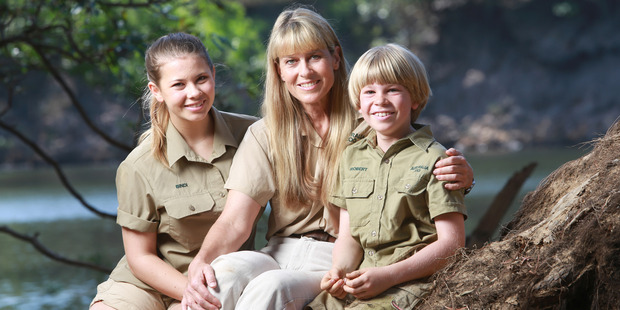 I've never been an animal lover. I'm fond of our tortoiseshell tabby Brutus, and chat with her constantly but rarely pat her. So the prospect of spending a whole day at the zoo without my kids has me feeling a little underwhelmed. My Damascene conversion comes at Australia Zoo.
I feel like the Queen sitting beside my guide, Alex, in a golf buggy, sailing past the people on foot. Our first appointment is with Michelle, a guide at the zoo's state-of-the-art animal hospital.
"This was the last major project before Steve Irwin died," she says.
"He'd built it in honour of his mum, Lyn, and it really helped everyone here to have something positive to focus on."
If the vets think an animal can be saved they'll pull out all the stops. In most cases, it costs about $150, but koalas can run to $1500 each. About 65 animals are admitted every day - with representatives of perhaps 11 different species included - so it soon adds up.
Jack, a dear little wallaby, is scheduled for surgery on his tibia and fibula today. He looks nervous but Michelle says: "He'll soon be hopping around happily again."
Terri Irwin told me about delivering on Steve's dream.
"After we lost him I told the staff that we should continue to do everything as if he was still here."
And that's exactly how it feels. Photos of the loveable larrikin with the huge heart for animals are all around the park and his message is still very clear.
"The animals come first," says Terri firmly.
"If they have a good day, we all have a good day.
"In many ways we are consolidating our work now but there are a few more projects to complete, including building accommodation.
"When the kids and I lie in bed at night and hear animal calls, I can't help thinking how much our visitors would love to have that experience, too."
Louise Richardson meets Jabari the rhinoceros. Photo / Ben Beaden - Australia Zoo
The magic of the place is infectious. The rhino encounter I've been promised for this afternoon sounded utterly scary at first, but now I'm actually getting excited.
The lunchtime show at the famous Crocoseum is loads of fun - even if today's reptilian star proves very disinclined to lunge for the whole chicken he's offered for lunch. Before long, we're back in the golf cart and off on safari.
Steve the rhino keeper hails from Palmerston North, and that feels reassuring. Surely a fellow Kiwi wouldn't dream of exposing a little old lady like me to mortal danger.
I watch the rhinos from a distance for a while. They're pretty relaxed as they laze in the hot afternoon sun. Their dry hides are ochre-coloured but Steve says they'll soon turn greyish-white again when it rains.
He also reminds me that the rhinos are herbivores. If I ever learned that at school I'd forgotten it completely, and I relax more.
Finally the big moment arrives.
We're up close and personal. I pat Jabari's thick hide for a while, and smile a lot.
To be honest, he doesn't seem interested in me at all. I suspect he just thinks that all humans are weird.
Having thought my major animal challenge was over for the day, I'm somewhat taken aback when Alex drives - via the tiger enclosure, where I stroke a big cat through glass - to a pretty, grassy clearing where six keepers await me with their charges. Feeling regal again, I'm introduced to a group of Australian national icons.
There's a crocodile, a koala, a wombat, a cockatiel, an echidna and a very large snake named Phil.
We pose for a group shot. I even hold the croc.
I remind myself that I'm not an animal fan, then commune with the koala and the wombat. I pat the echidna and talk to the cockatiel.
But that snake? Absolutely not. Then ... suddenly: "Ah, what the heck," I hear myself saying boldly to the keeper. "Come on, hand him over."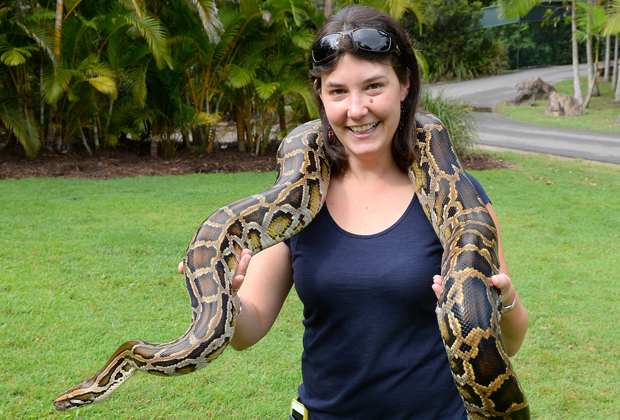 Braving a snake encounter. Photo / Ben Beaden - Australia Zoo
Next thing, 19kg of slithering flesh is draped around my neck - and I'm actually laughing about it. I'm so confident I even wonder about asking for a tiger ride or a quick swim with the crocs - but maybe not today.
Nevertheless, despite feeling well and truly qualified as an animal-lover, from now on I'm still allowing an exception for rats and mice.
Now, I wonder where you buy those jazzy khaki shirts and shorts from? Would they have one in my size?
Australia Zoo has that effect.
CHECKLIST
Getting there: Air New Zealand offers several daily flights into various parts of Queensland that are handy to Beerwah where the zoo is located.
Further information: See australiazoo.com.au.
The writer travelled as a guest of Tourism Australia, Tourism and Events Queensland and Air New Zealand.