After a serve of super-fresh fish, some boutique ale, a snorkel and a scoot around, Ben Chapman-Smith reckons Raro's not so sleepy after all.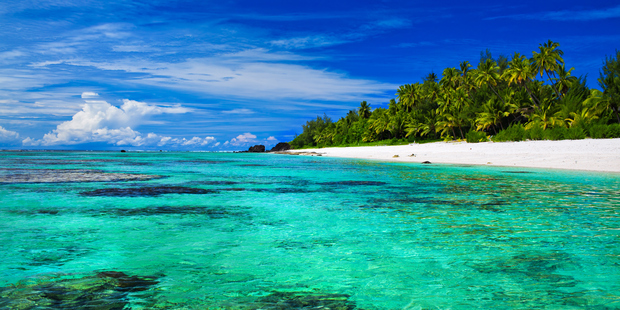 A large store in Avarua, the main town on Rarotonga, urges shoppers to step inside its doors with a simple marketing pitch: "Because there's nowhere else." That sign pretty much sums up Rarotonga - simple and to the point.
And although some people may get bored staying on the island because of a lack of fancy shops or entertainment options, others like me will simply take a deep breath and unwind.
That's not to say there's nothing to do in Rarotonga.
The island may be small but it has a rich culture, great fresh food and stunning natural beauty to enjoy. I hired a scooter and went for a drive to see what I could find. Here are some of the highlights of my week in Raro.
The Mooring Fish Cafe, Avana
Open Mon to Fri: 9.30am-3.30pm; Sunday: 12pm-4pm
This inconspicuous little cafe appears, at first glance, to be little more than a caravan parked up by the water. Tucked away off the main road between Avarua and Muri Beach, The Mooring has established a reputation among locals as one of the best seafood spots on the island.
I'm no stranger to fresh fish, having grown up in a fishing family on the West Coast, but the wahoo, tuna, and mahimahi served at The Mooring blew me away. The secret to this cafe is a local fisherman called Captain Moko, who moors up every morning just metres away. He fillets his catch and hands it over to the chefs at The Mooring. It's a recipe for business success.
Skip the fancy resort restaurants and head to this little gem for its delicious fresh fish sandwiches and salads.
Cruising on a scooter around the island on one particularly sweltering day, I spotted a sign for Matutu Brewery. I drove up the bumpy driveway and within a few minutes was sampling a cold pint of Mai Lager, one of the brewery's boutique labels.
Founder Eric Newnham told me the vats he uses are from the original Tuatara Brewery on the Kapiti Coast. He poured me a large bottle of Mai straight out of the vat which went down a treat later in the day as I sat on the deck.
Both the Mai Lager and Kiva Pale Ale are produced in small batches, then hand-bottled and capped. The leftover grains are given to local farmers. Matutu predominantly sells through the local resorts, cafes and bars. Newnham said competing with the imported beers is pretty tough, so be sure to stop in and support this local business. It's worth it.
Koka Lagoon Cruises, Muri Beach
The daily 3.5 hour tour costs $75 for adults; $35 for children aged 5-11; free for under-5s
Prior to my half-day outing on Koka Lagoon Cruises I had no idea it was possible to scale a coconut tree in under 10 seconds. One of the crew members just happened to be the national champion in this activity.
The cruise started with a leisurely trip to the outer edge of beautiful Muri Lagoon, while the crew entertained us with traditional music. Once anchored, we ogled fish through the glass floor, and then jumped overboard to snorkel among them.
The real highlight for me was the second part of the trip, when we pulled in at a small offshore island for a barbecue. While some of the crew prepared tuna steaks and salad, the others gave us a lesson in coconut-tree climbing.
A young chap called Papa demonstrated his ability by clambering to the top and down again in seven seconds. (I had a crack at it and managed to get 2m up the tree before my soft feet hurt too much.) We then had a lesson in coconut husking, enjoyed a delicious lunch and headed back for a mid-afternoon finish.
Te Vara Nui, Muri Beach
Over-Water Night Show and Dinner - $89 a person, $45 a child
The best way to describe the evening cultural show at Te Vara Nui would be to compare it to a Maori cultural performance for tourists in Rotorua.
The spectacle was rich in dancing, singing, music and legend stories but seemed a little short on authenticity. Nevertheless, the hour-long "Over-Water Night Show" was completely entertaining and a really fun night out. Guests enjoy a buffet meal while being entertained by the band, before the actual show starts at 8.30pm.
It's hard not to enjoy the lightning-fast hip shaking, rhythmic drumming and blazing fire torches, especially with the bar serving up a wide range of cocktails. Guests sit at long communal tables, which means you are forced to meet other tourists. That didn't happen for us because our table neighbour was so drunk she could barely sit up straight.
Te Vara Nui makes the experience an easy one, offering a free pick-up and drop-off service anywhere on the island.
Have fun and ignore the constant reminders from the MC to "like us on Facebook" and "buy more drinks".
CHECKLIST
Getting there: Air New Zealand offers several daily flights to Avarua, the capital of the Cook Islands.
Further information: See cookislands.travel and enjoycookislands.com.