Ever dreamed of seeing France on two wheels? Lynette Eyb provides an overview to help you start planning your cycling adventure.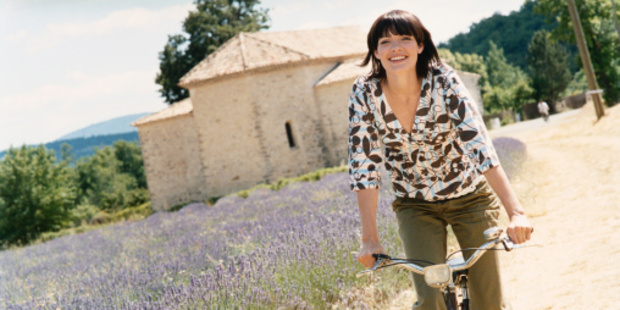 1. Waterway rides
France has fabulous inland waterway rides, with hundreds of kilometres of old railway lines and canal towpaths lovingly restored for cyclists and walkers.
These greenway routes (or "voies vertes") are particularly accessible for families and leisure cyclists who don't fancy themselves as Tour de France stars of the future. One of the best is the Nantes-Brest Canal, which covers 365km through Pays de la Loire and Brittany. It can be cycled in a little over a week, or explored in shorter stretches from a fixed base, such as La Maison du Canal, a family-run B&B on the water's edge.
Find out more: Red Dog Books publishes an excellent Nantes-Brest Canal guidebook.
2. Island escape
For beautiful coastal rides and rugged inland climbs, it has to be Corsica. Still basking in the limelight of its role as the host of the Grand Depart for last year's Tour de France, Corsica is the place to go for a French island holiday.
Find out more: Corsica Cyclist is a local information site geared for cycling tourists.
3. Follow the Tour de France
In world sport's annual travelling circus, 198 riders cycle more than 3000km over three weeks in July. The route, which is only ever loyal to Paris, changes every year, giving ordinary French people the chance to see the peloton whizz by their front door. Forget the controversies and the drugs - this is a truly unique French tradition and we're all invited to the party.
The riders may pass you by in seconds, but the camaraderie you feel on that mountaintop or the taste of the vin rouge you share in a farmer's field as you wait for the riders will stay with you forever.
Find out more: Freewheeling France has advice on following the Tour, including links to organised rides up Tour cols like Ventoux and Alpe d'Huez. Kiwi Style Bike Tours runs trips to the Alps and the Pyrenees, including during Tour time.
4. Wine routes
Bordeaux, Burgundy and the Rhone Valley all have cycling routes that make experiencing France's wine heritage relatively easy, but for the sheer awesomeness of posh chateaux and elegant gardens, it has to be the Loire. For a more intimate experience, head south to Languedoc. Just outside Perpignan you'll find Domaine Treloar, a small Kiwi-owned wine estate that rents its three-bedroom Cellarmaster's House out to visitors. Bike hire can be arranged locally so you can see the sights and explore the vineyards at your own pace.
5. To Paris, with love
Serenade the city of love on two wheels. Paris has one of the world's most successful public bike share schemes, Vélib', which lets you borrow bikes from computerised checkpoints throughout the city. Cycle the Seine or roll past the Eiffel Tower without a care in the world. For rides beyond the city limits, there's the Veloscenic cycleway from Paris to Mont-Saint Michel, the impossibly beautiful island commune off the Normandy coast. Or take in two great cities in one long weekend by following the Avenue Verte from Paris to London.
Find out more: Pop the official guidebook, published by Sustrans, into your pannier before you leave.
GENERAL TIPS
Stock up
Stuff your panniers for Sundays, when nearly all supermarkets shut at 12.30pm (if they ever opened in the first place). An open boulangerie can also be hard to find in small towns. If you're arriving in a village on a Sunday, Monday or public holiday, ask ahead at your hotel to ensure there is food available, as many restaurants will be shut.
Bike hire
Most cities and towns have bike hire outlets, however bike quality varies. Most tour companies and accommodation providers can help you arrange a bike suited to your route.
Vocab survival guide
I've got a puncture. Can you help me fix my tyre?
J'ai un pneu creve. Vous pouvez m'aider a reparer mon pneu, s'il vous plait?
Where is the nearest bike shop?
Ou est le magasin de velos le plus proche?
I think I'm lost. Can you help?
Je pense que je me suis perdu(e). Vous pouvez m'aider, s'il vous plait?
How far is it to the nearest campsite / hotel?
Combien ca fait jusqu' au camping le plus proche / jusqu' a l'hotel le plus proche?
Where's the best place to see the Tour?
Ou est le meilleur endroit pour voir passer le tour?
When will the first riders arrive?
Quand est-ce que les coureurs arriveront?
I'm going for Henderson! Go for it Greg!
Je suis pour Henderson! Vas-y Greg!
Lynette Eyb edits Freewheeling France, an independent information website for cycling in France.