Travelling solo as an older woman has its perils. But don't let that stop you, writes Venetia Sherson.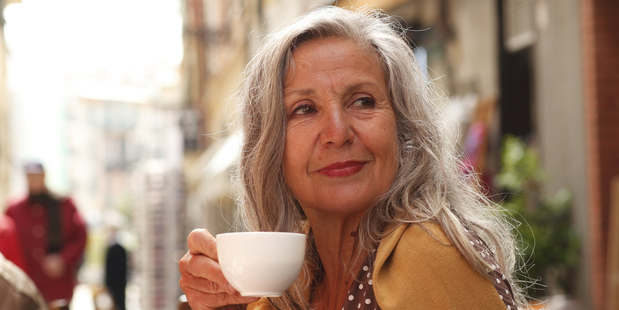 The back streets of Palermo are no place for the timid traveller. The Mafioso killings may have slowed in the Sicilian capital, but street boys riding scooters can pick you clean if you are silly enough to wander away from the watchful eye of the Carabinieri, Italy's national military police.
So sitting at a backstreet bar on my own, at dusk, is not a good idea. The bar is pleasant enough but the owner isn't happy. I ask for a table outside. He brings a carafe and two glasses, looking for my escort. I wave one glass away. Within a minute, a stranger joins me. He asks if I am alone. The bar owner appears again and heated words are exchanged with the intruder. The man slides off, muttering. The owner glares at me. Stupido.
A woman travelling alone is a romantic notion. Eat, Pray, Love has encouraged many single women to travel the world. But with solo travel comes responsibilities. One of those is not to go for an evening stroll down deserted streets where you may be taken for a hooker.
The other is to not put a barman in the awkward position of having to be your minder.
I have travelled alone many times and, as a woman in my 60s, I think I've learned ways to keep myself safe. Thankfully, I have not been robbed, ravaged or seriously conned.
But I have made mistakes that could have proved dire.
In Noto, a pretty city near Syracuse, again in Sicily, I arrived by bus late in the evening. The bus depot was deserted and every other traveller was met by a relative or friend. There was one car in the piazza and a man standing by it.
"Taxi?" he asked. The car was not marked as a cab; there was no illuminated sign on its roof. But I was desperate to get to my bed and breakfast. "Si," I said and gave him the address. Another man appeared from the shadows and got in the passenger seat. My gut said, "Get out now." Instead, I gave the driver the address.
We cruised around the darkened streets, the men talking too fast for me to understand. "How far?" I said in my strongest voice. "Shall I call the owner to get directions?" "Not long," said the driver. We pulled up outside the B&B minutes later. The fare cost 15. My hosts were appalled: the bus terminal was a five-minute walk away.
Only once have I been truly terrified. I was hitch-hiking in Spain as a younger traveller, as one did in those days. I was picked up by two members of the Guardia Civil, the Spanish military police. They were large uniformed men, squeezed into a tiny Fiat. It seemed safe.
One ushered me into the front seat. Because there was no room in the boot, I had my backpack on my lap. We hadn't travelled more than a kilometre when the driver's hand drifted to my thigh. I could feel his gun holster pressed into my hip. At least I think that's what it was.
I shoved my backpack across the driver's body and yelled at the top of my lungs. The car lurched wildly and the guard in the backseat swore. I kept yelling. The driver stopped the car and I scrambled out, shaken, unhurt and much wiser.
I enjoy travelling with company but I also like being on my own. Travelling solo is the ultimate indulgence. You can change your plans without consultation, rest when you want to and walk all day if you feel up to it. It is liberating.
But being ill on your own is no fun. At a remote apartment I rented in Italy, I spent a full 36 hours talking to the big white telephone. The owners lived off-site, I didn't know the neighbours and would have been in deep trouble if the bug hadn't passed quickly. I don't want to be the subject of a headline that says: "Elderly Kiwi woman dead/robbed/mugged."
Solo exploration is one of the best ways to challenge yourself and gain confidence. As a senior, it emboldens you. Just avoid the back streets of Palermo after dark, and never trust a policeman.
Tips for travelling solo
• Thoroughly check all transport arrangements so there is no possibility you will be stranded. Arrive at your destination in daylight.
• Check the fare with the cab driver before you get in their vehicle.
• Go with your gut if something doesn't feel right.
• Stay within sight of other people, day and night.
• Look and act confident.
• Know what the word "no" is in any language.
• Don't wear an expensive watch or handbag when you're touring the streets.
• Carry photocopies of your passport, credit cards and other important documents, and leave copies of your itinerary with family. Make a set time to call home.
• Take a book, Kindle or a journal with you when you eat alone.
• Don't be afraid to yell - loudly.