Louise Richardson finds friendly hosts and ancient Aboriginal remedies on the sustainable side of the Queensland hinterland.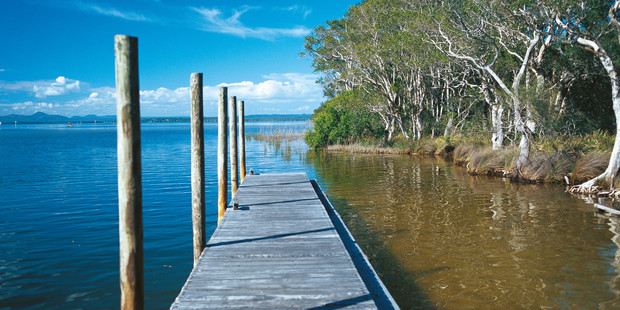 Beyond the Brisbane buzz and the Gold Coast glitz, there's plenty more for Kiwis to discover in Australia's Sunshine State - where a great time partners with a clear conscience to create happy holiday memories.
At Queensland's core, away from the archetypal surf beaches that typically define the region in Kiwi travellers' minds, an admirable dedication to eco-friendly practice is lending a new profile to tourist enterprise.
The hinterland's current catch-cry: "The green beyond the gold" fits perfectly, on many different levels.
Up at Noosa on the Sunshine Coast, world-famous for its legendary annual food and wine festival (it's being held this year from May 15-18), the sand is soft, the water's warm and the atmosphere is one of easy-going holiday fun. But the pristine waters and abundant birdlife reflect a serious commitment to conservation, which has seen Noosa recognised as a biosphere reserve by Unesco.
Ferry captain and guide Andy Rainnie is a former science teacher with a remarkable knowledge of the local land and waterways. He explains how a community approach to decision-making has seen the dynamic river system survive - and thrive - with everything possible being done to ensure its geography and life forms are sustained for future generations, while remaining aesthetically pleasing.
"For many years I hired boats and took my Marine Studies and Biology students on the river to conduct field work," says Andy.
"As soon as I started skippering the ferry I saw a niche for showing the estuary to the general public."
A short bush walk after morning tea on the boat, introduces us to the art of foraging for bush tucker. The native Aboriginal people ate a variety of plants and berries, although, as Andy points out, it took generations of trial and error to discover which ones were toxic.
The adults in our group are intrigued by a plant purported to have contraceptive properties. Even expert Andy doesn't know if it was consumed, applied or inserted, but colourful theories soon run rife.
At the picturesque Glasshouse Mountains, just a short drive from Noosa - and 60 minutes from Brisbane, just past Australia Zoo - sits the Glasshouse Mountains Ecolodge, a charming, eclectic collection of accommodation styles, owned by ex-Brisbane councillor Keith Murray. Victorian railway carriages look right at home beside a pretty little wooden church. Invited to take my pick of sleeping places, I opt for a tiny, exotic, Balinese-style hexagonal house.
Rick and Robyn Mansbridge, the managers, are passionate about the property and for good reason. The lush, sub-tropical orchard is full of fruit, and guests are encouraged to help themselves. Children love playing hide and seek in the bush and Robyn tells me some guests come regularly, by public transport, from the city, simply looking for a few nights of peace and relaxation. Though some of the accommodation options include cooking facilities, there's also a friendly, well-equipped communal kitchen, which even includes wine - with an honesty box for payment - per glass!
At dusk, Rick and Robyn take me to the nearby mountain top from where the view across the hinterland is sublime. Driving back, we stop to buy fresh mangoes from roadside stalls and drop in on Trish, a former Cantabrian who is a now a Glasshouse Mountain legend, regarded locally as the very best jam-maker around!
My little house is cool and comfortable on this typically steamy Queensland night. When a full-throated avian orchestra signals daybreak it's time to join other guests for the aptly named home-cooked "breakfast with birdsong".
Today I'm heading for Tamborine Mountain, a huge national park based around an ancient volcano. It's a character-filled place in terms of landscape - and locals - and arriving at Cedar Creek Winery and Vineyard I'm delighted to discover that owner John Penglis has invited local personalities Sir Reginald Barnewall, founder of Pacific Airways, and his wife Lady Maureen, to join us for lunch.
Cedar Creek is a busy working winery and a great credit to John, who created Wild Duck Lake himself.
"I did it as penance for the ducks I shot as a young man!" he explains, a little wistfully. A newly built chapel on the lake's shore has already seen its share of local weddings.
Though his wine is certainly good, John is especially proud of the glow worm cave, which he has carefully designed and fitted to maintain a suitable eco-system for its twinkling inhabitants. Man-made, it has all the cool, calm ambiance of a real cave and the aim is to have a self-sufficient glow worm population within. The small insects that sustain the glow worms are currently being bred in a pond system, and Cedar Creek has utilised the skills and input of skilled entomologists and newly graduated environmental scientists to ensure their abode replicates real life as closely as possible.
In contrast, Gallery Walk at the nearby town centre is a delightful conglomeration of arts, crafts, and other distractions.
The fudge and chocolate shops are divinely decadent, the often locally-made giftware is eminently desirable, and everyone I meet is happy to stop and pass the time of day.
Tonight I'm staying at Witches Falls Cottages and after a brief altercation with my mobile phone's GPS I check in and meet owners David and Daniela. He's a former pioneer in North Sea oil platform construction and she's a Swiss girl who only agreed to come to Australia if he promised to find her a mountain to live on. The two of them are good company and their establishment is delightful.
My cottage has a glasshouse-style bathroom, looking out to a private, leafy courtyard - and a very roomy bed.
Breakfast is delivered in a wicker hamper and includes Swiss cheese, ham, fresh orange juice and a loaf of David's famous home-baked bread, made using a secret family recipe. What's more, he knows someone who knew the Swedish blonde immortalised in Leonard Cohen's classic So Long Marianne, and once met the great man himself at a party. I'm truly impressed.
Next morning mine is the first car in the car park at Tamborine Rainforest Skywalk. I love having these sorts of experiences by myself!
The 30 metre-high bridge provides a wonderful means of tiptoeing 300 metres across the treetops, then along a 40-metre cantilevered section. I'm dying to know how this soaring structure was constructed. Not surprisingly, I discover that the planning and approval process was long and arduous. "We really wanted to do everything right," explains Nick Moore, who manages the attraction with his brother Brendan. "Our family had an absolute commitment to the environment, and it took years for us to tick all the various boxes."
The tower columns and walkway sections were pre-fabricated and assembled on site. Not a single tree was sacrificed in the process.
The ancient rainforest sings and sways, historical displays recount early settler life in the region, and much to the owners' delight, the rare Richmond birdwing butterfly is making a welcome come-back around the skywalk area.
Accommodation:
Sheraton Noosa
Glass House Eco Lodge
Witches Falls Cottage
Things to do:
• Take a trip on the Noosa ferry.
• Visit Cedar Creek Estate.
• Check out the Rainforest Skywalk.
The writer travelled as a guest of Tourism Australia.