Cocktail smacks normal over the edge, writes Kelly Lynch.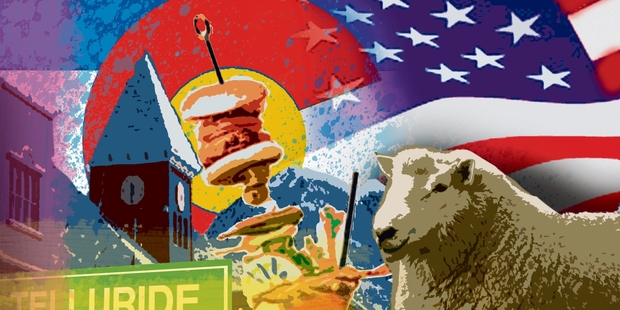 Ten years in the making, Patrick Laguens' take on the world's best-known breakfast cocktail trumps in looks alone. Named a Smak Mary, when served its appearance instantly attracts attention.
It's deep red and served in a chilled hurricane glass, the rim decorated with a slice of lime, lemon, and celery, draped with a streak of bacon. Olives, peppers, a cube of blue cheese, pickled caper berry, and corn threaded on a skewer - and its crowning glory is a Colorado lamb and cheese slider.
The drink delivers a spicy mouthful of beef and tomato followed by a kick - the vodka.
Speaking with a soft southern accent, Laguens jokes, "Vegetarians need not apply. Its beef base is what really sets it apart and, of course, a Colorado lamb slider doesn't hurt."
He later adds there is a vege version.
Laguens is director of food and beverage at Hotel Madeline in Telluride, Colorado, below the towering snowy peaks of the San Juan Mountains.
After training as a chef in Italy, Laguens experimented with ingredients to reinvent the classic Bloody Mary, the result winning him awards.
Last year his efforts morphed into the now famous Smak Mary, named after Hotel Madeline's Smak Bar, in which it's served.
"The bar's theme is to "one-up normal: take normal items and push them over the top".
The elaborate cocktail is an amalgamation of Laguens favourite places - Telluride, where he's lived for the past three years, and New Orleans, his home town.
The fresh veges and meaty elements are very much Colorado-inspired and Louisiana's unique-flavoured McIlhenny's Tabasco gives it its spicy edge.
"The McIlhennys are old friends from home so I use theirs," says Laguens, who is known to pair his dishes with poems: his Smak Mary is paired with Make Believe Ballroom Time by Mark Strand.
Like all good folk in Telluride, Smak Bar staff won't say which celebs have drunk a Smak Mary. It is their discretion that keeps stars such as Tom Cruise, Jerry Seinfeld, Ralph Lauren and Daryl Hannah living here, not only because of the area's stunning natural beauty but because locals respect their privacy.
The first stars to arrive were Butch Cassidy and his three mates, who brazenly rode into town and robbed their first bank in the late 1880s; the stolen loot equates to about $770,000 today.
The bank still stands in Telluride's old town, charmingly trapped in a time warp; the Victorian-style buildings are protected and no more than three storeys high.
Shops and saloons built in the days of miners and cowboys with Western-style facades now operate as boutique shops, selling upmarket cowboy boots, jewellery and antiques.
A free gondola taxis between the old town and neighbouring Mountain Village, close in altitude to Mt Aspiring's summit. Developed only 15 years ago, along with Hotel Madeline, it has ski in/out hotels from which to conveniently access the 125 trails that cross the slopes above.
Whether it's a hangover you want to cure, brunch or apres-ski fix, inside Smak Bar you'll find Laguens entertaining guests with talk of food, wines, poems and serving his striking signature drink.
CHECKLIST
Getting there: Telluride is an hour and 25 minutes' drive from Montrose. Air New Zealand flies direct to Los Angeles and San Francisco five to seven times a week, with connections to Denver and Montrose as well as other US places with partner airlines.
Accommodation: For a top-end stay, Hotel Madeline is located on slope side of Mountain village.
Further information: For more on Colorado see DiscoverAmerica.com and coloradoski.com.
Kelly Lynch travelled courtesy of Colorado Ski Country USA.