Once you've seen the bright lights of The Strip, check out these other great things to see and do in The Silver State.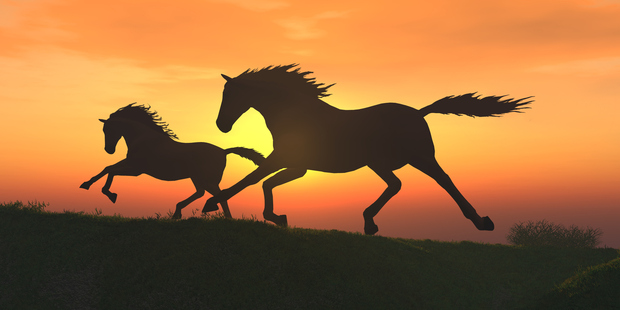 The Great Reno Balloon Race is the world's largest free hot-air balloon event. It attracts specialty balloons in shapes such as Darth Vader and the Energiser Bunny. Held over a weekend in September, every morning about 100 hot-air balloons rise up to take part in the mass ascension as the sun comes up over the Virginia Range.
Nevada's free-roaming Virginia Range herd of wild horses number more than 1400 between Virginia City, Reno and Carson City. Spot them by walking the desert trails east of Reno, or book tours through the Sierra Nevada and Great Basin region to see the horses in their natural habitat.
Many mining towns in Nevada were abandoned in the early 1900s when the mines closed. Two of the best-known ghost towns are Metropolis and Rhyolite. Metropolis has only a few buildings still standing, including the old schoolhouse and hotel/bank. Larger Rhyolite has more buildings and is home to the Goldwell Open Air Museum, an outdoor sculpture park.
State Route 375 is also known as the Extraterrestrial Highway. It is close to the military Area 51 facility, which is famous for its UFOs sightings. Area 52 is reportedly a large military airfield, and the secrecy surrounding it has made it a central component of UFO folklore and conspiracy theories. The small highway town Rachel caters to people searching for UFOs. It has alien-themed billboards, hotels and restaurants.
Hoover Dam is about 48km southeast of Las Vegas and attracts about one million visitors each year. The dam straddles Colorado River and is considered the largest in the world. It was an engineering marvel when it was built in the 1930s to provide water and power to the Southwest. The dam created Lake Mead, where people now enjoy boating, camping and water-skiing.
Venture out of state to the Grand Canyon. It is the world's second-largest canyon (the largest is Tibet's Yarlung Tsangpo Great Canyon) but it is the most famous. It's about 1830m deep and you can only see down into a fraction of the 445km-long canyon, even from the best vantage point. You can walk down into the canyon, fly over it, ride a mule there or raft the Colorado River.
Further information: See DiscoverAmerica.com for more on Nevada or try the 'Trip Tuner' for additional holiday inspiration.