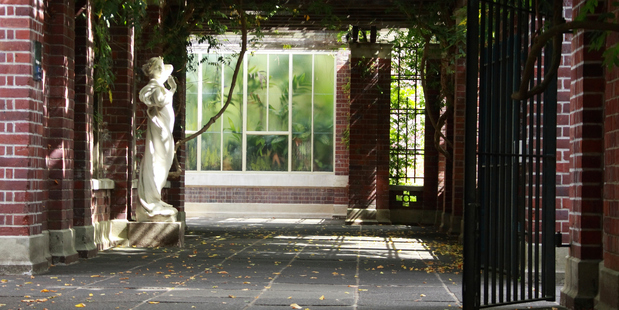 1. Auckland Botanic Gardens
This summer's Sculpture in the Gardens has 23 artists channelling Mother Nature for attention. Collect a free kids' trail map from the visitor centre and learn as you explore the sculptures. Delightfully, plenty are made for climbing. Works are also available to purchase. Check out summer music events and artist talks, too. Sculpture in the Gardens runs until February 2 in Hill Rd, Manurewa. aucklandbotanicgardens.co.nz
2. Auckland Domain
Thanks to a generous body of donors, the Domain is home to artworks made by eight of New Zealand's leading contemporary artists, including Greer Twiss, Charlotte Fisher, Fred Graham and Louise Purvis, who were commissioned to create site-specific works for these locations. More nature, more challenges, and you can stop off for tea at the Kiosk or the Auckland Museum.
Maps from aucklandcouncil.govt.nz (search "public art") or aucklandmuseum.com (search "domain sculpture").
3. Learning Quarter
No, we didn't know it either, but the Learning Quarter circuits Albert Park, the University of Auckland, AUT University and surrounding streets. Twelve small, temporary public art projects by 13 artists are surprising discoveries for walkers, billed as "small-scale interventions that run against the grain or interfere with everyday perceptions". Check aucklandcouncil.govt.nz (search "micro sites").
4. Waterfront trail
Seven works of art, from the stainless steel Michael Parekowhai at Britomart, to the rock structure at Queen Elizabeth Squareand treats such as the Wind Tree and Sounds of Sea interactive artworks that are based on ventilation funnels and speaking tubes used on ships. Scan QR codes on your smartphone to learn more about the art, architecture and history of the area. yourwaterfront.co.nz