Coming of their shell on the beach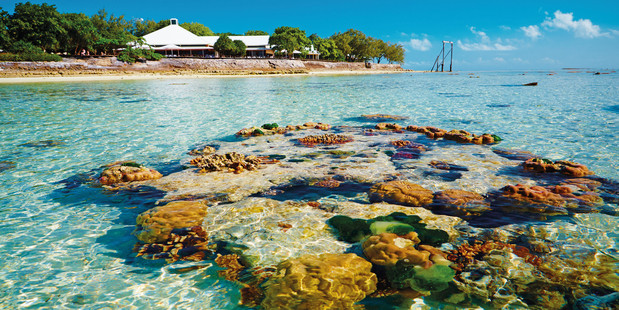 Dawn hasn't yet cracked, it's still night-time chilly and you're on the beach with your camera poised expectantly. Over the ocean, the sun starts to turn the horizon a reddish gold and, as the rays spread, the beach takes on a glow where an almost translucent light hits the beach, the water and the driftwood with a luminescent tobacco hue.
Suddenly, you see the start of the show for which you've roused yourself at this early hour - a massive, flapping half-moon flops out of the ocean and starts to make its way into the sand dunes. First one, then another, then a score more of loggerhead turtles head towards the safety of land to dig their egg-laying holes on Heron Island.
Welcome to just one of the amazing experiences to be had as an explorer of Southern Great Barrier Reef island paradise, less than two hours by launch or 20 minutes by helicopter from Gladstone.
Heron Island is the big daddy of environmental wonders. Situated right on the Reef, Heron is a coral cay. Low tide means you can do a guided tour on to the hard corals with a marine biologist who will uncover all kinds of mysteries - you'll get to play with sea slugs, learn how the innocuous-looking cone shell is home to a deadly sting and begin to appreciate the hugely varied and incredibly diverse world that thrives in this eco-system.
Seeing those big turtles flapping out of the water to lay their eggs is something else - that happens from late November to early March with hatchlings visible from February.
Full moon in November is coral spawning night, so grab a sunset cocktail and give it up for the corals!
Heron's diving and snorkelling really is second to none - with giant sea turtles, magnificent fish and corals, you'll lose yourself in underwater majesty. There's great snorkelling just off the beach, but for really spectacular sights, take a quick tender out to the bombie where you'll come face to face with some beautiful big creatures.
Back on shore, Heron's interpretive activities guides conduct a range of guided walks, hands-on workshops, video and slide-show presentations and telescope sky viewings. Guided walks to watch female turtles nesting or new hatchlings race to the ocean are carefully managed so that the turtles are not disturbed or disoriented.
The island is also a bird sanctuary, home to more than 100,000 birds during nesting season (December and January are peak months). Little buff-banded rails run fearlessly around our feet from the moment we arrive and we're careful not to step into muttonbird nests (burrows in the ground), which dot pathways between the resort's main dining and activity precinct and the resort rooms. Noddy Terns, pretty sooty black and light grey creatures, have the disconcerting habit of scaring the pants off you late at night with their ghostly "whoo whooo".
"The island also provides refuge for many visiting and migratory bird species and a lot of our guests take their bird-watching quite seriously here," according to the nature guide showing us around.
The resort is comfortable and in keeping with the eco ethos of the island. Food's great, facilities are terrific and for the kids, the Junior Rangers Programme is a highlight, nurturing a sense of exploration through nature-based activities from reef walks to beachcombing.
By Julie McGlone