The Man v World host shares his travel memories.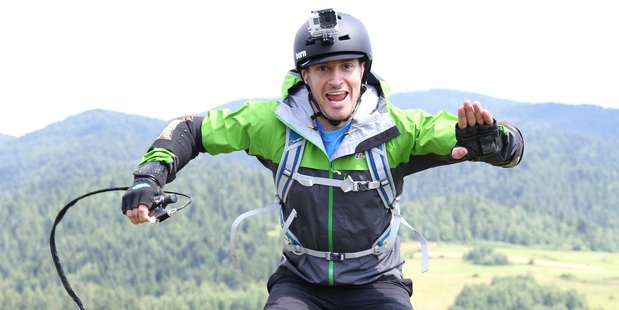 What was your greatest holiday?
A year's trip on the West Coast of North America. It started with a ski season in Whistler and ended with a five-month road trip in a motorhome that my friend and I bought and lived in, driving and surfing the length of the coast from Alaska to Mexico. I like any trip I make to have a basic but highly flexible structure allowing for all kinds of adventures and escapades along the way - most of which would be impossible to plan for anyway.
And the worst?
My worst holiday has to be a cheap package holiday to a Greek island I can't even remember the name of anymore. The island itself was beautiful, but with everything planned out for you it becomes extremely bland and mainly catered for people who were happy to stay in the same place, eating the same food and watching the same TV from back home. Fair enough, but not for me, thanks.
If we bump into you on holiday, what are you most likely to be doing?
Something active. One of the reasons I love to travel to new places is to participate in an event (probably sport-related). I've travelled to new places to race in marathons, triathlons and an ironman. There's something great about being somewhere new but feeling immediately integrated with the people and the surroundings because of a big event taking place.
If we could teleport you to one place in NZ for a week-long holiday, where would it be?
I'm embarrassed to say I've never been to New Zealand, but it's definitely on my list. I love being outdoors and being active and New Zealand has it all. I've been told many times that I'd find my ideal outdoor playground in and around Queenstown and again in Milford Sound. Come on Robbie, get your act together!
How about for a dream holiday internationally?
See above. New Zealand, of course! It has everything.
What's the dumbest thing you've ever done when travelling?
I turned up at the wrong London airport for a flight to New York once. Similarly, I've turned up precisely 24 hours late for another flight to Nice.
What's the best travel tip you've been given?
My best travel tip came from a large American sports manufacturer. It's a simple slogan but it resonates with me: Just do it. It's better to regret something you did than something you didn't. It came in useful a lot during my adventures on Man v World; cliff jumping in Cornwall and bungee jumping in South Africa.
What was the most memorable meal you've had while travelling?
Three things spring to mind:
Food in any small, family-run restaurant in Italy. With fresh and tenderly chosen ingredients, it's always memorable.
On a rally through northwest Africa I lived off tins of tuna in sunflower oil and slices of processed cheese which I'd layer generously in warm flatbreads bought off vendors in the dusty street as I passed through tiny villages. A bit gritty but delicious.
I had my first KFC in Thailand, but that was memorable for entirely different reasons and wasn't very enjoyable.
What's the best thing you've brought back from a trip?
My trusty orange bike on Man v World didn't make the same plane as me when we travelled to South Africa. It got there eventually, thankfully, but it upsets me to think of it stranded on its own somewhere in the world, poor thing.
Favourite airport to land at?
I do love arriving at Geneva airport. I'm very familiar with it as it's my portal into the French Alps.
What's the next trip you've got planned?
My friend and I set ourselves the challenge of completing the world's big five marathon majors in fewer than three hours each and Boston is next on the list. Since committing to this challenge they've added Tokyo to make it six. Thanks, guys, although it would be a brilliant excuse to explore Japan. It's in February so I could combine it with some deep powder skiing. Guess it depends how I feel about more marathon running when I've done the first five.
• Rob Bell hosts Man v World on the Travel Channel, Wednesdays, 8.30pm.