After many visits over 20 years Peter Hamling finds a new attraction in Fiji.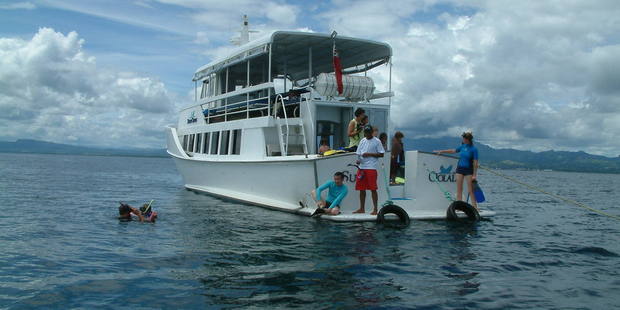 Take an expansive sample of crystal-clear water, add tourists and stir. That's exactly what happens in Fiji every day of the year - but a relatively recent addition to the island nation's visitor attractions takes the enjoyment to a new level.
The day-long experience is based on the Oolala - a very practical and, as it happens, New Zealand-designed vessel that caters for just 65 passengers.
The other part of the equation is a tiny and uninhabited sand cay named Savala, about an hour and a half from Port Denarau, which becomes the base for the day.
But there's one element of this day trip that makes it stand out even more - the friendly and ever-obliging Fijian crew - each of whom has a quite amazing grab-bag of skills that they contribute to ensure the day out is memorable.
Whether its guiding guests for snorkelling, serving morning and afternoon tea, cooking the barbeque lunch, escorting passengers on glass-bottom boat tours, explaining the many uses of the humble coconut, or entertaining with their guitar and ukulele-accompanied singing, it all seems to come so naturally and spontaneously.
Oh, and this is an important bit - they also sail the ship, capably and very safely.
Oolala heaves-to a few hundred metres off Savala for those who want to enjoy the snorkelling - on our day out that seemed to be about 95 per cent of the passengers. For the rest it was a quick transfer ashore and the moment to choose just which palm tree or thatched sunshade to sit under. A libation or two before lunch seemed just right.
"Fiji time" is legendary and things happen when they are ready, not because the hands of the clock - if there were one - are in a certain position.
And so it was, with the option after lunch to experience the stand-up paddle boarding or kayaking, have a swim, see the reefs and underwater life from the glass-bottom boat or just scuttle back under the shade.
All too soon it's time for the return trip to Port Denarau. Even a late-afternoon thunderstorm couldn't spoil that.
The Oolala day trip costs F$200 (NZ$130), a very reasonable price for a great day out.
Hotel tour desks can arrange it for you.
And look what that includes: transfers from your hotel to the port, the cruise, morning and afternoon tea on board, guided snorkelling and the use of the gear, glass-bottom boat tours, kayaking, the BBQ lunch, complimentary wine, beer, soft drinks and bottled water throughout the day ... the only extra and optional costs are for scuba diving and open-air massages while on Savala.
Enticed by the warm waters of the Pacific, what else can the visitor do but enjoy?
CHECKLIST
Getting there: Fiji Airways flies daily to Nadi.
Further information: See storckcruises.com.