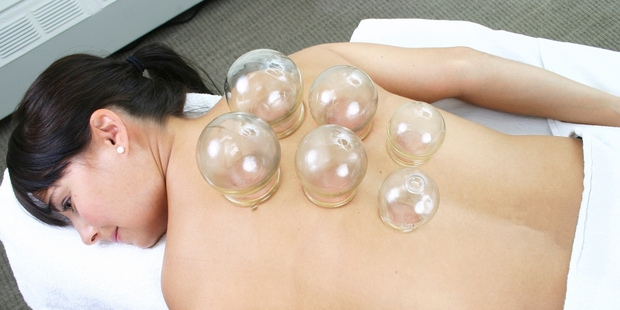 Believing in the health benefits of traditional Chinese medicine, I was looking forward to a session in Macau.
Then the woman sitting next to me on the flight recommended I try cupping. Like acupuncture, herbs, massage and moxibustion, cupping has been used in Chinese medicine for thousands of years. According to Chinese medicine, the fundamental energy of the universe, Qi, can become congested within our bodies and then lead to poor circulation, eventually creating congestion.
Cupping is used to invigorate the blood, disperse congestion, apparently encouraging the body to rejuvenate and maintain balance.
I mentioned my interest to the management at the Sofitel Macau at Ponte 16. The concierge then organised for one of the best practitioners in Macau to come to my room to perform the "operation". Although young, she didn't speak English and quickly set about giving me a very strong massage.
Then she brought out the cups. Some use glass cups and a flame, which removes any air from inside. But she used plastic cups, and a suction "gun" to pull out the air through a nozzle in the top of the cup, creating a vacuum that firmly pulled the skin.
Within about half a minute the cups had made big round bruises on my shoulders. The darkness of the mark shows how blocked or congested that area is, and that certainly was the case with my stiff left shoulder.
Usually the cups are left on for 10-15 minutes, but, like acupuncture needles, most people hardly feel them after about five minutes. But they do leave marks that can take a week to 10 days to go away.
I really felt the effect about two days later when a great deal of the pain in my shoulder had eased - although several visits are usually needed.
Responding to an odd request such as mine is just part of the job for this luxury five-star Sofitel hotel.
It's on the waterfront in the historic part of Macau. Right opposite it is a maze of little alleys, restaurants and antique shops selling porcelain snuff bottles, furniture and ornaments.
The historic centre of Macau, where the streets are paved with grey and white Portuguese cobblestones and fringed by gorgeous examples of Portuguese architecture, was given Unesco World Heritage listing in 2005.
Just above the facade of St Paul's is the Museum of Macau, which was once the Mount Fortress, built by the Jesuits in the early 17th century, full of fascinating historical displays.
When the Portuguese established Europe's first settlement on the China coast in 1557, it was expected to be a bastion of Christianity as well as a trading post. They called it "City of the Name of God, Macau". And there are around 20,000 Catholics served by Portuguese and Chinese priests living in the peninsula today.
Buddhism is still more widely practised. A little further away on the water is the Temple of the Goddess of Mercy (Kun Iam Tong Temple), where locals burn incense and meditate.
Macau tourism officials encourage people to come to Macau for at least two to three days.
Most tourists go to Macau on a day trip from Hong Kong, but tourism officials are now encouraging people to stay longer in Macau itself and take the day trip to Hong Kong.
Visitors also take day or half-day shopping trips to Zhuhai, just across the border in China to shop for "fake originals".
However, the Sofitel's modern style, comfy beds and deep baths are enough to keep you in your room. Or you can lie by the pool or try the hotel gym - as a group of American business people on a break from dealing with China were doing the morning I was there. It seems the East-West trade route (as well as the north-south) has never ceased.
IF YOU GO
Chinese medicine practitioners say cupping may not be right for every patient. It is available in New Zealand.
Further information: For treatments at the Sofitel Macau at Ponte 16, email rsvnsofitelmacau.com or see sofitel.com.
Diana Plater was a guest of Sofitel.
- AAP