Think Barossa and if you know anything at all about wine, you'll probably think 'Shiraz'. Patrick Smith does.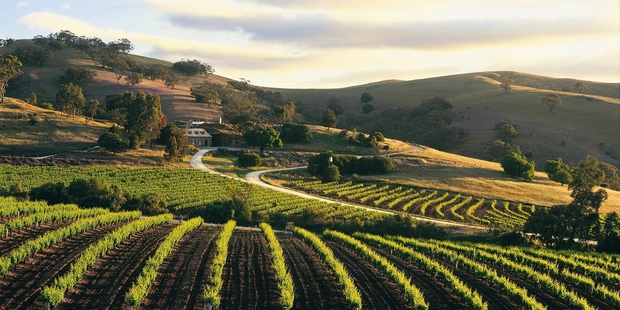 The Barossa, an hour's drive north of Adelaide, has been called the "the heart of Australian winemaking" and boasts some of the oldest Shiraz (Syrah) vines in the world - growing fruit that not only produces some of the valley's finest signature reds but speaks to a tradition going back more than 150 years.
You'll find evidence of the region's earliest wine pioneers at wineries such as Seppelt at Seppeltsfield, Yalumba and Saltram at Angaston and Langmeil and Château Tanunda at Tanunda.
Langmeil's Freedom Vineyard was planted in 1843 and Yalumba - Australia's oldest family-owned winery - was founded by English migrant Adam Smith in 1849.
Other significant wine families who settled in the Barossa went on to become famous names around the world: Burge, Gramp, Henschke and Lehmann to name a few.
Later, a young German migrant called Wolfgang Blass set up his first winery in a tin shed and started making accessible table wines that struck an immediate chord with wine drinkers.
Wolf Blass's first historic cellar still stands at Nuriootpa, although the company's spectacular new cellar door and information centre beside the Sturt Highway belongs unmistakably to the 21st century.
You don't have to be a wine buff to appreciate the heritage and culture of the Barossa; it's written too in the old Lutheran churches, the goldfields, the museums, memorials, pubs, restored pioneer homesteads and heritage accommodation.
The story of European settlement in the Barossa goes like this: Soon after South Australia was proclaimed a "free colony" (i.e. not settled by convicts) in 1836, George Angas, philanthropist and founder of the South Australian Company, commissioned a German minerals expert, Johannes Menge, to survey the ranges north of the fledgling city of Adelaide.
Menge reported enthusiastically (and pretty accurately as it turned out): "I am quite certain that we shall see ... vineyards and orchards and immense fields of corn throughout all [of this] New Silesia, which is matchless in this colony."
Encouraged by Menge's report, Angas earmarked land around the valleys, hills and open rangeland for agriculture.
The colony's Surveyor-General, Colonel William Light, named the region Barrossa after the site of an English victory over the French in the Spanish Peninsular War. The word means "mountain of roses" but it was misspelled on later maps and the uniquely Australian name Barossa stuck.
Even before Light had given a name to the promising region, however, a dissident Lutheran pastor from Prussia, August Kavel, had met Angas in London and asked him to help him find a refuge for his "Old Lutheran" congregation, which refused to accept King Frederick William's new, revised service.
Angas arranged for them to migrate to Australia. They arrived in 1838 and got to work creating a typical Prussian farming village, which they named Bethany, in 1842. Other German-speaking settlers followed, and with them grew up villages such as Langmeil, Lyndoch and Light Pass.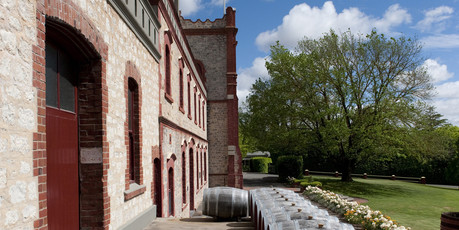 English free settlers, meanwhile, tended to put down roots at Angaston, to the east, the Barossa Ranges, Lyndoch Vale and along the North Para River.
The towns and villages of the Barossa wear their heritage for all to see: the Old Union Chapel and the Dodderidge family blacksmith shop, both at Angaston; the Herberge Christi Lutheran Church and the Pioneer Cemetery at Bethany; Château Tanunda, once the largest winemaking building in the Southern Hemisphere; the atmospheric Greenock Creek Hotel, serving beers from the Barossa Brewing Company's microbrewery housed in an 1860s wheat store just across the road at Greenock ...

The food of the Barossa is another (and pretty enjoyable) way to sample the traditions of the region.
You'll find the influence of those self-sufficient settlers surviving in Barossa butcheries, bakeries, restaurants and growers' markets: old-Europe tastes like smoked mettwurst and lachschinken, traditional breads, bienenstich and streuselkuchen, dill cucumbers, pickled onions, olives and olive oil, egg noodles, and a variety of chutneys, pickles and preserves.
And, tradition aside, it would be a crime to go past the wonderful Maggie Beer's Farm Shop at Nuriootpa.
Perhaps the best place to begin any wine, food or heritage trail is at the Barossa Visitor Information Centre in Murray St, Tanunda. Or you can create your perfect Barossa holiday itinerary at southaustralia.co.nz.
Happy trails!
IF YOU GO
Best time to travel: Spring and autumn. In winter you can sit in front of a roaring fire at many of the region's cellar doors.
Getting there: Barossa is a 60-minute drive north of Adelaide. Fly Air New Zealand non-stop to Adelaide from Auckland or through Auckland from all other Air New Zealand domestic airports.
Explore more at: myaustraliapassion.co.nz.
Barossa Top 10
1. Blend Your Own Wine: Roll up your sleeves and get your hands dirty with a 'Penfolds Make Your Own Blend' wine-blending class.
2. Maggie Beer's Farm Shop: Taste her range of local produce, wine and cider or join a free cooking demonstration held daily at 2pm.
3. Cycle the Barossa Bike Trail: Follow the scenic cycling track between Angaston and Nuriootpa that stops at wineries along the way.
4. Hentley Farm Winery: Named Best New Restaurant in South Australia, Hentley Farm's restaurant and historic cellar door are a gastronomic delight!
5. Barossa Farmers Market: Join the hustle and bustle of the famous Barossa Farmers Market, held Saturday mornings from 7.30am 11.30am.
6. Barossa Gourmet Weekend: Annual event held each August where over 20 wineries showcase their finest wines paired with local food and live entertainment.
7. Micro-breweries: The Barossa Brewing Company and Barossa Valley Brewing are two micro-breweries that produce fantastic local beers and offer brewery tours.
8. Visit local art galleries: You'll discover galleries tucked into cafes and cellar doors like Peter Lehmann Winery, Gomersal Wines and Kabminye Wines.
9. Barossa Rose & Flower Show: Join the garden party at the annual Barossa Rose and Flower Show, held in November at Chateau Barossa.
10. Guided Tours: Don't fancy driving yourself? Pick up a day tour from Adelaide or use one of the many great Barossa based companies.