Australia is blessed with stunning natural environments in pristine wilderness regions that have hardly felt the touch of man. Paul Rush takes it all in.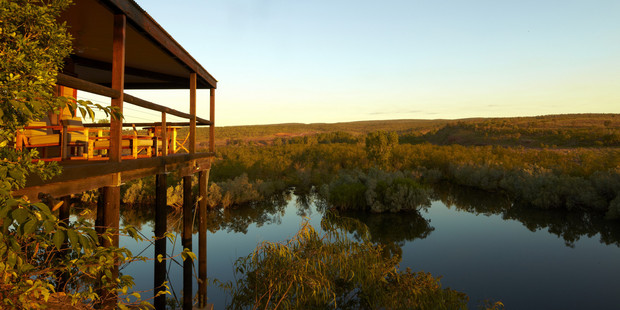 For travellers with a spirit of adventure and discovery, these areas are made accessible by a stunning collection of unique eco-lodges in beautiful remote settings, invariably created with the surrounding eco-system in mind. The owners make it a matter of principle to keep them environmentally friendly and ecologically sound.
Outdoor-loving travellers can easily dial into living in harmony with nature by staying at a lodge and enjoying the benefits of their all-inclusive tariff. On arrival, you will be surprised at the standard of luxury accommodation and the range of authentic outback experiences on offer. This normally includes hearty home-style breakfasts, gourmet packed lunches to be taken on excursions, fine candle-lit dining under the stars, professionally guided local adventures and a guarantee of complete seclusion and pampering.
What makes this type of holiday especially memorable is the novelty of the accommodation. Tented cabins are the current vogue along with traditional villas and chalets.
At first glance, a tent-like structure in the bush may seem rather primitive. However, the interiors are of a high standard with duvet-covered feather-soft beds, modern fittings plus daybeds and baths on private decks overlooking magnificent scenery. The tent-cabins have introduced a new interpretation of glamorous camping, which is known as 'glamping'.
Visitors to Western Australia are particularly spoilt for choice. The state lends itself to green getaways with a stunning collection of eco-lodges in exciting locations such as the Kimberley, Pilbara, Broome, Exmouth, Freemantle, Busselton and Mary River.
As well as the renowned El Questro Homestead, the Kimberley Region has the Bell Gorge Wilderness Lodge, with easy access to four dramatic gorges. Bungle Bungle Wilderness Lodge is close to the eponymous rock formations. Karijini Eco Retreat is in the ancient Pilbara region and the Mitchell Falls Wilderness Lodge sits on the untouched Mitchell Plateau.
The Sal Salis eco-camp offers a 'glamping' experience with a minimal footprint. It's an exclusive safari tent camp hidden away in the sand dunes of the Cape Range National Park, facing Ningaloo Reef, the world's greatest fringing reef where you can swim with whale sharks.
Other examples of home-away-from-home lodges include the Hidden Valley Eco Lodge sequestered in the calming embrace of a jarrah forest, just 30-minutes from Perth.
Forest Rise Eco Lodge is a bird-lover's paradise near Margaret River.
Eco Beach Wilderness Retreat south of Broome is a popular base for whale watching with luxury safari-style tents and beach houses and is a good example of lodges with a sustainability strategy. Their chef creates a balanced menu using the retreat's own organically-grown produce from its herb and vegetable gardens and local suppliers.
Like many of the lodges, Eco Beach has the objective of minimal environmental impact, so solar panels gather energy, which is stored in a battery bank with an 11 year lifetime. The living units are linked by composite wood eco-decking. There is a waste water treatment plant and water consumption monitoring equipment.
My most recent stay was in The Homestead at El Questro, in the Kimberley. This renowned eco-lodge is uniquely Australian and one of the world's premier small luxury hotels. The staff gave me a warm champagne welcome in the central lodge pavilion with its suitably monumental open fireplace, elegant couches, well-stocked bar and full-length window vistas of wallabies on the lawn.
The decor is a blend of natural colours to harmonise with the environment. Terracotta paved floors and rendered walls of earthy tones such as ochre, ginger, henna and orange allow the landscape to visually flow indoors. I enjoyed an exceptional dinner on the terrace with well-travelled fellow guests. We watched an amusing display as the staff fed the freshwater crocodiles and barramundi in the river below us.
After dinner I returned to my cliff top villa with its amazing view. Before me lay a landscape, which was of biblical proportions, millions of years in the making. The El Questro estate is a vast savannah of prickly spinifex, acacia, eucalypts and paper bark, interspersed with grotesque family clusters of big-bellied baobab trees covering a whopping 407,000 hectares.
At twilight the painted desert comes to life, sharply angled sunlight catches rust red escarpments and gives them a fiery glow, as vivid as the embers of an outback camp fire. The golden grasses and savannah woodland that display organic, earthly hues in dazzling sunlight segue into a purple haze. The sky suddenly infuses with an impossibly bright orange and red radiance. Another glorious free and easy El Questro day has drawn to a close.
In the morning I was still overwhelmed by the immensity of the place. There's a palpable sense here that you're part of the landscape and completely isolated from the rest of the world. I took a cruise on the Chamberlain River and met sun-worshipping crocodiles and cheeky archer fish. The cobalt blue sky and red sandstone cliffs reflected brilliantly in the still water. Later I hiked up El Questro Gorge and bathed in mineral-rich waters at Zebedee Hot Springs in a veritable Garden of Eden.
The visitor book in the main lounge told me that this eco-lodge is close to the heart of seasoned travellers. For many it's a little piece of heaven on earth and the most common entry is, 'I wish we could have stayed longer'.
Overall visitors felt that the all-inclusive meals and activities plus the absolute peace and complete absence of stress made the lodge stay exceptional value.
I joined the other guests for a nightcap on the terrace under Milky Way stars that were needle-sharp. We swapped travel stories and enjoyed the relaxing ambience of the lodge.
Everyone was feeling completely in harmony with nature. The wonderfully soothing balm of the Australian outback had worked its magic to full effect.
IF YOU GO
Best time to travel: April-October (park closes November 1 - March 31).
Getting there: Fly Air New Zealand non-stop to Perth from Auckland or via Auckland ex all other Air New Zealand domestic Airports, connecting with Virgin Australia onward to Kununurra. Reach El Questro by road transfer from Kununurra or hire a 4WD vehicle and make your own way.
Explore more at: myaustraliapassion.co.nz.