Some place names could come from only one country, one culture: think Aotearoa. Or Taj Mahal. Scratchy Bottom would have to be an English village. And then there are the 'only in Australia' towns. Henry Porter visits Bendigo.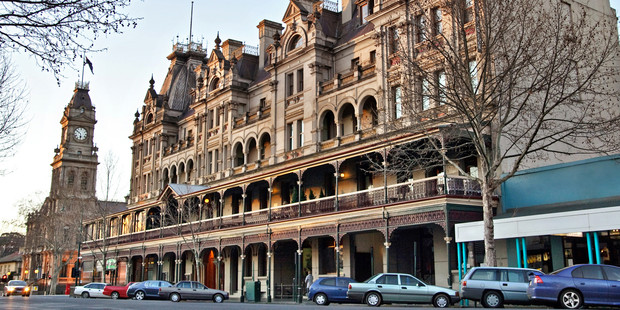 Except it isn't an indigenous name, even though it sounds like it might be. And for a city that has punched above its weight in the nation's history, in the Lucky Country's wealth, not to mention its sense of style, the strange thing is no one is exactly sure where its name came from.
Ask a Bendigonian in any of the pubs - the grand old Victorian pile of the Shamrock is a must-sip - what his town his named after, and you could get one of three stories.
Some say it's shorthand for Bendigo Creek, the name given to the goldfields in November 1851 and the first post office in July 1852. But that doesn't answer the question, for the creek got its name from Bendigo's Hut, the hut of a shepherd nicknamed Bendigo who lived on the riverbank in the 1840s. Who got his nickname from a famous English bareknuckle fighter, William Abednego Thompson, known as "Bendigo Thompson", because the shepherd shared a similar attitude towards settling disputes.
And then there's the tale that Bendigo is named after San Francisco, because the US gold rush city's name, to Chinese gold-diggers, was Gum Sam, or Gold Mountain.
When the gold ran out in California in the 1840s, the diggers followed the trail to Australia and their name for Bendigo was Dai Gum San (New Gold Mountain).
By this time you may be wishing you'd never asked the question, and call the barman for another golden ale.
Ah, gold. Whichever way you turn in this small city, 90 minutes' drive or an even easier train ride north of Melbourne, the precious metal will come up - because that's why it's here.
The first explorer, Major Thomas Mitchell, passed through the region in 1836; only 15 years later Mrs Margaret Kennedy and Mrs Julia Farrell discovered alluvial gold just lying around on the surface.
Within a year 60,000 men were scraping it up, taking out a cool $4 million. Then the easy gold ran out, and it was time for miners to start burrowing, following the rich quartz reefs deep underground.
Bendigo was boomtown (except that it was called Sandhurst by then). By 1859 it had a fire brigade, council, telegraph to Melbourne and its stately town hall. The railway chugged in from Melbourne's chintzy Flinders St Station in 1862; it was proclaimed a city in 1871.
By 1917, though, the bubble had burst. Golden Gully, scene of that first discovery, ceased mining in 1936; by 1954 not one mine was working and Bendigo seemed to have settled into a genteel decline.
The goldrush has left a legacy - the city's architecture hints at the phenomonenal wealth extracted from the soil under the wide streets and dignified buildings. Bendigo is said to be the most impressive Victorian-era city left standing.
And the goldrush has left a legend - locals will tell you there is as much gold remaining in the ground as was ever extracted. Some experts agree, for there is significant modern mining far underground.
But this is not a city living on its past. In recent decades it has sensitively re-invented itself, and modern Bendigo has much to offer the 21st Century visitor.
Take the historic Talking Tram Tour to hear stories about the city's past and its heritage buildings. Pick it up at the Deborah Central Gold Mine or other stops along the 4.2km route through the city.
Climb 125 steps to the top of the Poppet Head tower, another remnant of the gold mining era, in Rosalind Park and check out the view - best at sunset - or stroll along the picturesque path and ogle the plump bats in the trees.
The Golden Dragon Museum examines the lives of Chinese immigrants from the gold rush to the present.
The Bendigo Art Gallery is one of Australia's oldest and largest regional galleries, with an extensive collection of 19th Century international and Australian art, as well as modern art.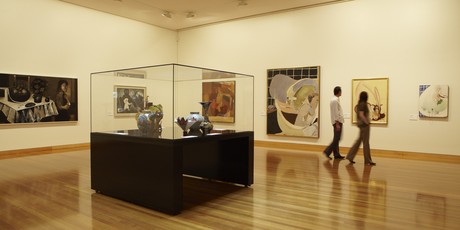 At 150 years old Bendigo Pottery is Australia's oldest working pottery. You can make your own piece, tour the museum and buy something to take home.
Bendigo has always been a shopping hub - it is, after all, the home of Aussie retail giant Myer. Like Melbourne, the town has great lanes filled with interesting shops, particularly great for antiques or vintage clothing.
Fine dining options include Wine Bank on View and GPO Bar & Grill for contemporary Australian cuisine, Bouchon for French fare, and top-of-the-range Whirrakee Restaurant. All are highly rated by the authoritative and influential Melbourne Age Good Food Guide.
WHAT TO SEE
In Bendigo, the beautifully restored Hotel Shamrock is a historic icon. Visit the farmers' market, Chinese museum, Talking Tram, Deborah Central Mine Tour, the impressive and accessible regional Art Gallery. For further information see: bendigotourism.com.
Bendigo Top 10
1. Visit the Bendigo Art Gallery, one of Australia's oldest and finest galleries.
2. Walk the Arts Precinct in View Street with galleries, theatres, eateries and eclectic shopping.
3. Take the Nine Levels of Darkness mine tour at Central Deborah Mine.
4. Sample local wines at the Wine Bank which has one of the most extensive selection of regional wines.
5. Modern Love exhibition at the Bendigo Art Gallery from 26 October to 2 February 2014.
6. Food fossicking self guided tour of Bendigo - pick up a copy of the pocked guide from the Visitors Centre.
7. Visit more than 60 Bendigo & Heathcote wineries with cellar doors and sample some of Australia's finest shiraz.
8. Visit the Chinese precinct, Dai Gum San.
9. Take a walk or ride on Bendigo's talking tram and explore the city's heritage architecture, including the Alexandra Fountain, the magnificent former post office, the law courts, and the ornate Shamrock Hotel.
10. Experience the history and craft of Australia's oldest working pottery at Bendigo Pottery.
IF YOU GO
Best time to travel: Bendigo is a year round destination.
Getting there: Bendigo is an easy 90 minute drive north of Melbourne. Fly with Air New Zealand non-stop to Melbourne from Auckland, Wellington and Christchurch with connections available from all around New Zealand.
Explore more at: myaustraliapassion.co.nz.
Find out more at Australia.com