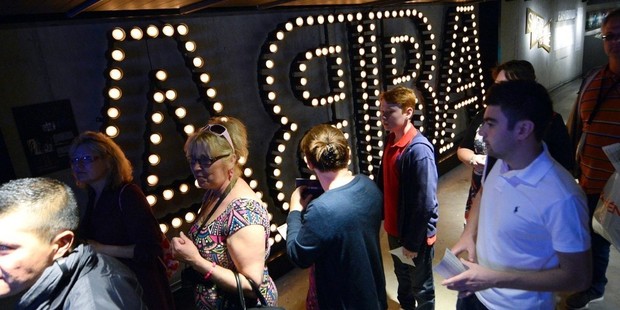 Two middle-aged Swedish women are on a roll.
With big smiles, they are on a stage shimmying and grooving with four holograms of ABBA, belting out Dancing Queen to much applause and laughter from onlookers. Lost in the moment they are, as the song goes, "having the time of (their lives)".
Welcome to ABBA The Museum, where the emphasis is on fun with a capital F.
The "fifth member" 3D karaoke with Agnetha, Bjorn, Benny and Anni-Frid is just one of the museum's impressive interactive features.
How about a link to Benny Andersson's home studio at Skeppsholmen where anytime he tinkles the keys the museum's piano starts playing? Or maybe recording an ABBA song, where your efforts are stored on Facebook and downloaded later by using your entry ticket's barcode and identification number?
Another room dedicated to the song Ring, Ring features a 1970s red telephone, for which only the four band members have the number. They may call occasionally to speak with museum visitors.
Naturally there is a treasure trove of ABBA memorabilia from the glitzy stage costumes, records, films, tour programs through to a reconstruction of the band's recording studio and even a dance floor to strut your stuff. The museum manages a clever walk between satisfying ABBA obsessives while engaging with the casual admirer.
It's worth noting that ABBA The Museum is housed inside the Swedish Music Hall of Fame which showcases not only the group's career but also the history of Swedish pop music through a range of permanent and temporary exhibitions.
An adjoining display documenting Sweden's prestige Polar Music Prize is also an interesting sideshow. The annual prize is awarded to musicians for outstanding industry achievements and has previously been handed to likes of Sir Paul McCartney, Led Zeppelin, Bob Dylan, Bruce Springsteen, Peter Gabriel, Patti Smith, Bjork and Pink Floyd.
ABBA owes much of its initial success to Australia - a musical infatuation which has been a long and smitten one.
Waterloo won the 1974 Eurovision Song Contest and thrust the Scandinavians into the international spotlight but it wasn't until SOS became a huge hit in Australia that ABBA's chart success was consolidated.
The US and Britain were initially indifferent but soon pop pearls like Dancing Queen, Ring Ring and Mamma Mia flowed, which made them impossible to ignore. The result? The group has sold 370 million-plus albums worldwide.
The Australian films Muriel's Wedding and The Adventures Of Priscilla Queen Of The Desert anchored ABBA's music at the centre of their stories to further the Aussies' homage to Sweden's "Fab Four".
Museum CEO Mattias Hansson, a former music journalist, says he understood the frustration of ABBA fans for many years when they visited Stockholm.
He feels since its opening in May, the museum fills a missing piece to the city's tourism experience.
"The museum has been a question for much of the city of Stockholm for so many, many years. For all those years since ABBA split up in 1982, there have been questions from the foreign tourists: 'Where is the ABBA museum?' And the answer has always been 'No'," he said.
"Finally Bjorn and Benny of ABBA decided that they would say 'yes' because they came up with the idea to call this address the Swedish Music Hall of Fame and to set-up an exhibition about Swedish popular music history and ... then they (were) fine with ABBA being added to that because they didn't want to brag. They're very much not the bragging types."
He says ABBA's Bjorn Ulvaeus took an active role in the museum's creation, becoming an investor and collaborator.
"When Bjorn became involved in the project, he became a great asset because we had no sense of what the museum could be. We only had a sense of what we wanted it to be and together with Bjorn we found that three words (kept) coming up: heart, humour and quality."
Hansson believes the museum has been well worth the wait, saying: "It's a museum for fans by fans of ABBA".
ABBA The Museum currently attracts between 1500 and 2500 people a day with ticket sales hitting 170,000 in August. So yes, this attraction is already ringing out another famous ABBA tune: Money, Money, Money.
IF YOU GO
Staying there: The Clarion Hotel Sign, located next to Stockholm Central railway station, is the official hotel partner of ABBA The Museum. The hotel offers a weekend package of 1785 Swedish krona (A$291.59) for two adults for one night or 1895 Swedish krona for two adults and two children (under 15 years). The package includes accommodation for two adults or two adults and two children (depending on the package) in a double room; tickets to the museum and breakfast.
Playing there: The Swedish Music Hall of Fame, including ABBA The Museum, is located on the island of Djurgarden in Stockholm. Tickets are best booked online. The museum is open every day.
The writer travelled as a guest of Stockholm Visitors Board and Emirates.
- AAP