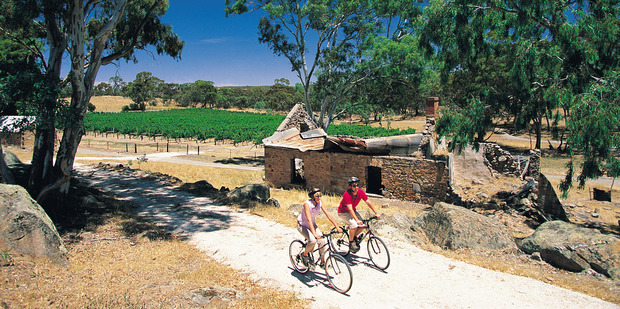 Australia is blessed with a wide range of exotic wine regions with beautiful vistas, character vineyard restaurants and wines of distinction. Two areas that should be on anybody's must-do-list include the Clare Valley and McLaren Vale.
Of the former it has been said: "There are only two kinds of people, those who were born in Clare and those who wish they were." The first vines were planted in 1840 and although shiraz and cabernet cauvignon are the dominant grapes, riesling and semillon also do well.
McLaren Vale, about 35 kms south of Adelaide, is regarded as the spiritual home of the boutique winery. Again, red varietals dominate, with smaller plantings of chardonnay and sauvignon blanc.
2011 Jim Barry The Lodge Shiraz - $27
Established in 1959, the Barry family wines have become among the most revered of the Clare Valley. New Zealanders with good memories will remember with affection their blockbusting signature wine, "The Armagh", a shiraz that has developed a cult
following.
The Lodge is significantly cheaper but has all the hallmarks of a quality shiraz with flavours of black pepper, cardamom, raspberry and spearmint, a wonderful structure and full of ripe rich tannins.
2006 Jim Barry The First Eleven Cabernet Sauvignon - $75
A wine that shows immense benefit from bottle age of seven years. The first eleven honours the legends of Australian cricket - those elite sportsmen who have achieved greatness. Small batch winemaking techniques are used to make this rounded, concentrated, full-bodied wine perfect with rich red meat dishes. It's produced only in exceptional years and this is only the second release since the inaugural 2000 vintage. This is a classic cabernet with black cherry, cassis, cigar box and cedar flavours.
2011 Joseph Cabernet Sauvignon Merlot MODA - $80
From the Italian immigrant family-owned Primo Estate, based in South Australia's McLaren Vale. Since 1987 they have used the ancient method, or moda, of drying the grapes before crushing to enhance the flavours. Cabernet sauvignon and merlot provide a rich, deeply satisfying food wine, full of ripe blackcurrant and red fruit flavours - a wine that will age gracefully over decades.

Top 5 in the Clare Valley
1. Wine tasting: The majority of wineries in the Clare Valley are small-scale boutique producers, some dating back to the 1850s. Cellar doors are generally open between 10am and 5pm on weekends and most weekdays, but it's best to check before you visit.
2. Cycle the Riesling Trail: Hire a bike and cycle the scenic Riesling Trail linking local towns. You'll pass restaurants, cafes and cellar doors. Cycle it in under three hours or complete it in stages. Three loop trails return you to your starting point, without having to backtrack.
3. Clare Valley Gourmet Weekend: Each year in May local wineries open their doors to the public and offer tastings of their wines, accompanied by gourmet food and fantastic live entertainment. The next event will be on May 17-18, 2014.
4. Burra Heritage Passport: Discover the historic township of Burra with the Burra Heritage Passport. The passport gives you entry to the Burra Mine including the lookout, police lockup and stables, brewery cellars, miners dugouts and more. Discover the 11km heritage trail and 49 historic sites at your leisure.
5. Art & craft galleries: Enjoy the finest art and crafts at galleries in Clare, Blyth, Watervale and Armagh. Many also sell local produce, such as olive oils, jams and preserves. Spend a leisurely Saturday or Sunday meandering through markets held throughout the region, selling fresh local food, wine and art.
Top 5 in McLaren Vale
1. Willunga Farmers' Market: Taste the region's best food and wine at the Willunga Farmers' Market every Saturday morning.
2. Microbreweries: Discover original and much-loved brews from McLaren Vale's many micro-breweries.
3. Art Trails: Follow one of the region's art trails that take you through galleries, working studios and exhibitions.
4. Wine Tasting: Pick up a cellar door map and explore more than 60 cellar doors around the region.
5. Star of Greece cafe: Watch the sun go down with a glass of local wine and dinner at the Star of Greece, perched high on the cliffs overlooking Port Willunga Bay.
IF YOU GO
Fly there with: Air New Zealand.
Explore more at: myaustraliapassion.co.nz.
Find out more at Australia.com