Miranda Spary tastes the bounty of the Apple Isle, Tasmania.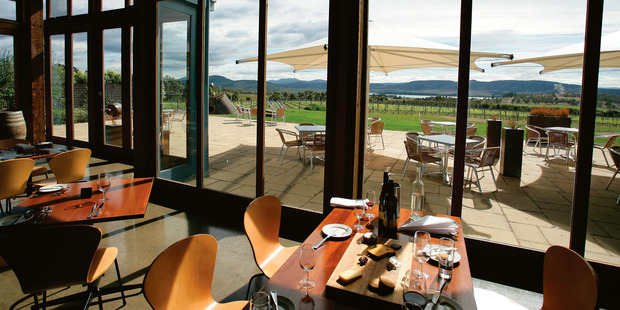 New Zealanders think Tasmania is just like New Zealand. That is, until they go there. Our histories couldn't be more different - no one was sent to New Zealand as a punishment. I'd have been as naughty as anything if I knew I'd be sent to Tassie. I'm a foodie New Zealander - we pride ourselves on our great food, but there's plenty to admire - make that envy - in Tasmania.
Tasmania is no place to come for anyone planning to diet. It's a miracle every Tasmanian isn't a ten tonne tubby. The produce is astounding and the producers are just so darned proud and passionate about it. Every last one of them. These farmers and growers have become a tourist attraction in their own right - visitors drive around the island state clutching a copy of The Farm Gate Guide to help them hunt down goat farms that produce specialty cheeses and icecreams, pick your own fruit orchards, microbreweries and meaderies like Seven Sheds, endless vineyards, farm shops, and more.
Wherever you drive, tempting signs lure you to stop and savour. In theory, the drive round the whole island takes three days, but it's hard to imagine how.
There's just too much important stopping and tasting to do.
Some of these artisan farmers and producers are Tasmanian born and bred, but many have moved from other parts of the world.
Chocolatier Belgian Igor saw the potential in that creamy Tasmanian milk and has created a seriously good chocolate factory just down the road from the ferry terminal - ideal for arriving passengers needing a little perking up. House of Anvers is the perfect perking place with great coffee and very superior baked everything. A repeat visit is highly recommended for the steak pie with the shatteringly crisp pastry - the deep, dark and dangerously good gravy turns out to have chocolate as the secret ingredient.
Whether they grow strawberries or spinach, breed hairy pigs or Plymouth Rock chicks (only $10 - sounds a bargain!), make buffalo mozzarella or quince marmalade, cinnamon honey or walnut pesto, brew beer or make wine, Tasmanians just can't help loving what they are doing, and it shows. Something in the soil, and the climate and the air makes everything grow there with extra verve and colour and taste - I had to give my colourless spuds and wishy washy apples a serious talking to when I got home after seeing the Tasmanian version.
To see all the producers in one spot, head to any one of the island's famous farmers' markets. Canadian Kim Seagram was the brains behind the newest one, Harvest Launceston. Stallholders can only sell what they actually produce themselves and every stall is a work of art - even the one only selling potatoes - pretty names like Dutch Creams and Pink Eyes make them even more desirable.
The breeders of Wessex Saddleback pigs show pinup posters of their handsome rare and hairy beasts, but it's the smell of the bacon cooking that seduces the passersby.
We get to the market early, but not early enough. Sandy the baker with a reputation for the best sourdough on the planet has already sold out of everything, not just sourdough. The man selling cream-on-top milk in refillable bottles stacked in wooden crates is down to his last crate.
Mr Rabbit has run out of rabbit fillets - he just can't bring enough to satisfy the demand.
The first day the market ever opened, they had 2400 people through - that was less than two years ago, and now it's even more popular.
The dog park is packed as well - a shady spot for customers' canines to wait patiently with some pals - what a great idea.
We grabbed a coffee from Two Hands, a council sponsored initiative that gives young unemployed people a chance to learn about making and serving coffee. Must be good training - the coffee's perfect.
The honey lady's stall has sticky honey jars on the top shelves which are attracting a lot of local bees. Local humans arrive in swarms as well, but they are more attracted to the unopened, less sticky jars.
It's always frustrating being a New Zealander not being able to take foody stuff home, but we can take recipes.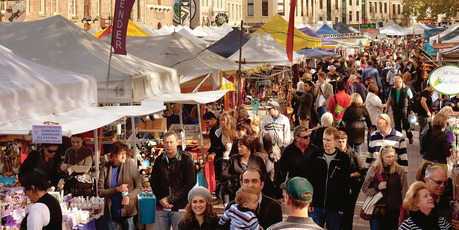 The next best thing to owning one of Tasmania's heavenly Georgian houses and living down the road from all this great produce is booking a night or ten at the Red Feather Inn. Their "To Market, To Market" cooking course takes you shopping so you can buy pinkeyes, rabbit fillets, nasturtium flowers, or whatever takes your fancy, then trittrot back to the inn and learn how to deal with it all.
I've been on enough cooking courses to know that I almost never cook any of the stuff I learnt. But Red Feather Inn was different. I bought a goldfish bowl specially so that I could toast hazelnuts in cinnamon and brown sugar, make tiny meringues and fill my goldfish bowl with them all, plus some balls of posh bought vanilla icecream and neon orange nasturtium flowers, then drizzle a little Tasmanian Riesling reduced to a sticky syrup down the sides. Every time I serve it, another group of friends decide to book a trip to Tasmania themselves.
Tasmania top 10
Gourmania introduces you to some of the people whose passion and talent stirs the pot of a blossoming food scene.
2. Frogmore Creek Wines - Richmond
Frogmore Creek Wines is one of Tasmania's most awarded wineries.
3. Grandvewe Cheesery - Woodbridge
At Grandvewe - Tasmania's only sheep milk cheesery - you can meet the sheep, taste up to 15 different cheeses and enjoy a wine.
4. Farm Gate Market, Hobart - Sunday mornings
The Farm Gate Market is about supporting small, boutique and artisan businesses
within Tasmania.
A funky eatery 45 minutes south of Hobart, the Red Velvet Lounge prides itself on wholesome fare.
6. Redlands Estate - Plenty
Offers tours of their 'Paddock to Bottle' single malt whisky distillery - one of only two in the world.
7. Get Shucked Oysters - Bruny Island
Sell their Pacific oysters to some of the best restaurants in Australia. Live and half shelled oysters are also sold to visitors on site.
8. Tasmanian Seafood Seduction - Hobart
Take small groups on an exclusive full-day seafood foraging cruise in the waters of the D'entrecasteaux Channel.
9. Herbaceous Tours - Hobart
Take you through the farm gate to meet the personalities behind Tasmania's award-winning produce.
10. Two Metre Tall Company - New Norfolk
Brews real ale and real cider in unique batches using farm grown ingredients sourced from their family-owned property.
IF YOU GO
Best time to travel: Year round! Autumn is mild and Winter brings an atmosphere found nowhere else.
Getting there: Fly Air New Zealand to Sydney or Melbourne with connecting Virgin Australia flights to Hobart from Auckland, Wellington and Christchurch with connections available from all around New Zealand.
For more information visit: myaustraliapassion.co.nz.