Western Australia's humpback visitors and Ningaloo coral reef thrill Mike Osborne.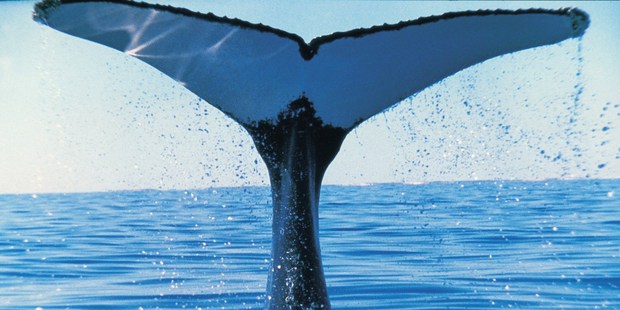 Either we were following the whales, or they were following us.
From the moment we arrived in Western Australia's Margaret River region until we left the Kimberley a month later, whales were our constant companions.
Each year the humpbacks head up the WA coast to mate and give birth in the warm water of Exmouth Gulf and the northern WA coast then head back down again to their Antarctic feeding grounds. Swimming close to the coast, they were forever playing, breaching, or just snoozing along our holiday route.
WA is a great place to see large scale attractions including humpbacks, whale sharks, giant karri forests, massive vineyards in the south, endless pristine beaches and coral reefs of the northwest cape, and the magnificence of arid Kimberley, which swallows up the far north.
To accommodate this largesse, WA is a huge state occupying a third of Australia within its 2.5 million square kilometres.
Week 1: Margaret River and the south
We eased into our month-long western sojourn with four days in a grand beach mansion at Eagle Bay called True North Ashore, which has some of Australia's best wineries, restaurants and beaches at its doorstep. The house has a huge deck with ocean views that delivered our first distant sightings of whales blowing spray and mist into the Indian Ocean air.
Almost next door was a winery called Wild, just past Dunsborough at the northern tip of the Margaret River region, which also had spectacular ocean views.
The best winery we visited was Vasse Felix, a classy establishment owned by Janet Holmes a Court, a bit further south on Caves Rd.
The wines were delicious, the gardens were filled with weird and wonderful artworks and the restaurant matched its reputation. The best find was the free 90-minute tour of the winery and vineyards that finished with traditional tastings. Other establishments charge $20 a person for an inferior one-hour tour.
We also took in the Voyager, Cullen and Leeuwin Estate wineries between trips to beaches, caves and lighthouses, all within short drives of the quaint central town of Margaret River and our Eagle Bay base.
The car filled with fresh local produce and wine, we headed further south. Our target was the windswept treetop walk in the Valley of the Giants near Nornalup, via Walpole. Here, a suspended walkway rises gradually to about 40m above ground. You walk amid eucalypt (karri and tingle) treetops. Some of the tingles' bases are wide enough to drive a car through.
We ran out of time to reach the one-time whale hunting port of Albany, so headed north.
Week 2: Swan Valley, New Norcia, Monkey Mia
We breezed through Perth - previous business trips there meant we were familiar with it so we continued north to Swan Valley to restock the mobile bar. Everyone raves about Margaret River but Swan Valley also has much to offer.
The prettiest winery we found was Houghton's, home to outstanding, reasonably-priced classic dry white once known as white burgundy.
Houghton's has a good museum squeezed between its tasting room and restaurant, and the grounds are perfect for a picnic.
Restocked, we headed further north to the biggest surprise of the trip - the Spanish town of New Norcia, owned and run by Benedictine monks.
Established 132km north of Perth in 1846 by Don Rosendo Salvado, New Norcia is Australia's only monastic town and a tranquil haven, complete with beautiful Spanish architecture, cathedral, chapels, colleges and the splendid, if fading, New Norcia Hotel.
You can join the monks in prayer or break your own bread from the famed bakery after doing the daily, two-hour guided tour that provides entry to some of the town's 65 buildings, 27 of which are National Trust-classified.
A short drive back to Perth's airport and we were flying to Shark Bay to play with the Indo-Pacific bottlenose dolphins which visit Monkey Mia every day.
A small group of mainly female dolphins, which come into shore to amuse the humans, are among a pod of around 300 wild dolphins that live in the bay.
A local woman from a nearby fishing camp befriended and fed the dolphins in 1964 and generations of wild dolphins have since enjoyed the regular human contact.
Week 3: Exmouth and Ningaloo
Mining, not tourism, dominates WA's economy, which is why you cannot take a series of flights north up the coast from one tourist spot to the next. Maddeningly, you have to fly south back to Perth with Sky West to head further north because the flights service the fly-in/fly-out mine workers, not whale spotters.
So, back to Perth we went to fly north again to Learmonth and Exmouth, a small town of about 2400 that supports an air force base, fishing community and grey nomads.
The best place to stay is the Novotel, which is slightly out of town on the marina. But the real reason for visiting is what's in the water, not what's on the land.
The population doubles during tourist season as visitors arrive to see Ningaloo Reef and the star attraction, giant whale sharks.
These, the world's biggest fish, visit between April and July. Spotter planes direct tourist boats to where the spotted giants are cruising then, if you're game, you can swim with the peaceable creatures.
And then there is the reef. Ningaloo is Australia's largest fringing coral reef, running some 260km along WA's North West Cape.
Unlike Queensland's Great Barrier Reef, which requires a two-hour boat trip from the mainland, this coral can be viewed straight off the beach. Wade out 10m and you are snorkelling over colour-intense coral gardens, schools of reef fish, rays, reef sharks and curious turtles.
There are few places to stay in Cape Range National Park, so you have to make it a day trip from Exmouth or camp out.
Fortunately, five-star camping facilities are available at Sal Salis Ningaloo Reef camp, an eco-tourism venture specialising in wild bush luxury. It's expensive but worth every dollar for cosy beds and en suites, five-star meals, guided snorkels, bush walks and whale-spotting all day.
You see so many whales from the restaurant deck it's easy to get blase about what's on the horizon as you slurp up another scallop.
Week 4: Broome and the Kimberley coast
We had to fly two hours south to Perth (again) to get another two-and-a-half-hour flight north to Broome but Cable Beach was a worthy reward. Named for the first telegraph cable to reach Australia from Singapore, it has 22km of pristine white sand, warm water, nice surf and beautiful sunsets. At the southern tip is Gantheaume Point, home to 130-million-year-old dinosaur footprints which can be seen at low tide.
Broome, on Roebuck Bay, is an old pearling town that boomed prior to both world wars, and was home to huge numbers of indigenous and Japanese and other Asian divers. With a bustling Chinatown, surrounding Aboriginal settlements and the arrival of tourist hordes in winter, Broome continues to be a cultural melting pot.
The old town, lined with museums, cafes and pearl outlets, is quaint but we stayed by the sea at the new Pinctada Cable Beach hotel, a luxurious resort designed by Marilynne Paspaley, whose family dominate the local pearl industry.
Attention to detail at Pinctada is exquisite, with private courtyards and plunge pools, a restaurant the locals brag about and a day spa worthy of a long wallow.
After a few days of beachcombing and spa treatments, we boarded the MV Great Escape, a $6 million catamaran, for a week-long cruise further north along the Kimberley coast. Without knowing it, we'd saved the best until last.
The Kimberley is so vast it dwarfs everything, even the humpbacks. Our boat, which was more like a five-star hotel afloat, has its own helicopter, which meant we also flew over the amazing formations and coastlines we'd just sailed past.
The downside? No diving in the tempting ocean because of the saltwater crocodiles, which are protected and in plague numbers.
The alternative is the many freshwater swimming holes and waterfalls which provide postcard perfect venues for picnics and for cooling down after fishing for barramundi and walks along cliffs to view ancient Aboriginal artwork.
The Kimberley is also the best place to get real close to humpbacks. Whenever the boat's engines slowed mid-journey it meant whales were near and the guests and crew would rush to the bow to see the humpbacks and their babies playing or resting before, like us, beginning their long journey south.
CHECKLIST
Getting there: Air New Zealand flies direct to Perth from Auckland.
Further information: See westernaustralia.com and australiasnorthwest.com.
- AAP