If you're planning a visit to Australia, I suggest hiring a car. There's something about a road trip that satisfies our pioneer instincts - and Australia has some of the world's most epic roads. You can drive for days and end up in the middle of the scorched continent. Or, if you are visiting the cultural Mecca that is Melbourne, there is a magnificent day trip along Victoria's Great Ocean Road.
The promise of spectacular scenery is what brings me to this famous road but I end up being preoccupied with finding a shipwreck survivor.
We take it for granted how easy it is for us to travel these days. We can fly from New Zealand to Melbourne in three hours. After a couple of hours' driving, we can be on the coast, standing on observation decks to gaze at the epic limestone rock formations standing like sentries guarding the tall sea cliffs as they loom out of the water, battered by sea spray. We forget that just a century ago travelling to Australia meant a dangerous journey by sea, passing these towering cliffs.
King Island stands 80km out into the ocean. Between here and that foggy rock is the wild Bass Strait. This coast is a ship cemetery that saw the watery deaths of thousands of people who had dreamed of reaching Australia.
As I stand here in misty rain and swirling wind, with a busload of awestruck tourists from Japan, I'm sure we all appreciate how lucky we are to glide easily into Melbourne with our tray tables up and our cellphones turned off.
During the 1850s, two per cent of the population of the British Isles left for Australia. These emigrants were escaping depression and hunger for the gold rush state of Victoria.
Shipping companies began competing for emigrants. Where airlines today compete on prices, these companies boasted shorter and shorter journeys. Captains were pressured to reach Melbourne as fast as possible.
But Bass Strait is wild and often foggy. In the captains' haste to arrive in Melbourne, instead of waiting for fog to clear so they could get an accurate reading of their position, they pressed on with fingers crossed. An incredible 638 ships ran out of luck.
The drive along the Shipwreck Coast is dotted with observation points. Each one offers a glimpse of a more spectacularly towering limestone formation than the last. The most famous is the Twelve Apostles (there are actually only eight or nine of these giant stone towers). But my favourite spot on the coast is Loch Ard Gorge.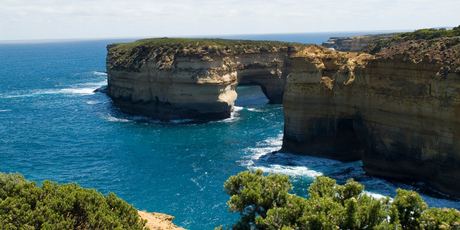 Wild seas pound a beach 100m below the massive cliffs. These cliffs form a narrow gorge to the sea where in 1878 the Loch Ard, a beautiful sailing clipper, crashed in the night trying to reach Melbourne. Only two people survived. In the darkness young Tom Pearce battled the cold, crashing waves to help 18-year-old Eva Carmichael to shore and then climbed the cliffs to go for help. The best ending would be to say they fell in love and married. Instead they returned to England, separately - by ship. That's the definition of getting straight back on the horse!
The only other "survivor" of that wreck washed up in a crate with only a chip off its beak. This 2m-tall porcelain peacock made by Minton was on its way to be part of the Great Exhibition in Melbourne. The peacock never made the exhibition but instead ended its journey where I will end my journey later today - in the scenic beach town of Warrnambool at the end of the Great Ocean Road.
Near Warrnambool, an ancient volcano is Victoria's first state park. Inside the wide, deep crater we meet a character who at first appearance looks like a Gandalf who has retired and moved to Australia.
Park ranger John Sutherland shows us around Tower Hill Game Reserve, points out the roos and tells us how native plants in an old painting were identified to regenerate the bush flora from farm land.
We also gain an insight into the original use of the place by the Aboriginal people whose descendants now run the visitors' centre. The reserve's kiosk is a magnificent building. Built by Robyn Boyd, Australia's foremost modernist architect, this stunning circular building responds to the volcano around it. I could stay all day, but there is a peacock to find.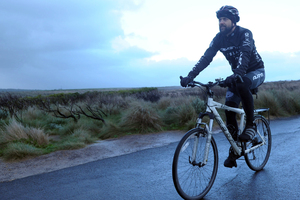 At Lady Bay Resort in Warrnambool, our rooms overlook a beautiful, stormy bay. Resort owner Jon Watson tells how he saw an advertisement for a house for sale in Warrnambool the same day someone offered to buy his Melbourne pub. He took both deals and 10 years later he's still in this little town.
Tonight he's talking our ears off, pouring us wines, and rigging up a way to dry my sneakers after their Great Ocean soaking. Jon's another keen cyclist and tells me all about the famous Melbourne to Warrnambool bike race that traces the same roads we have driven today. I ask about the Loch Ard peacock and he has good news: I can see it tonight.
We turn up after dark at Flagstaff Hill Maritime Museum, carrying lanterns as we wind our way as a big group through the beautifully recreated 1850s harbourside village. A storm is blowing and the guide's voice is often lost in the wind, but it makes the story she tells of the wreck of the Loch Ard all the more realistic.
We pass the chandler, the pub, the church, the sailmakers and end up in a theatre over the water where a light, sound and laser surround show tells the story of Tom, Eva and the peacock. Afterwards, at the museum, I finally come face to beak with the beautiful gleaming bird, spinning majestically in its glass case.
We came to Australia at different times, in different ways and for different reasons this bird and I, but here we are both in this room on the Great Ocean Road on this stormy night and I can't stop looking at it.
Great Ocean Walk

The Great Ocean Walk on Victoria's west coast stretches 104km from Apollo Bay to the 12 Apostles. Weave through national parks, walk deserted beaches and gaze over marine sanctuaries. Step on and off the trail with convenience; enjoy comfortable accommodation and local meals or pitch your tent at picturesque spots along the way.

Bothfeet walking lodge is an environmentally sustainable award-winning lodge at Johanna Beach, the mid-point of the Great Ocean Walk. It offers chef-prepared meals, transfers to and from Melbourne, and drivers who know exactly where to meet you each day along the walk. An expert guide accompanies you along the trail.

Port Fairy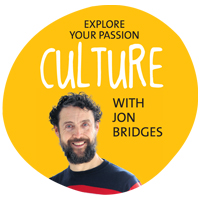 Uncover history in this charming fishing village, the last destination on Victoria's Shipwreck Coast. Port Fairy boasts wide streets lined with 19th century cottages, Norfolk pines and stone churches. Join in the fun of the Port Fairy Folk Festival (March 7-10, 2014). Keep an eye out for breaching southern right whales off the coast during the winter months, when the whales come in to mate and calve.
With many fine examples of 1800s architecture and more than 50 buildings classified by the National Trust, history buffs will enjoy Port Fairy. Learn about the local maritime history on the Port Fairy Maritime and Shipwreck Heritage Walk.
Getting there: Self-drive west of Melbourne from Torquay through to Port Fairy in the West.
Best time to travel: Spring/summer/autumn for walking and touring, and the winter months for whale watching.

Fly there with: Air New Zealand.
For more information see: myaustraliapassion.co.nz.
Jon Bridges travelled to Victoria with the assistance of Tourism Australia, Tourism Victoria and Air New Zealand.