Attentive staff and fine food set a very high standard aboard China Southern Airlines' new Boeing 787 Dreamliner, finds Lincoln Tan.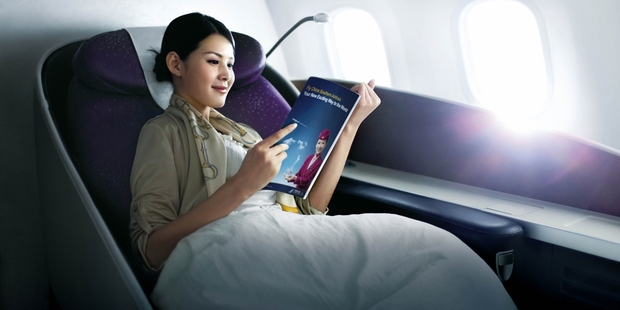 Travelling with a bunch of seasoned travel and aviation writers on the first China Southern Airlines' Boeing 787 Dreamliner flight from Guangzhou to Auckland put me in a position where I had to pretend I knew more than I actually did about planes.
The airline's officials speak of the Dreamliner as being the "ultimate" flying machine, a carbon-fibre aircraft which burns 30 per cent less fuel than the 777. It is equipped with an arched dome offering blue sky lighting and electronic dimmable windows two thirds larger than other aircraft.
Among the most noticeable differences are the larger overhead compartments and the more humid airflow as a result of a cabin pressurised at 6000ft rather than the usual 8000ft.
The aircraft offers four cocoon-designed first-class seats, 24 flat-bed business-class seats and 200 in economy. However, while it is easy to feel pampered in business and first class, the 3-3-3 configuration of the economy class seats means they are quite close together compared with the 2-4-2 configuration of other aircraft.
The flight attendants were specially selected by China Southern for the inaugural flight and donned uniforms used only for special occasions.
With a lack of rest space for the higher-than-usual cabin crew numbers, the empty seat beside me was used by three during their breaks, all of whom were apologetic yet chatty.
A woman cabin crew member, Kang Kang, joked it was not usual for the crew to be "sleeping with passengers" during a flight.
Another attendant, Helen Lu, who has been flying for 10 years, said the Dreamliner uses a filter system that produces fresher air. She reckons it's "one of the best planes" to be on.
The meal service was the highlight of the trip, with a menu that offers Chinese specials including ginseng and silky chicken soup, steamed pork in lotus leaf on rice and Cantonese beef noodle soup. However, Lu figured from our conversations that I was "adventurous" with food and recommended an airline special - the beef tendon hor fun (rice noodle) - when I ordered the beef noodle soup. It didn't disappoint.
China Southern has deployed the 787 on its Guangzhou-Auckland route as part of a major upgrade in the region, and will increase its services from daily to 10 times a week from December 4.
Its challenge will be whether it can continue to maintain the high standard it has set.
Lincoln Tan travelled on the Dreamliner courtesy of China Southern Airlines.