Andrea Jutson finds the real Norway while on a cruise searching for the Northern Lights.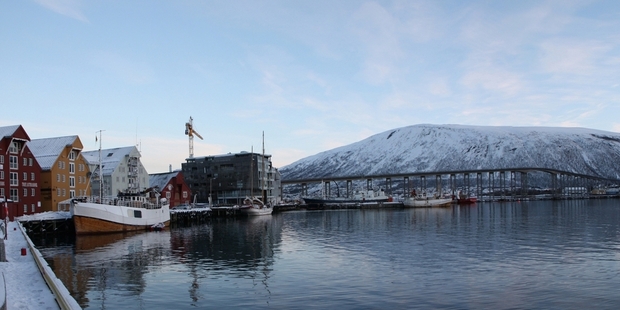 The word "Norway" conjures up a few things in the average mind: snow, vast fjords and Vikings.
One thing was on my mind, however, when I booked my six-day Hurtigruten cruise up the Norwegian coast: the Northern Lights. According to the brochure, I could expect autumn foliage and mild nights perfect for aurora-watching.
Thanks to my desire to see the rest of northern Europe when it was still light, I was going in mid-October, the quiet off-season between summer and winter. As such, the optional excursions list the cruise company sent me looked a bit grim. There would be no midnight sun or sailing up the world-renowned Geirangerfjord (summer only). No puffin watching. No husky sledding or snowmobiling. No hot toddy in an ice hotel.
A pair of sociable Australian ladies I run into shortly before my departure warn me not to expect the aurora either.
"We've just done that cruise and it was far too overcast. Autumn is the rainy season, you know."
My heart sinks. So much for the brochures.
The Hurtigruten ships themselves, while indeed plush, are hardly the Las Vegas of the seas. They're working ships, bringing supplies to many remote towns and villages along the Norwegian coast. What am I going to do for a week by myself, on a boat?
Lots, as it turned out.
A Hurtigruten cruise shows you the real Norway. Unlike other cruise ships, which spend most of their time at sea and require hours of bus travel to get you to your shore excursions, Hurtigruten takes you right into the centre of things. Every few hours there's another stop to unload or take on new cargo and passengers, which gives everyone a chance to disembark and stretch their legs.
I've chosen to go north from Bergen. I prepare myself for a monsoon, having read that Bergen gets something like 364 days of rain a year (or was it 364m?) It's therefore quite a shock to find the old Hanseatic wharf washed in sunshine. At Alesund, a pretty little art deco city, the weather holds, enabling me to compare it with Napier. It too has an aquarium, the Atlanterhavsparken. I can't walk too far, however, on account of lunch.
There are no casinos, theatres or swimming pools on board the Polarlys, but they sure can cook. Lunch is a buffet fit for a Viking horde.
I discover the icecream halfway through the cruise. After sampling several mousses, I happen upon the secret cache of espresso chocolate chip tucked behind the dessert bar. I must look like Casanova in a nunnery. I have two bowls, and wonder if I can afford a pair of Norwegian pants.
Dinners are a set menu of local food and as someone who doesn't much enjoy seafood, I am a bit concerned. But it was fine.
As we sail on the countryside grows ever bleaker, snow appearing on the tops of the peaks along the route, but it has a haunting beauty, punctuated with red and yellow fishing huts in ludicrously remote places. But there is still no sign of the Northern Lights.
At Svolvaer, on the tiny Lofoten Islands, I visit the Lofoten Krigsminnemuseum. Over 40 years, William Hakvaag has collected everything from World War II uniforms to Eva Braun's purse.
There's also a room set up like a Gestapo interrogation cell, and a Christmas tree with baubles featuring swastikas and photos of Nazi leaders, which were sent to deserving officers.
Why?
"I am trying to show that history is not clear-cut," Hakvaag tells me.
"People ask how some of our own could have been attracted to the Nazis, and I want to show how easy it is to be manipulated."
Resistance memorabilia also features strongly, reminding visitors of the other side of the story.
That night, just south of Tromso, the Lights come out.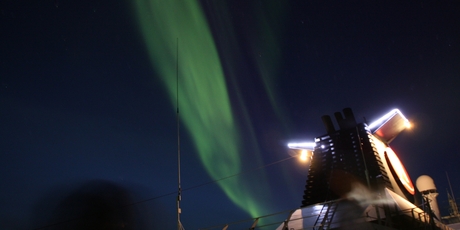 For more than an hour the sky glows green, mare's tails and swirls of light fading in and out again like the grin of a Cheshire Cat. I try and fail miserably to capture them on my camera, then simply stand and marvel. This is why I rushed outside with a jacket over my pyjamas and my laces undone. This is why I came.
When we finally dock at Kirkenes, journey's end, there's a dusting of snow on the ground. For a soft Aucklander like me, it's a magical finale. The bleakness of the landscape is transformed into something special.
It puts me in such a good mood I even smile at the ubiquitous troll souvenirs at the airport.
And I do buy a postcard of the Lights.
CHECKLIST
Getting there: Air New Zealand flies to London, daily. Local carriers fly to Bergen.
Further information: Hurtigruten ships depart daily from Bergen year-round.