Rachel Grunwell goes on a romantic ramble around Sydney's prettiest beaches.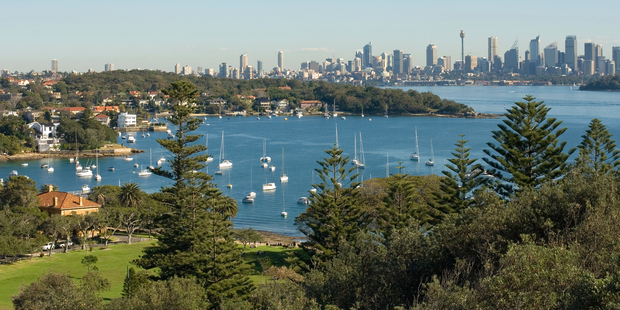 Kiwis tend to head to Sydney to shop, dine out, party, see shows, galleries and museums, hang out at beautiful beaches or stand in awe of the beautiful architectural icons. But they should add a spectacular, little-known harbour walk to their to-do list.
Some years ago, Richard Graham took his French girlfriend, Berangere, on a harbour walk through secluded beaches from Sydney's Rose Bay to Watsons Bay for a date. It was part of their romantic journey to falling in love and subsequently marrying.
Now, they share their love for the area by guiding tourists, as a business, on this romantic 8.4km trek, which showcases 10 tiny golden beaches between the two bays.
This part of Sydney is called Vaucluse because of Vaucluse House, which was lived in by the late Charles Wentworth, an influential author, explorer, barrister and statesman.
Richard realised he could do walking tours after he kept recommending the walk to friends, but everyone either got lost or couldn't find parts of the walk he boasted about. He sussed which pathways, roads and bridges connected this big walk to enable a walker to go via all the little beaches and special spots.
The tour starts at Circular Quay on Wharf 4, where I meet the couple by the waterfront and we catch a harbour ferry to Rose Bay.
This takes just 20 minutes and while on the boat I enjoy seeing Sydney Harbour Bridge and the Opera House from a new perspective. I also detach myself from the bustling city and take in the fresh air.
Meanwhile, my guides tell me about the history of the city, bridge and opera house; they point out the Prime Minister's residence; Taronga Zoo in the distance; the $80 million home right on the water; where Nicole Kidman once lived, and more.
We hop off the ferry at Rose Bay, where I see a single float plane. Berangere tells me Rose Bay is famous for being the location of Sydney's first international airport. She explains that the first flight to England was in 1938 and it took 10 days, 36 stops and nine nights in hotels. There was only one class, first, and the ticket to Southampton was 200, which was about the average annual salary back then. Tourists can now enjoy short leisurely flights from here with Sydney Seaplanes.
We grab a coffee - at my request - at a cafe close by and then, for the next 3 hours, we weave in and out of gorgeous beaches, admiring Australia's flora along the way in Sydney Harbour National Park, plus those multimillion-dollar mansions and elaborate 19th-century houses nearby.
I connect with the land, walk up hills and steps and over gorgeous bridges and boardwalks, I ramble over rocks and tree roots, too, and find myself in the thick of lush bush at times, always taking things at a pace I'm comfortable with.
I soak up the sun and surroundings, listen to birds and we stop often to take in the vista, snap photographs and to eat Berangere's delicious home-made muesli bars and drink water.
For almost the whole walk, I can see the harbour bridge in the distance. It's like a changing picture-perfect postcard.
The couple also points out estates of interest and an elaborate, eerie mausoleum, hidden at the top of the hill above Parsley Bay and talk, too, about the indigenous custodians of the area.
It feels great to be in the fresh air, to dig my toes in the sand, and see Sydney from a fresh perspective. It shows off the city, bush and beach beautifully.
I also feel good about supporting a business which prides itself on being eco-friendly. Berangere dons gloves at times to pick up rubbish while walking through spots such as Shark Bay and Nielsen Park - the latter is named after Niels Nielsen, a socialist in the early-20th century who helped the Government to buy private land in the area and open the bush and access to the harbour for the public to enjoy.
When we reach the beach at Watsons Bay, the couple says they usually ask clients if they would like to head to Doyles Restaurant on the beach for a beer and some good fish and chips.
Then it's back on the ferry to the start point at Circular Quay to end the day.
What a memorable day in Sydney. You'll fall in love if you visit here, too ...
TRIP TIPS
What to do: You can make a booking for this tour via mywalkingdetour.com. It's recommended for adults, or children aged 10-plus. The cost includes fish and chips and ferry rides.
What to bring: water, camera, sunscreen, hat, raincoat, and wear good walking shoes.
Rachel Grunwell travelled to Sydney courtesy of Destination NSW.