San Diego winners of 'bucket list' competition will finish their world trip in NZ - the land of an ancestor.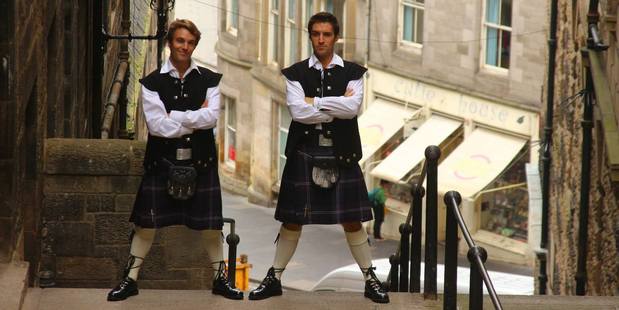 Their ancestors did it by ship in 144 days in 1875 - and 138 years later, brothers Alex and Marko Ayling's journey to New Zealand has taken longer but it has been much more action-packed.
The siblings from San Diego, in the United States, won the Biggest, Baddest, Bucket List competition, touted as a life-changing, all-expenses-paid, six-month around-the-world trip.
Their journey was based around their own bucket list, a list of places they wanted to visit and experiences they wanted to have before they died.
They are being paid to report on the destinations they visit, including New Zealand.
When hand-picking their 25 bucket list destinations New Zealand was at the bottom of the list, but with good reason. Their family has strong ties to the country and they decided to end their travels here so they could spend time with relatives and find out more about their heritage.
Their father, Robert, was born in Napier, grew up in Taradale and studied law at Victoria University before leaving to travel the world at 27.
"He met our mum Jill, a Californian stewardess, on a train in Switzerland," said Marko. "She asked to have a look at his map, he invited her to travel with him, and the rest is history. They moved to California and have been here since 1980."
But the brothers say their connection to New Zealand is much stronger than it simply being the country where their father was raised.
In 1875, Nathaniel Ayling left Gravesend in London with his wife Mary Mann aboard the Adamant. Tragically, she died and was buried at sea. Mr Ayling disembarked in Invercargill with his eight children, one of whom was Alex and Marko's great-great-grandfather.
The brothers will spend 12 days here, starting in Queenstown on December 13, and said the chance to visit the country and "find their roots" was an amazing opportunity and the "perfect end" to their world tour.
In Cape Town yesterday, the brothers said they were "ecstatic" to end their trip in New Zealand.
"It will be the cherry on the top," Alex said.
"After circumnavigating the globe, there's no better way to finish than back home in New Zealand with family."
The pair have been to New Zealand before, with Alex studying in Dunedin for a year and living the "scarfie" lifestyle before working in Queenstown for a winter. They also spent a number of Christmases here with family when they were children.
"New Zealand is close to home - it is home. We're travelling on our New Zealand passports, and it's logical that we started the trip at home in California, and we end at home in New Zealand. It's coming full circle really. It's a great way to finish the trip ... While exploring the world, we're also exploring our own personal history," Marko said.
They will travel around New Zealand for two weeks and plan to stay on with family after their official trip ends.
"We're really getting the most out of it. I'm really looking forward to a meat pie and maybe a scrumpy," said Alex.
Their parents will also travel to New Zealand for a family Christmas and holiday. But before then, the boys have work to do, visiting Wellington, Auckland and Rotorua and writing about the country as a "must-visit" tourism destination through their regular blogs, videos, articles, social media posts and interviews.
"We've lined up some typically Kiwi activities such as bungy jumping, sailing an America's Cup boat and experiencing a traditional Maori hangi and cultural show, but we're also looking forward to meeting the locals and getting behind the scenes of each of the places we'll visit.
"In our eyes that's the real way to see anywhere, talk to the locals," Marko said.
So far the brothers have visited the United States, South America, the Caribbean, Europe, the Middle East, Africa and Asia.
The trip was organised by travel company My Destination, and New Zealand managing director Mike Watt said he was "extremely privileged" that the brothers chose to travel here.
"I can't wait to see what the boys come up with," he said.
"It'll be great to showcase New Zealand to the world from their eyes."
World trip
To follow Alex and Marko's journey:
* @vagabrothers on Twitter
* mydestination.com/bbb
* youtube.com/watchbbbtv