Beyond its urban attractions and historical draws, England's Lake District offers natural beauty to rival even the joys of home, writes Nic Hamilton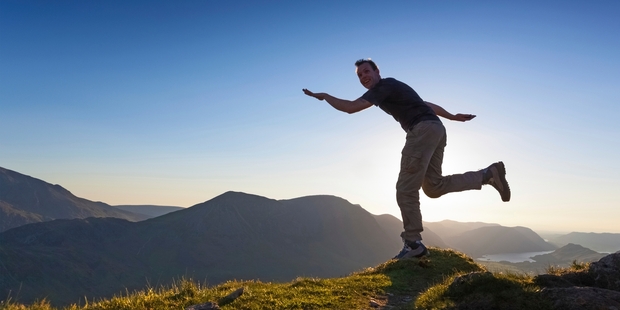 The English get very excited about the Lake District. They speak with pride about the region's natural beauty and are quick to suggest hidden gems to visit.
But a Kiwi traveller to the UK may want to seek culture rather than natural attractions. We're from New Zealand, why visit England's answer to what we have in spades ... lakes, forests and mountains?
I'd lived in England for more than a decade and never visited the Lakes. Why would I, given that all my life I'd I spent my holidays in places such as Nelson Lakes and Lake Wanaka? My lake snobbery is furthered by having lived in stunning Lake Tahoe, California, and having visited the magnificent lakes in Northern Italy and, oh yeah, I spent my honeymoon camping around beautiful lakes in the National Parks of the Pyrenees. I am on top of the lakes.
Against this backdrop of prejudice, my English wife organised a stay in a cottage in the Lake District this spring. England's most beloved National Park was to host its most difficult to convince and judgmental visitor yet.
The park receives almost 16 million visitors every year, making it one of the most visited National Parks in the world.
To get to the Lake District, you really need to drive. The train from Glasgow or London will take you into the park, connecting with its larger centres Windermere or Kendal. But to explore it properly, hire a car and well ... explore. We drove from London, only 4.5 hours according to Google Maps, and if the traffic is good, that is possible. The first thing you notice when you turn off the motorway and enter the park is the change in geography. Almost immediately rocky granite escarpments, craggy outcrops and forest-covered hills rise up. This is Cumbria, and these glacier-shaped hills and valleys are some of the oldest in Europe.
Our cottage was built in the 17th century and carefully renovated to preserve many of the features you will find in traditional Lakes' cottages. Such as low beams. I managed to bang my head four times during our four-day stay. The garden was safer and quintessentially English. Daffodils provided colour next to grey slate footpaths through a garden showing all the promise that spring growth provides. Helped along, might I add, by a few New Zealand-native hebes.
This particular spring is especially craved by Kiwis living in Europe, as we've experienced the double whammy of a harsh winter while enduring a stream of photos from family and friends back home revelling in "the best summer ever".
However, if you do visit when the weather isn't welcoming, which is often if the amount of board games in our cottage is anything to go by, there is plenty to keep you occupied indoors. You could visit one of more than 35 museums. There are more than 100 festivals here every year including the Keswick Jazz Festival, which attracts international acts, the Kendal Mountain Film Festival (the Lakes are a mecca for climbers) and perhaps one of Britain's oddest events, the World's Biggest Liar competition, which began more than 100 years ago when the landlord of the Wasdale Head Inn began teasing drinkers with ever more incredible yarns about the Lake District.
Many come here for the fantastic walking. In this part of the world, it's called fell walking, which is an Old Norse word meaning mountain. Want a walk suitable for a wheelchair or your child's buggy? No problem, choose from one of the more than 40 "miles without stiles" walks on the excellent national park website. Fancy something a bit more challenging away from the crowds and when the cloying daffodil-lined hamlets are getting too much, then head to Ennerdale Water and the fells beyond the head of the lake. It's the only lake where cars cannot drive its length and powered boats are banned. This quiet location is where an unsuccessful marriage proposal by an Arkansas law student to a young Hillary Rodham took place. She later relented and married Bill Clinton.
There is of course boating. Coniston Water is the scene of the world water speed record set by successive versions of the Bluebird, but tragedy struck in 1967 when Donald Campbell lost control at 320mph (514km/h) and crashed, sinking instantly. His body was recovered from the lake more than 30 years later. For quieter pursuits, there are Canadian-style canoes, kayaks and sailing boats for hire. Or take a ferry or even a steamboat. Cycling is popular, as there are country lanes and dedicated cycleways with an increasing number of B'n'Bs catering for those on a touring holiday. Older kids will go ape for Go-Ape, a large complex of flying foxes and whip wires among the trees in Grizedale forest.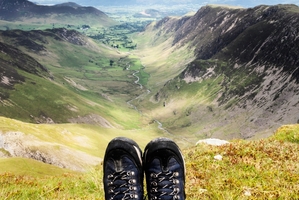 The Lake District is one of the UK's gastronomy regions, with four Michelin-starred restaurants, and Cumbria boasts more microbreweries than any other county in Britain. Everyone will point you to the Drunken Duck Inn, which serves good food with efficient and friendly service. For something a little more twee, afternoon tea is a hallowed ritual in the Lake District, and after a walk around Loughrigg Tarn, Cote How Organic Tea Room does delicious home-made Cumbrian tea bread, scones and lemon drizzle cake.
Culture vultures will feed off the region's rich literary associations to the romantic period. To visit the Lakes is to move through country that inspired some of England's most treasured literary giants: William Wordsworth, Beatrice Potter and Arthur Ransome, who wrote the Swallows and Amazons series. If it's all becoming a bit too much like an English cultural theme park, the breathtaking beauty of the Lakes is never far away; enchanting forests, rugged fells and tranquil valleys are there beyond the cliched confines of some of the more touristy towns.
The Lake District changed my mind about what the UK can offer in terms of natural beauty. Tamer landscapes perhaps than what we're used to, but its charm will still captivate even the most well-travelled of visitors.
Mix in its multi-layered history borne from more than 5000 years of human habitation means you have something for everyone. If you seek to understand what a big part of English culture really is about, a visit to this world class National Park is a must.