Paul Rush finds cruise ships have plenty for kids to do.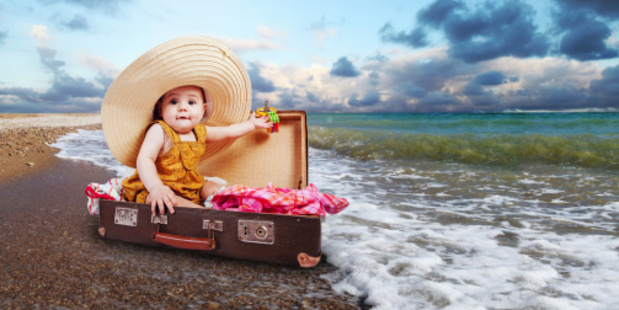 I watch spellbound as a toothsome feeding frenzy is played out in the Shark Shack far out in the Pacific Ocean. Edible dwellings are scrunched into wide open mouths that drip chocolate sprinkles. Broad smiles light up faces that are liberally smeared with sticky icing sugar.
This is my mouth-watering introduction to the fun-filled experience of building a biscuit house with large crackers, decorating it with sweets and then eating it. It's the ultimate gourmet experience for resourceful 7- to 12-year-olds on a P&O Cruises ship.
The best house is a bright blue structure with the ultra-high roof and a liberal coating of blue icing, jubes, pebbles and chocolate buttons. It looks too good to eat but that doesn't deter the builders.
These youngsters are denizens of the Shark Shack, whose menacing title belies the light, airy welcoming nature of the room. Around 40 happy children are enrolled in the onboard kids club for 7- to-10-year-olds. Ten are in the Turtle Cove, for 3- to-6-year-olds. The teens hang out in two separate clubs - HQ and HQ+, replete with play station and DVD games, Wii golf and boot camp challenges.
I've been surprised and delighted to realise just how wide ranging the appeal of family cruising has become in recent years, as it's a marvellously relaxing and stimulating way to travel. It offers the opportunity to visit exotic places with a high degree of comfort and convenience.
Cruising caters for those who want to participate in the constant round of onboard activities and those who simply want to relax and do nothing at all.
The way P&O Cruises kids' club function is pretty nifty. Parents sign up on their first day on the vessel for Turtle Cove, Shark Shack or the Teens Group.
With parental approval, kids over 7 can have the privilege of coming and going as they wish. The daily programme of children's events is delivered to the cabin every night.
Youth activities include 100 games. The absolute favourites among Turtle Cove children are arts and crafts, meeting the captain and the final talent show in the big public lounge. Shark Shack kids adore outdoor games, the kids' rock band, karaoke, sing-a-longs and pirate parties.
The cruise line has also introduced a new movie experience, Broad Shorts - a film-making activity, which uses the software system of Stop Motion Pro and the latest Sony equipment.
Other cruise lines continue to expand their family-friendly activities and youth programmes. Carnival Cruise Line offers all-day hip happenings based on art, reading, geography, science and physical fitness in Camp Carnival. Disney Cruise Line devotes almost a full deck to kiddie capers including an interactive Oceaneer Lab and a replica bridge for youngsters. Celebrity Cruises X-Club has five programmes: Toddler Time, Ship Mates, Cadets, Ensigns and Admiral T's. The Teen Lounge has a video arcade, dance floor, juice bar, jukebox and karaoke plus internet access.
Royal Caribbean Cruises provide an Adventure Ocean Youth Programme teaching children about the port they visit, sailing skills and science experiments. There's even a nightclub for teens. Holland America has Club HAL, which offers a host of educational activities, creativity and full-on fun.
And Princess Cruises provides for Princess Pelicans with activities such as organised games, arts and crafts area and a splash pool.
On my P&O Cruises trip, supervisor Jenny's popularity with the children is plain to see in the thank you letters posted on the Shark Shack notice board. Tessa says, "Jenny you rock the house. We've blasted off into space so much. I'll really miss you."
Luke adds, "I'm incredibly sad to leave because I'll never have as much fun again."
Paul Rush travelled with assistance from P&O Cruises.