Colin Mathura-Jeffree laps up the luxury and labels on the Gold Coast.
I was baptised a model in 1991 in an era defined by the supermodel. And the godfather of those supermodels was Gianni Versace. He took Linda, Naomi, Christy and catapulted them into mega-stardom with his brand.
If you were in the industry and desperately wanted to make a name for yourself before your use-by date slammed you out the back door, you had to be on the covers or in the editorials of the best fashion magazines, and walk for the best of the best designers such as Versace.
One of my career highlights was leading the finale down a Versace runway that exploded in fire. We were hand-picked for the show. No BS. It was honest brand association and we, as the models selected, loved that.
So when I discover I am to stay at the Palazzo Versace Gold Coast, I am delighted. I mean, why stay in a hotel when you can stay in a palace? And steal all the designer cushions.
The Palazzo Versace is the world's first fashion branded hotel and the Versace brand is not shy on colour, pattern, texture, design, shape or decadence. And that's all in the first few steps into the grand foyer. When I die I want to be buried with a Versace cushion.
My suite is gorgeous; its Juliet balcony overlooks azure pools. And my bedroom is the best as it opens into a lovely bathroom.
I change as we are dining at the QT, another personality-plus hotel that looks like it's come straight off the TV show Mad Men and, like Palazzo Versace, has exceptionally good-looking staff.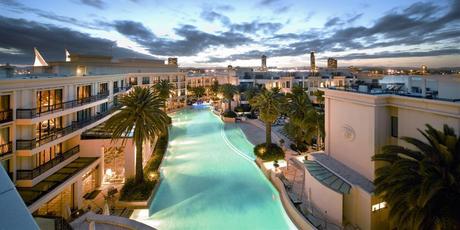 When I see the abundance of the QT Bazaar restaurant, I figure that I can no longer worry about my figure. Oysters, steak (very rare), lamb shank, more oysters, steamed Chinese dumplings, salad, more oysters, tuna and salmon...back and forth like a yoyo. I don't eat the bread roll because I figure it's not Paleo, and then I devour one of every dessert available. We're noisy, drinking champagne, before we head downstairs to the Stingray Lounge for a Passion Pop and Mexpresso Martini. By this stage, it's clearly time for my bed.
I'm awake by 5am and I look at the beautiful pools glistening in the freshness of a new day and imagine what it would be like to work out before breakfast.
Breakfast is the meal I most desire, so I eagerly bound up to the chef of Il Barocco and order perfect poached eggs. I drown them in hollandaise sauce, which I think is still Paleo.
Today Palazzo concierge Dillan is chauffeuring me in a luxury Audi A8 to Robina Town Centre. But first, I need a coffee and the sexiest place to go is Black Coffee Lyrics. This amazing place is run by a few fellas upstairs in a mall full of dirty little shops with names like "Golden Claws Massage".
Damn good coffee and convo and we're off to Robina's 300 specialty stores for a whirlwind tour of its great designer shops.
At Oskars on the Burleigh waterfront I share desserts with my dining companions ...meaning I stick my spoon in all their choices and block them getting any of my passionfruit souffle.
I walk off the meal with a bit more shopping along Burleigh's Esplanade and James St. At Le Deux I buy earrings to go with a dress I bought for my Mum a couple of days ago. (God help me not to see sandals to go with it, too.)
Back at Palazzo Versace. it's Fashionista High Tea at Le Jardin with Russell, the fit, dapper Palazzo GM. I select what he is having as it's only polite - coloured eclairs, white chocolate mousse clouds and petite sandwiches.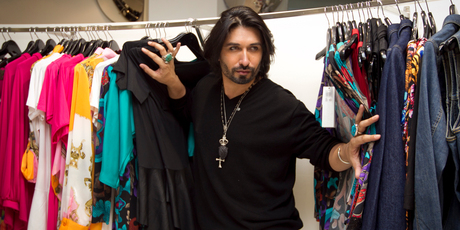 I tell how much I'm luuurving my stay and that I have modelled for Versace. He shares funny stories of un-named celebrities taking the cushions or embossed crystal glasses away ...and the hotel billing their credit cards. The pillows are A$500 each. Fair enough, I guess it is theft. We both laugh. He is an astute and charming man.
Back in my room, I put back the seven cushions (A$3500!) I had stuffed into my suitcase, and discover the hotel had prepared a faboush, candlelit bubble bath...as well as a lychee cocktail. I slide into the bath and burst out laughing...I mean this is the most amazing experience.
The next morning starts poolside at a Versace cabana, drinking champagne. I'm wearing the hotel robe and soaking up the rays while being photographed. I'm so vain I want to check I'm looking all right, so I turn to the window reflection and open my robe and try to flex my tummy muscles as I pull the sort of faces you do when it's only you and a mirror. Except, I start to realise the eyes looking back at me are not my eyes. I'm flexing, preening, posing like a peacock in front of EVERYONE having breakfast in Il Barocco!
I can't get into the water fast enough! It's a good reason to escape to have a weirdly wonderful wet massage.
Back to my room to change and a last spot of shopping at the 70 designer boutiques of Marina Mirage where I enjoy covering myself in pearls from Middleton's Fine Jewellery.
It's all about quality in quantity which also sums up my experience of the Gold Coast in general and Palazzo Versace particularly. Pure magic.


Gold Coast fun
• Amusement and theme parks. Take your pick from Warner Brothers Movie World, Sea World, Wet'n'Wild Water World, Dreamworld and plenty more all offering an amazing day out for all ages.
• Wildlife. At Currumbin Wildlife Sanctuary you can cuddle a koala, experience the wild lorikeet feeding, free-flight bird show and kangaroo feeding.
• Beaches. Surfers Paradise, Broadbeach, Main Beach, Burleigh Heads and Coolangatta all have fantastic beaches plus cafes and restaurants near the beaches.
• Hinterland. Whether it is the Gold Coast Hinterland Great Walk, O'Reilly's Rainforest Retreat, Lamington National Park or Mt Tambourine, make sure you venture inland and experience the area's subtropical rainforests, waterfalls and walking trails.


Gold Coast events
October 12-13 Gold Coast 7s. Be part of the rugby action and then stay and play on Queensland's Gold Coast.
October 25-27 Armor All Gold Coast 600. The V8 Supercars event is the coast's biggest party. Don't miss the Season of Endurance finale as the world's top V8 Supercar drivers battle through the tough street circuit to claim the title.
November 7-10 Australian PGA Championship presented by Coca-Cola is the country's oldest professional golf tournament and is being played at RACV Royal Pines Resort. Watch masters champion Adam Scott and American young gun Rickie Fowler.
April 2-27 Surfers Paradise Festival is a celebration of Gold Coast music, art, food and culture, presenting emerging local talent along with national and international artists

May 9-11 Opera Australia has partnered with Bleach * Festival to turn the shores of Greenmount into a fantasy land of fairy tales and marvellous music. Mozart's The Magic Flutehas been described as the perfect opera for amateurs.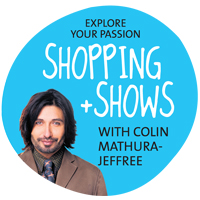 IF YOU GO
Getting there: Fly there with Air New Zealand.
Find out more at: Australia.com.
Colin Matthura-Jefree travelled to the Gold Coast with the assistance of Tourism Australia, Tourism and Events Queensland and Air New Zealand. For more information visit Explore - Shopping and shows.