From fair Verona, where we lay our scene, to Mantua, Padua and Rome, Shakespeare was fascinated by Italy. Duncan Garwood presents his guide on where to go - without quite so much drama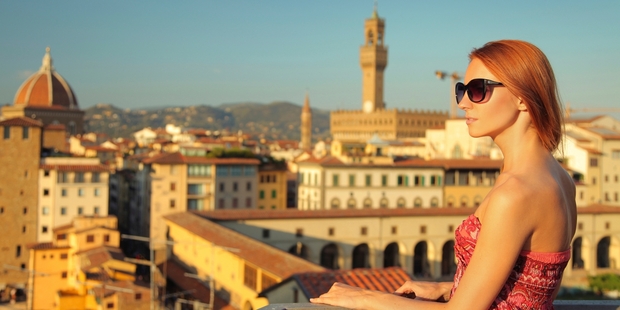 What's the attraction?
In all likelihood, Shakespeare never set foot in Italy. Yet the country exerted a powerful hold on his imagination and of his 38 plays, 13 are either wholly or partially set on Italian soil: Romeo and Juliet act out their tragic passions in Verona, Shylock demands his pound of flesh in Venice, Julius Caesar conspires and falls in Rome.
A new cinematic adaptation of Romeo and Juliet, directed by Julian Fellowes (creator of Downton Abbey), is coming our way. It was filmed on location in Lazio, Lombardy and, of course, Verona. But there are plenty more Shakespearean sights and settings to take in throughout Italy.
Verona
The most celebrated of Italy's Shakespearean cities lends its name to The Two Gentlemen of Verona and its enchanting medieval streets set the stage for Romeo and Juliet's doomed love.
Shakespeare's lovers are entirely fictional but still thousands of visitors flock to the 14th-century Casa di Giulietta (Juliet's House) at Via Cappello 23 to glimpse the play's famous balcony - in fact a 20th-century addition - and to ensure good luck by caressing the right breast of the bronze statue in the courtyard.
Admission to the Casa is $9.80; the courtyard is free.
To stay in theme, Il Sogno di Giulietta (00 39 045 8009932; sognodigiulietta) offers elegant accommodation overlooking the courtyard with doubles from $260 including breakfast.
Mantua
Mantua, 35km south-west of Verona, is the town to which Romeo is banished after killing Tybalt. And like Verona, it makes a very believable Shakespearean setting with its beautifully preserved medieval centre, grand ducal palaces and grey cobbled piazzas.
Much of the citys splendour dates to its Renaissance heyday as the stronghold of the powerful Gonzaga family. Their main residence, Palazzo Ducale (00 39 0376 224832; mantovaducale.beniculturali.it) on Piazza Sordello, was once one of Europes largest palaces, and although many of its 500 rooms are now closed to the public, its still a formidable sight with its elegant courtyards and richly frescoed rooms. Admission $10.60.
Padua
A refined and handsome city 25 minutes by train west of Venice, Padua is often overlooked by visitors. But as the setting for The Taming of the Shrew (although Shakespeare mis-locates it in Lombardy: Tranio, since for the great desire I had / To see fair Padua, nursery of arts, /I am arrived for fruitful Lombardy, /The pleasant garden of great Italy), its an essential stop.
The Bards choice of Padua owed much to the citys reputation as a cultural and intellectual hub. It had, and still has, a prestigious university both Galileo and Copernicus studied there and its home to one of Italys great artistic masterpieces, Giottos fresco cycle in the Cappella degli Scrovegni (00 39 049 2010020; cappelladegli scrovegni.it). Visits to the chapel at Piazza Eremitani 8 require reservation; admission is $21.
Venice
Italys haunting canal city provides the backdrop to two of Shakespeare's most memorable characters: Othello, the Moor of Venice, and Shylock, the Jewish moneylender in The Merchant of Venice.
In Shakespeare's day, Venice was one of the few European cities where Jews could live and work, albeit subject to strict rules. They were confined to a ghetto at night - the first Jewish ghetto ever established in Europe - and they could only do certain jobs, one of which was money-lending. The Museo Ebraico, or Jewish Museum (00 39 041 715359; museo ebraico.it) at Campo del Ghetto Nuovo 2902b explains in more detail. Admission $6.50. Not far from the Ghetto, the Rialto bridge is one of the few Italian sights that Shakespeare refers to by name: "What news on the Rialto?" in The Merchant of Venice.
Milan
Although Verona gets headline billing in The Two Gentlemen of Verona, much of the plays action takes place at the Duke of Milans court. Throughout the Renaissance, Milan was a powerful duchy ruled by two dynastic families, the Visconti and Sforza. Both left their mark on the city, most dramatically in the form of the Castello Sforzesco (00 39 02 88463700; milanocastello.it), a vast castle on Piazza Castello that started life as a Visconti fortress but later served as the Sforza family residence. Today, it houses several museums dedicated to art, archaeology and musical instruments. Admission $11.40.
Florence and Tuscany
Based on Giovanni Boccaccios Decameron, Alls Well That Ends Well is the only play to have scenes set in Florence and Tuscany. But while Shakespeare makes little use of Tuscany's good looks, modern filmmakers regularly feature its celluloid-friendly landscapes. Kenneth Branagh filmed his 1993 version of Much Ado About Nothing in a villa near Greve in Chianti, while Michael Hoffman used the hilltop town of Montepulciano as a location for his 1998 Midsummer Nights Dream. In Florence, the friendly Hotel Dal (00 39 055 2340706; hoteldali.com) makes a great Tuscan base with doubles from $140 room only.
Rome
The Renaissance saw a resurgence of interest in ancient Rome, and Shakespeare based, or partially based, five plays in the Eternal City: Coriolanus, Julius Caesar, Antony and Cleopatra, Titus Andronicus and Cymbeline.
Most of these were inspired by real events but, almost inevitably, history and fiction collide in Shakespeare's Rome. So while Mark Antony's famous "Friends, Romans, countrymen" speech is pure fabrication, the venue for it is not, and you can still see the remnants of the Rostrum where he supposedly stands in the Roman Forum (00 39 06 3996 7700; coopculture.it) at Largo della Salara Vecchia. Admission $20. Similarly, Julius Caesar never uttered the immortal words "Et tu, Brute?", but he was assassinated on the Ides of March 44BC on a spot in the present-day Largo di Torre Argentina.
Sicily
A busy transport hub on Sicily's northeastern coast, Messina is a long way from Stratford-upon-Avon. But there are those who claim that Shakespeare was actually born there and that his real name was Crollalanza.
Certainly the playwright knew of the city and he set Much Ado About Nothing there.
Unfortunately, little remains of 16th-century Messina. It was hit by an earthquake in 1908 and few historical buildings have survived.
Shakespeare also set parts of The Winters Tale in Sicily.
No specific city is named but romantics might imagine that King Leontes palace is in the Sicilian capital of Palermo, perhaps in the Palazzo Reale (00 39 091 626 2833; federicosecondo.org) at Piazza Indipendenza 1. Admission $13.80.
- Independent