Justine Tyerman flies Emirates Flight EK 122 Istanbul to Dubai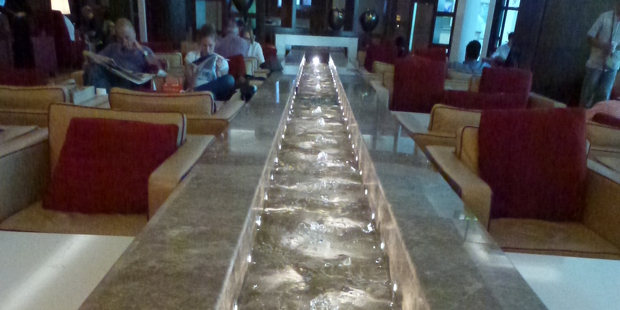 Syria looked like a giant one-dimensional Christmas tree as we flew over at a height of 40,000 feet.
I looked down at the clusters of randomly-arranged lights connected by spindly threads, wondering what horrors the people in those villages had suffered that day as I tucked into my grilled minced chicken rolls, followed by strawberry mousse, and a glass of French viognier.
We were in a parallel universe, the Syrians on the ground, the passengers in the Boeing 777-300ER capsule skimming through their airspace. My main concern was how to extract myself from a window seat to get to the bathroom without disturbing my seat-mates. The Syrians' main concern was surviving the next sarin attack. I had pangs of survivor guilt and felt oddly voyeuristic.
Earlier, the flight information screen showed we had passed directly over the Turkey-Syria border. The twinkly-eyed Pakistani fellow in the seat next to me teased, "I think we are gaining altitude and veering left." I said not to worry, I would keep watch for missiles.
The four hour, 20 minute flight from Istanbul to Dubai flew by, engrossed as I was in conversation with the chatty man from Karachi who introduced himself as a customs inspector as he sat down beside me.
I giggled inappropriately about how uncomfortable I would be feeling, had I been in mid-drug smuggle.
He said the tracking of traffickers was all handled on an international level these days with worldwide networks to detect and detain offenders.
Why then did we have such a shocking P problem in New Zealand if all these networks were netting the smugglers? He said he would look into it.
I watched a dreadful Jack Reacher movie just to see what Tom Cruise looked like nowadays and he watched the Marx Brothers, chuckling away and pointing out his favourite characters to me on the screen.
"We are now over Kirkuk, out of harm's way," he said with a wink. Fires from the well heads in the oil-rich Iraqi north glowed like dozens of cigarettes in the night sky.
Somewhere over Baghdad, he told me about his arranged marriage as a young man, and his three high-achieving children, two lovely daughters and a son, his favourite. He regretted now that he had allowed his mother to arrange a marriage for him with a suitable girl he had never met until his wedding day, but his wife was a good mother and that's what really counted, he said.
He talked of his profound sadness for his country, mired in conflict, how military leaders should never become political leaders, how democracy would never work in Afghanistan, and the difference between Pashtun and Hazara. He was Pashtun.
He spoke of the beauty of the Himalayas, especially K2, from the Pakistan side, a sight that tourists seldom see.
Approaching Dubai, the city's great towers and minarets appeared like mirages in the sandy haze. The landscape was a study in 50 shades of brown, a complete absence of colour apart from the occasional silver sliver of a lake or river. Roads seemed to peter out in the sand. A wisp of dust attached to a glint hinted at a vehicle on a dusty road. As I looked down, I wanted to know who lived in the villages, what they were doing and what they were having for lunch. My Pakistani friend was no help - he was pretending to be asleep.
On landing in Dubai, we smiled at each other, shook hands and went back to our respective lives, the richer for our conversation. He was headed to Islamabad and I to Auckland. I thought of him the other day when I heard about the huge earthquake which had struck his country. More survivor guilt.
Scuttling off to the business lounge, I whiled away quite a few hours before the biggie, EK 406, 18 hours, 35 minutes to Auckland, with a short stop-over in Melbourne.
I showered and made the most of the huge fluffy white towels, slippers and fragrant toiletries, plugged all my techno tools into the smart charging towers and stretched out on a recliner in a quiet zone, lulled to sleep by the water gurgling in a nearby rill. I woke up a few hours later, muddled my time zones and found myself sipping Moët, eating scrambled eggs, hash browns and croissants, followed by strawberries, blueberries, bright pink water melon . . . and pain au chocolat.
Lounge life makes a long journey quite tolerable . . . but does nothing to assuage the guilt!
Justine Tyerman flew Emirates, Istanbul to Auckland, and visited the business lounge courtesy of Emirates.