Manila's crazily painted public transport puts a big, fat smile on Chris Hutchings' face.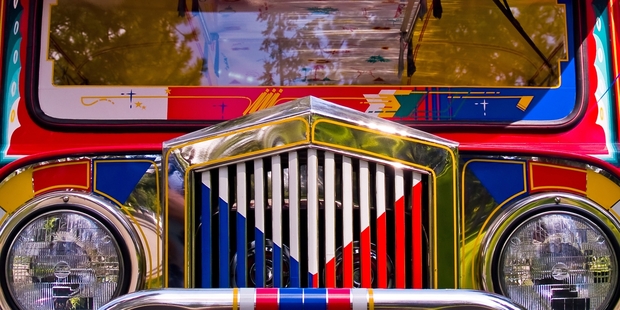 Jeepneys are the unofficial emblems of the Philippines. Each is brilliantly colourful and a hybrid of a bus and a jeep, and they're everywhere.
The small vehicles are the main mode of public transport in most towns and cities in the Philippines, including busy Manila, and are used for local and long-distance trips.
Many Jeepneys are hand-painted, with their destination written on the side.
They evolved from the many jeeps left behind by US forces after World War II. They were modified as the need arose, with bits and pieces of metal added by hand. They were also painted with murals, often in bright colours.
Today, they are built locally from aluminium and stainless steel. But they've maintained their original form - and colour - and are a "motif" of the country.
A word of warning, though. If you plan to catch a jeepney somewhere, make sure to read the entire long-destination notice.
The first part of the "sign board" states the jeepney route's origin, the last part, its destination.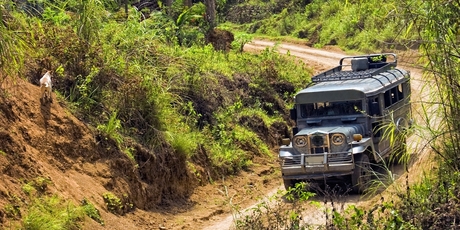 The middle section is the most critical. It details the route the driver will take between the two points. So, while a quick glance at the sign board may lead you to think two jeepneys are going to the same place, they likely won't go the same way. The actual path they take to get there will be different.
Once you're aware, a trip in a jeepney is fun and should be on your to-do list when visiting the Philippines.
Some package holidays may include a ride in one as the airport transfer but if you want a more authentic, non-touristy experience, try a jeepney ride in Manila, where roads are congested. A good place to start from is the city bus station, outside the Mall of Asia.
The place is crowded with jeepneys, promising a fun foray around Manila.
CHECKLIST
Getting there: Philippine Airlines flies direct from Sydney and Melbourne to Manila. Emirates, Air NZ, Qantas and Jetstar connect to the Australian cities. Return economy fares to Manila from Australia start at around $1600.
Accommodation: Raffles Makati luxury hotel is close to great shops .
See Raffles.com/makati.
Online: experiencephilippines.org
The writer travelled as a guest of Philippine Airlines, Raffles Makati hotel and the Department of Tourism Philippines.
- AAP