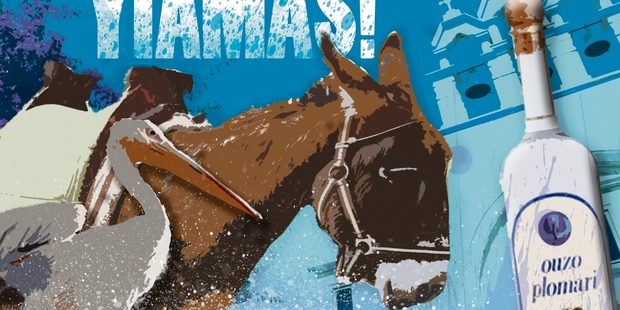 This feels like a joke in the making but there we were, a Kiwi, an Australian, an American and a Pom standing round a remote cafe on the Greek island of Kos, hanging off every word uttered by our new found Greek mate, Konstantinos, or as he insists - Kostas.
It looked more like a Hellenic scene going back 2000 years, with us seeking wise counsel from the village philosopher.
He was talking about ouzo and I was waiting for the punchline.
With hands on hips while beaming a cheesy bearded grin, he said in a rich Greek accent ... "like me, the best comes from Lesbos ..."
Lesbos being another Greek island which, as it turns out, is the true home of ouzo.
Kostas advises us to stay well away from the tourist traps that sell small bottles of the stuff by the box-load as souvenirs.
"It's garbage," he adds. "And don't add ice to it - it burns it - and adding water takes away the hit." Ironically, this is how most Greek restaurants serve it to Westerners.
"And make sure you eat mezes with it." Note taken.
I ask what the hell mezes is, some type of antidote? "Greek tapas" ... more notes taken and lots of nodding, but he frustratingly won't give us a label name to chase.
There are over a dozen brands of ouzo made in Greece, most are from Lesbos and they're all marginally different, hence you have to try them all to find the one that suits your taste buds and cerebral stamina.
Mostly alcohol spirit, aniseed and I'm sure the occasional odd sock, it does have a liquorice halitosis that only Greeks find totally acceptable. Its popularity climbed in the early 1900s as a surrogate to the then banned spirit, absinthe.
My first experience goes back years when we rented a shop back in Australia from a Greek family who owned half the main street of a provincial town.
They insisted we come over and seal the deal on a handshake and a glass of ouzo and plates of Momma-made dolmathakia. The old man's front yard was under total cultivation of vegetables, where you and I would have a lawn and garden.
It was a stinking hot Queensland day, so understandably, he was wearing a white singlet and footy shorts which barely covered the bearskin rug that covered his body.
The ouzo was served straight in a shot glass and you had to eat these leaf-rolled oily things with it, which delayed the inevitable hit.
The first sip was like drinking 19th-century cough medicine. I smiled politely but my insides began prepping for possible evacuation.
After a while the senses numbed and I was smiling at anything, while my head felt like jello.
Back in Greece and on the stunning island of Mykonos, I stand hand-on-heart by my very limited experience of ouzo consumption and strongly recommend the following: mid-summer and midday, you hire the first donkey you can find and wind your way to the small village of Ano Mera.
A quick visit to the 16th-century monastery to light three candles - one for each kidney and one for your grey matter - then hike up your strides and head across the courtyard to the tavern for some Polmari ouzo and mezes.
It's served straight in shot glasses and the tavern owner may even sit and help you get slowly minced. You can expel any demons later on the way back. Unfortunately, for the next day or so, you will feel and taste like a donkey has been sitting on your head.
Not a good look. Be warned. Yiamas!
Rod Emmerson was on Kos and Mykonos courtesy of Azamara Club Cruises and Cathay Pacific.