Queenstown has a wide range of exciting activities on offer, discover Spy editors Andy Pickering and Ricardo Simich.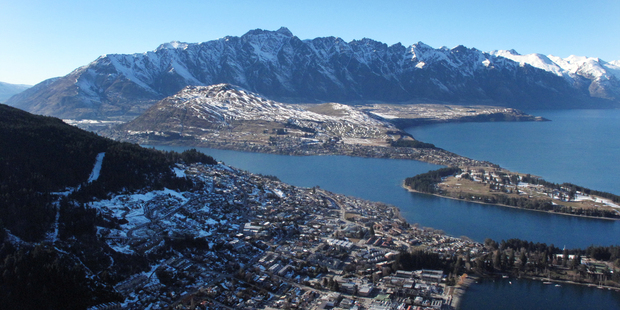 In July we attended Veuve Clicquot's annual Clicquot In the Snow festival in Queenstown.
Finding ourselves in the agreeable position of spending six days in Queenstown, based out of the sprawling maze that is the Hilton hotel, we thought we would explore some of the region's must-do adventures and culinary experiences. We were not disappointed.
Top of our list was a helicopter ride. Queenstown, like most of the South Island, is, as you'll know, a scenic vista of epic proportions. The kind of scenery that inspired and actually lives up to that somewhat tainted idea of 100% Pure New Zealand.
The best way to experience Queenstown's scenery is by helicopter. And it needn't be as expensive as you might think. Queenstown's helicopter operators are an agreeable bunch, and will happily put together a trip to suit your budget. From high-end bespoke options such as heli-skiing or hunting trips to remote areas, to an hour-long tour of some of the locations used in Lord of the Rings, or do what we did: a quick 15-minute helicopter flight from Queenstown to the top of Double Cone, the highest peak in the Remarkables range, alpine landing included.
At $310 per person, the photo opportunities and incredible views are worth the price of the trip. We flew with Chris Jackson from Glacier Southern Lakes Helicopters.
Chris is a true Southern man who has been flying commercially in Queenstown since he was 18. After taking photos of us on top of Double Cone, during the quick flight back to Queenstown he casually asked, "Who likes roller coasters?" Your humble correspondents, having answered in the affirmative, were swiftly thrown into what felt like barrel loop 360-degree flips and turns. We didn't know helicopters could physically (or legally) perform such manoeuvres, but Mike assured us it was all part of the service. During the flight back we posted photos to our social media accounts, keen to show off the mountain vistas to the folks back in Auckland. An absolute must for anyone going to Queenstown.
Safely back on the ground with a couple of stupid grins stuck to firmly to our faces, we did what any self respecting adrenalin junkie in Queenstown does - we went and threw ourselves off a tall bridge attached to a thin rubber band. Well, no we didn't. After drinking our body weight in fine French Champagne the night before, bungy jumping did not appeal. So we did the next best thing. The Shotover. Billed as the world's most exciting jet boat ride, the Shotover Jet has thrilled an incredible 3 million people since 1970. You may have been on it yourself. The jet boat ride though the spectacular Shotover River canyons lived up to high expectations. The handling and speed of the boats is incredible and the sensation of feeling like you're just about to smash into the hard rock walls at high speed and then ... (miraculously, you don't!) is bloody good fun. Essential thrills for all the family.
That night we had dinner reservations at Rata. Open since 2012, Rata is one of New Zealand's most intriguing restaurants. It's jointly owned by Queenstown restaurateur Fleur Caulton, and Josh Emett, New Zealand's only Michelin-starred chef. Set in a beautiful room down a nondescript alley in the heart of Queenstown, Rata showcases Emett's love of bold flavours, adventurous combinations and exacting cooking standards. Fleur delivered tasting plates of goat cheese profiteroles with rata blossom honey, charred pickled octopus with fennel, crispy duck tongues with cherry, seared Savannah grass-fed sirloin, and the piece de resistance, Emett's unique take on Southland's famous cheese roll. We'd sampled the traditional version at the cafe on Coronet Peak the day before, and thought it a cheese-laden white bread carbohydrate nightmare. Rata's version comes stuffed with a deliciously rich and decadent cheese topped with truffle shavings.
Emett is nothing if not inventive, and some of his dishes delight in pushing the boundaries. Our main course of John Dory with pigs' tails and oysters was quite something. The delicate dory was delicious but over the course of the dish, boy did the pig-tail flavour profile make itself known.
Two days later we bumped into Josh Emett himself and told him that our meal at Rata had been a memorable one, but that we still trying to come to grips with the pigs' tails. He looked at us and laughed, "haha, yes, sorry about that one chaps!"
Pigs' tails or not, Rata is one of Queenstown's must-dine food destinations, and the other is the Amisfield Wine Company. There are many winery tours on offer around Queenstown, Amisfield is the closest and, in our view, the best. Highly regarded specialist producers of Central Otago pinot noir and aromatic white wines, Amisfield also operate a bistro that serves up brilliant food in a distinctive stone building at the foot of the Remarkables. The menu changes daily, but the best way to experience Amisfield is to choose the Trust The Chef signature menu.
You'll get a faultless selection of dishes based on seasonal produce, matched to any wine you want, as long as it's made by Amisfield. Amisfield is best for lunch to make the most of the scenic surroundings and pose for an obligatory photo on their iconic tractor. If you do dinner, note their latest dinner bookings are at 5.30pm.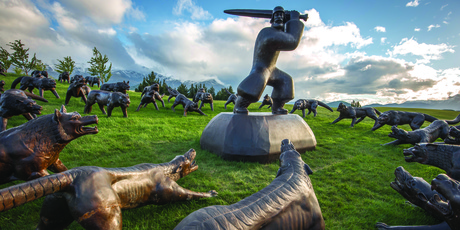 Our week in Queenstown finished with a Kathryn Wilson fashion show that was part of the Clicquot in the Snow Festival. The show was held at The Hills, the spectacular Arrowtown golf course owned by Michael Hill. The Hills, surrounded by mountains on all sides, doubles as a sculpture park with a constantly changing display of sculpture installations including the jaw dropping The Wolves are Coming by Chinese artist Liu Ruowang. The sight of a large wolf pack in bronze stone on the grassy green is unexpectedly powerful, and another incredible photo opportunity. The Hills is a private course, but golfers who book ahead are welcome to visit.