Manuel Meyer takes a close look at beautiful fish off the Spanish coast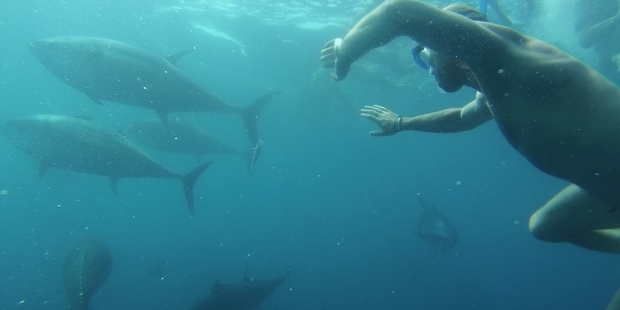 The Costa Dorada is one of the quieter classic Spanish holiday destinations, but Spain's Gold Coast offers a unique underwater experience - swimming with bluefin tuna.
"Probably one of the most exciting adventures of your life" is written in big letters on the side of the catamaran, the vessel Captain Eliseo uses to take tourists from the fishing port of L'Ametlla de Mar to one of the deep-sea pools of the Balfeo Group's tuna farm about 20 minutes off the coast.
The 50m wide and 40m deep pools give tourists the chance to see the huge, deep-sea fish up close.
The exciting part is something for every visitor to decide for themselves but it definitely is an adventure not found anywhere else in the world.
The only other place where one can swim with tuna is Australia "but there it's a much smaller species and not bluefin tuna", says Eliseo.
Bluefin tuna are giants among fish.
"Our tuna are about 2m long and weigh on average 200kg," says diving instructor Fernando from the Subko dive centre, which looks after tourists during their snorkelling adventure.
The largest bluefin ever caught was more than 4m long and weighed more than 600kg.
Helena and Antonio are snorkelling along the surface of the pool while Fernando and marine biologist Silvia lure the tuna with fish bait.
The couple from nearby Salou were planning to watch the spectacle from the boat but their sons persuaded them that the whole family had to experience the giant fish up close.
At first, all that can be seen in the deep blue Mediterranean are dark shadows flitting by. But suddenly, three large tuna hurtle to the surface to grab the bait - right next to the snorkellers.
These fish can reach speeds of up to 80km/h. One of them takes the bait just 2m from Helena.
Now more and more tuna are appearing, swimming around the tourists but never touching them.
Dozens of seagulls have also arrived on the scene, trying to grab the bait before the tuna.
"That was just incredible, sensational. Good thing that my sons persuaded me," Antonio says as he enjoys fresh tuna sashimi with Spanish wine on the trip back to the fishing harbour.
Bluefin tuna is popular in Japan where the price per kilo can reach more than US$500 ($600).
The fish actually spend most of their lives in the colder waters of the Atlantic but come to the western Mediterranean to spawn.
The Balfeo Group, which catches tuna around the Balearic Islands and then farms them in pools about 5km off the Spanish coast, is one of the largest tuna exporters.
In its eight pools the company farms about 6000 tuna, which are killed only on request and are sold as delicacies.
Getting there: Emirates flies into Barcelona from Dubai.
Online: spain.info and tuna-tour.com
- AAP