Visiting Abba museum will take a lot of money, money, money writes Peter Calder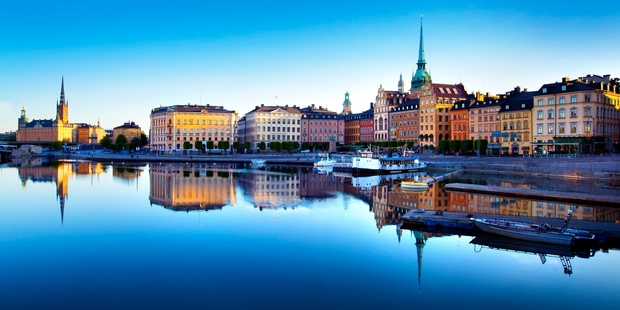 When the sun shines in Stockholm, the locals gorge themselves. For six months of the year in this, the world's fourth most northerly capital, dawn is after 8am and dusk at 2pm. In summer, by contrast, it is a land of midnight sun; even in the small hours, the sky is bright.
But by day, residents take up the most sunlit positions they can find. By chance, I arrived on the country's national day, June 6, which was a Thursday. The next day made a four-day weekend of it, and a royal wedding on the Saturday added another level of fizz and drove the women's magazines into a frenzy.
In the parks, barebacked men and women in bikinis spread blankets, and chargrilled meats on small portable barbecues to the summery soundtrack of iPods docked to chic mini-speakers.
It helps that in this handsome, orderly and faintly sterile city, there are so many green spaces. And few of them are out of sight of the water. Stockholm is built on islands - the larger Stockholm archipelago comprises about 30,000 islands.
Getting round on a bicycle is a breeze, and long rides can be cut short by judicious use of ferries.
A major attraction is the Vasa Museum, purpose-built to house the eponymous warship that capsized and sank barely 20 minutes and a nautical mile into her maiden voyage in 1628. The magnificent building, which opened in 1990, provides several levels of galleries to allow close-up inspection of the remarkably intact wreck, which was salvaged in a two-year operation in the 1960s.
The 69m-long, 52m-high ship, handsomely and sensitively restored, is an astonishing monument to the vanity of human ambition. You need not be much of a marine engineer to discern the impossibility of such a top-heavy behemoth staying upright in anything but the lightest of airs.
But the prime cultural enterprise of the serious culture vulture in Stockholm has to be the newly opened Abba Museum. Stockholmers and visitors crowd into the building, which celebrates the supergroup that is Sweden's biggest export after the Volvo. By turns bewilderingly crass and almost embarrassingly obsessive, the museum is reminiscent of nothing so much as a supersize version of a starstruck teenager's bedroom.
The tone is set in the forecourt, dominated by a large portrait of the band with the faces cut out, so you can impersonate your favourite member. Inside, you enter a gift shop where you pay the NZ$40 entrance fee, with a credit card because they don't accept cash.
In small placards displayed among the extortionately priced paraphernalia, Bjorn Ulvaeus challenges anyone to "come up with reasons to keep cash", which he seems to think is the major cause of crime.
"I can help him with that," I told the young woman who swiped my card. "I have a walletful of Swedish kronor here, and paying by card means I will incur both a card fee and an exchange-rate ripoff, so it will cost me another ten bucks. Is it even legal to refuse the coin of the realm in this country? It isn't in ours." She looked as if I had offered to talk her about haemorrhoids.
The display is possibly of interest to serious Abba nuts, of which I am not one. But a mock-up of a kitchen and of the room in an isolated lake-view cottage where Benny and Bjorn composed, seemed eerily plastic; the chance (for an extra charge) to matte your boogying self into an Abba video made a depressing experience for anyone who wanted to learn something they didn't know.
Commendably, most displays, including present-day interviews, were subtitled in English - a remarkably uncommon thing in Scandinavia. But Abbamuseet's most remarkable achievement is to take the career of a band that turned kitsch into an art form and make it kitsch again.