Donna McIntyre joins BMX champs Sarah Walker and Laura Smulders on a thrill-filled road trip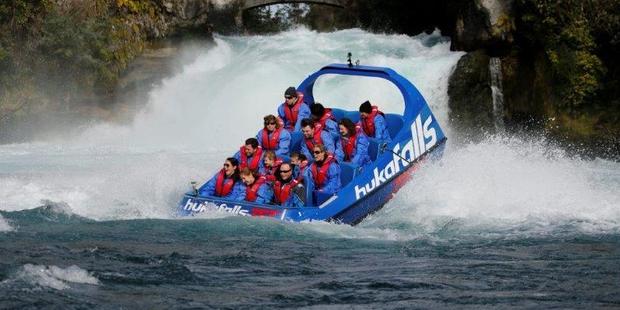 On rare time off after the BMX world champs, Sarah Walker is showing friend and rival, Dutch bronze medallist Laura Smulders some Taupo attractions.
Our Olympic silver medallist has only Sundays off training, and also has to fit in correspondence interior design studies. She says she often spends her free time on the couch, watching TV.
"We scare ourselves on the bikes; we don't need to go looking for it." But after a week away from the track action, she's seeking an adrenalin fix and Taupo is willing to deliver.
How does it feel checking into her lakefront Gables room and seeing her face on the SkyWatch magazine cover? "I don't look at it. I see myself on the Beef and Lamb ads and it's kind of like looking at someone else."
Never mind, that cover comes in handy. My teens have two requests of Sarah, one wants her autograph, the other wants her BMX bike. The autograph on the cover, yes; but not the bike!
After a lakeside breakfast, Sarah and Laura borrow mountain bikes from Great Lake Shuttles for the Orakau and K2K links of the Great Lake Trail.
"Nineteen kilometres is huge for us, our track is 300m," the pair comment.
They finish at Kinloch and grab a well-earned drink at the store. You have to wonder if these fearless athletes have any physical limits. Sarah is nursing a broken arm and bruised shoulder.
"I have some limits but only because of my injuries," she says.
"Cool views and the downhills are fun, shoulder's still hurting."
Her escapades haven't wrecked her nails, though, which are decorated in silver and black to match her medal status.
Will she return for the 160km Taupo November challenge? No hesitation. No.
L'Arte Cafe at Acacia Bay is a welcome stop for its delicious food - spaghetti bolognese for Olympians - ceramic art and furniture and the heaters that chilled and hungry Sarah and Laura make a beeline for.
Sarah says she can't start to imagine how long it would take to craft the mosaic furniture outdoors. "I really appreciate things it takes time to do."
We're heading into Taupo's DeBretts Hot Springs. Springs receptionist Debbie Lowry says the warm waters will do wonders for Sarah's injuries. She refers to a lifeguard who's feeling sorry for himself - he bruised his kidneys when he fell off his BMX, and he just missed meeting Sarah. Talk about adding insult to injury!
For our second day, it's a "big breakfast, big day," Sarah warns Laura at lakefront Dixie Brown's as they prepare for 4Play. The Taupo Bungy, Huka Falls Jet, Helipro Helicopters and Taupo Tandem Skydiving is a surprise for Laura.
But the eye-opener is that adrenalin-seeker Sarah, wearing a GoPro camera, is nervous about the bungy jump. "At least if I die, it will be mean-as footage. But I don't want to die, I like my life."
Three, two, one bungy and it's 47m down to the water. "While I was waiting to jump, I used my BMX preparation. The arm's fine, the shoulder's a bit sore."
No time to reflect on the jump or the shoulder; jetboat driver Phil Ball is waiting to deliver 360-degree spins near Huka Falls.
Sarah's verdict: "It's pretty cool going that close to the cliffs. Impressive driving." Her hair, damp from the bungy's river dip, is now soaking. Thrilled fan Bailee, who did a school project on Sarah, and brother Karston get a picture with Sarah.
Next, helicopter pilot Rachel Button takes the medallists up to 600m pointing out landmarks. She mentions guests paying thousands of dollars to stay at Huka Lodge. "Next time we come to Taupo, Laura!" Sarah promises.
Fourth on the list is a tandem sky dive. Experienced Sarah's not nervous: "I was far more scared on the bungy, the ground is much closer." First-timer Laura is quiet. "It's about time she was scared of something," says Sarah.
Sarah asks to do flips. "If you are going to jump out of a plane, you might as well do flips!"
Laura tells one of the crew the Olympics is the best thing she's done and she'll be at the 2016 Games, "and this time I'll beat Sarah," she says with a smile.
Sarah is so relaxed she almost falls asleep on the plane but she's wide awake as she jumps.
A definite thumbs up for this huge adrenalin rush.
At the other end of Lake Taupo at Pukawa Bay, the adventurous and hungry pair tuck into steaks at Oreti Resort Village's restaurant, "with a special drink of lemon lime and bitters to suit the fancy restaurant".
With one last day in the Taupo area, the medallists head to Turoa for some Sloping Off, champion style. Sarah says she has been skiing almost as long as she's been pedalling. No fear here, it's straight to the top of the mountain for some "awesome skiing".
"The Taupo experience is incredible - everything I wanted and more," is Sarah's wrap on the weekend.
Laura wants to stay longer in New Zealand but her coach says no, it's back to training.


Need to know
• GreatLakeTaupo.com
• GreatLakeshuttles.co.nz
• larte.co.nz
• gableslakefrontmotel.co.nz
• taupodebretts.co.nz
• dixiebrowns.co.nz
• fourplay.co.nz
• oretivillage.com
• visitruapehu.com


Sarah, Laura and Donna were guests of Destination Great Lake Taupo, the Gables Lakefront Motel and Oreti Resort Village.