Winston Aldworth flies CX191 from Hong Kong to Auckland.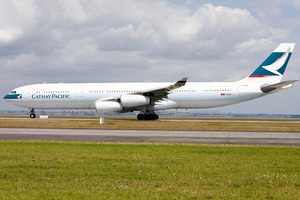 Plane: A340. Pretty much the most elegant passenger aircraft in the skies.
Class: Business.
Price: Business $5999, economy $1758 (plus taxes, $69).
On time: We lost 40 minutes waiting for a backlog of several lift-offs to clear in Hong Kong, but the pilots made it up, landing in Auckland just a couple of minutes late.
My seat: A11. Which, in Cathay's configuration between Hong Kong and Auckland, kind of means A1. I'm front left. It's the best of the lot in this business class because, thanks to the fishbone-seating, there's triangular dead space to my left. Extra storage and handy to reach. A bit tight sitting upright, but the seat folds out as an excellent bed. That's the main thing. That's everything. Biggest downside of A11 was that the guy in A12 farted a lot at the start of the trip.
Fellow passengers: Mostly snoozing Europeans (we departed at nearly 10pm HK time) in business class. A few movie watchers and Chinese business dudes banging away at laptops in economy.
How full: Chocker in business - I was very lucky the upgrade came through. One or two empties in economy.
Entertainment: I was hoping for Django Unchained, but had to settle for Arnie's Last Stand. As a massive fan of crap Arnie movies, I can tell you this sits proudly among his crappest. Cathay also has an excellent doco about the All Blacks' 2011 World Cup campaign called Weight of a Nation (I think I must have had dust or something in my eye at the final whistle). There's an excellent classical music programme, free of the regulation Four Seasons kind of stuff you expect from your airline headphones.
Service: Brilliant. They made a good fist of pronouncing my surname and kept the red wine coming while I worked. Then the cognac while I didn't. On the trip up, I was ill and Cathay's cabin staff were thoughtful and attentive. No surprise they bagged Best Cabin Staff at the 2013 World Airline Awards.
Food and drink: Get yourself a Pacific Sunrise (Champagne and Drambuie with lemon and orange zest) if you can. The meal (prawns, then pork ribs in chilli sauce, followed by cheeses and port) was excellent. Breakfast an hour or so out of Auckland was cereal and a fine omelette. They're serving Nespresso coffee - a hanging offence at sea level, but actually quite good up here.
Toilets: Spic and span, with a nice fresh flower in there. Cute touch.
Luggage: The usual.
Airport experience: Cathay's lounges in Hong Kong are, as they should be, fine places to recharge pre-flight. But only two of the three lounges have showers and noodle bars. Ask which ones and head for whichever is nearest your departure gate. Leave plenty of time to make it to your departure gate, as the airport is big. There's heaps of shopping for those without lounge access.
Would I fly this again?: Yep, this is a fine way to get to Hong Kong and back. But I'm looking forward to Cathay bringing in its refitted business class on this leg.
Winston Aldworth flew as a guest of Cathay Pacific.