In the south of Ireland, Living's restaurant reviewer Peter Calder finds fine food — and a decent cup of coffee at last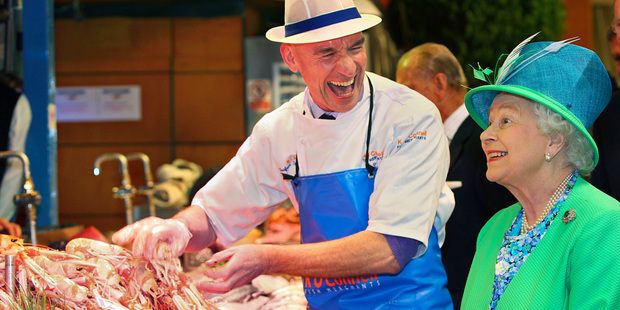 Why is good coffee so hard to find when you leave home? In my travelling experience - 44 countries at last count - only Australia and Italy can be counted on.
America is a coffee desert, a bad joke really, except in ethnic enclaves; an expensive coffee shop in the five-star Hotel du Louvre in Paris charged me €8 for eau de dishwasher, with faint notes of coal dust; the Spaniards haven't got a clue.
In the UK, order tea.
In Ireland, where I was in June, they seem reluctant to surrender the idea of instant coffee, so even the fresh-ground variety is dispensed from machines whose operators press a single button and wait. I got dizzy from turning on my heel and began to settle for Guinness.
I did find superb coffee in Cork, Ireland's second city, and the centre of some of the best eating on the Emerald Isle. In his tiny coffee shop Filter, just across the river from the top of the Grand Parade, Eoin (pronounced Owen) McCarthy offers 22 varieties of bean from all of the coffee-producer countries you've heard of and plenty you haven't.
He's mad-keen - as all the connoisseurs seem to be these days - on the soft brew that comes from drip-filtering coffee of single origin, but it was his oily espresso and creamy macchiato that gave me the hit I'd been hungering for since I left home.
Along the street - a quay really, alongside the River Lee, which laps the edges of the town centre - I try some of the vegetarian and vegan goodies at Quay Co-op, whose literature proclaims its passionate commitment to social justice and pure political principle. It's a sobering reminder that vegetarianism is not just a dietary choice, but an environmental and political one: there's oodles of evidence that the single biggest contribution any of us can make to staving off the threat of global warming is to eat less meat.
Cork, at the southern end of the country, is generally regarded as the home of good food in Ireland. I kept asking the locals why and kept getting the two-word answer Myrtle Allen (see story opposite), but even a cursory stroll around the town turns up hidden treasures. I was lucky enough to be led by Alice Coyle, who runs the local branch of Fab Food Trails that her aunt pioneered in Dublin.
The place to start is unquestionably the English Market in the middle of the town. Named to distinguish it from the farmers' market established later and a few blocks away, it is famous throughout Ireland for the range and quality of the produce on sale: Rick Stein says it's the best covered market in the UK and Ireland combined.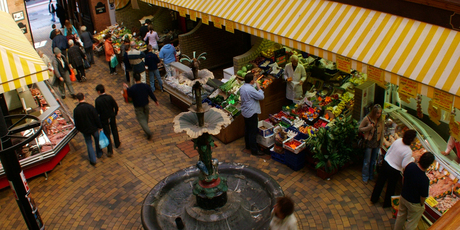 And it's not simply a tourist attraction or a place for the well-to-do to buy organic vegetables. This is where the smartest home cooks do their shopping alongside the chefs from the city's top restaurants: the menus on the best tables in town will state the provenance of their ingredients, tracing it not just to the market, but to the specific trader.
The fishmonger of choice seems to be Pat O'Connell, whose shop is named Kay O'Connell for his late mother, who established it in 1962, and who, says Pat, "is still keeping an eye on me and giving me a clip around the ear from time to time".
With a laugh as wide as his face, he presides over a 20m counter of fish and seafood, from which he gives me a freshly shucked oyster: it's much smaller than a Bluff beauty yet, as with so many Atlantic shellfish, the taste is dense and rich, perfect without the lemon he offers.
I ask him if he has ever been to New Zealand and suggest that, if he ever does, he should time it for Bluff oyster season. "When I go on holidays," he fires back, "I don't go anywhere near a fecking oyster."
Above the bustle of the market, The Farmgate Cafe is a great place to eat the local specialty known as packet and tripe: tripe with the local black pudding, called drisheen.
It's made from beef rather than the more common pork (one stall in the market sells nothing else) and it's the breakfast of champions at any time. Beware though, that the Farmgate is a daytime-only place and you won't find the dish in any local restaurant at night.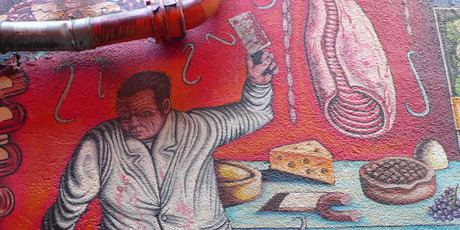 I had some pretty good meals in Cork, notably at the unprepossessing Clarion Hotel, which looks like a bus terminal but houses the divine Oysters restaurant where French chef Alex Petit does great things with
the local fish (his seafood chowder, comprising big chunks of trout, ling and halibut in a delicate veloute enlivened with cubes of a peppery sausage, is a lunchtime must).
But the most impressive seafood place I tried was in Kinsale, half an hour south, at Martin Shanahan's Fishy Fishy. Shanahan, who hosts a top-rating television show called Martin's Mad About Fish, has made it a personal mission to increase local fish consumption, subverting the traditional Catholic association of fish with penance and the prejudice against bones ("no skin, no bones, no fear" is his mantra).
And at his 150-seat restaurant, which is full on summer weekends, he turns out sublimely simple dishes. I sampled an entrée called "surf and turf", in which black pudding and prosciutto-topped scallops as big as a baby's fist which reminded me how wonderful those big Atlantic scallops can be when they haven't been frozen and flown 20,000km to the table.
It would be overselling it to say you can't move for good food in Ireland: there is still plenty of greasy pub grub and bad sandwiches. But I noticed a greater range of quality eating than I saw on my visit to the north a few years ago. And the Guinness still tastes as good.
Peter Calder explored County Cork with the assistance of Tourism Ireland and Emirates