Billy Adams visits a pub that commemorates a genocide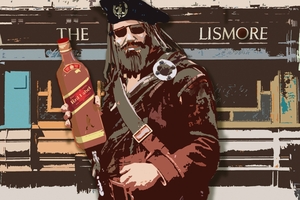 I'm in the city of the stare, home of the Glasgow Kiss.
It's a place with a reputation so hard they say the dogs walk around in pairs.
"Carrying any weapons?" asks a bouncer outside a popular Glasgow club. "No," I reply.
"All right, take this," he says, handing over a screwdriver.
Okay, that's not true. I'm pandering to a well-worn stereotype that Scotland's biggest city has struggled to shake off for years.
No mean city? Not any more, if you sample the high-end stores, galleries and restaurants that make up today's cosmopolitan facade. Reported levels of knife violence only add only a certain frisson.
Still, in a city also famed for its watering holes, my wife and I are heading to a theme pub devoted to genocide.
You'd hardly know it from the outside. The Lismore looks like the ubiquitous Glasgow pub; dark, forbidding and wary of revealing any secrets that may lie within.
You'd also hardly know it from the inside. Step in from the equally ubiquitous Glasgow rain, and you've entered a safe haven; warm and welcoming in measures only equalled by the stunning variety of whisky on sale at the bar.
Not until you visit the gents' toilet does The Lismore reveal its true self.
It's a memorial of sorts to the Highland Clearances, an infamous chapter in Scottish history when at least 170,000 clan farmers and their families were violently forced from their land to make way for sheep, which landowners believed would make them more money.
The toilet targets three of the Clearances' most notorious perpetrators, with a short bio above each urinal.
"These men took part in what is now recognised as a form of Central Government endorsed ethnic cleansing," reads a plaque.
"Through their greed and bigotry, they and others have been instrumental in destroying a centuries old Scottish Highland way of life. Please feel free to pay them the respect they are due."
The Clearances lasted 100 years in the 18th and 19th centuries, and continue to generate debate today. One man's genocide is another's economic regeneration.
But few dispute the barbaric nature of some of the clearing. The wealthy landowner who would become the first Duke of Sutherland ordered the removal of 15,000 people, many of whom are said to have starved and froze to death in the burned-out rubble of their homes.
After careful consideration, I take aim and pay appropriate respect.
Returning to the main bar, one of the locals, Andy, points out intricate stained-glass artworks depicting those horrific events.
Specifically, they focus on a family's journey from the island after which the pub is named to a new life in the kind of grim 19th-century Glasgow tenements where the pub is now located.
Outside, two names are proudly displayed - the English Lismore and the original Lios Mor of the Highland mother tongue, Gaelic.
The pub sits on the traditionally working class Dumbarton Rd, which was home for many Highland families who found work in the shipyards and factories on the nearby River Clyde.
They came to Glasgow during a century of industrial upheaval, when the city's population jumped from less than 50,000 to more than one million.
Andy says some of their descendants are regulars, although he sees none among tonight's eclectic clientele.
It's a mixed crowd, primarily because the Lismore also sits right on the fringes of the affluent West End.
The gentrified Byres Rd, historic home of the city's students and intellectuals, is only a short walk away.
A major hospital and the city's main art gallery are just down the road.
Filled with character - and characters - the thick, dark decor harks back to a bygone age of superior workmanship.
So we're surprised to learn it's only been like this since the late 1990s, when an extensive renovation rejuvenated a down-at-heel bar where one wrong look could land you in big trouble.
Andy's enjoying a wee dram - a Tobermory single malt from the Isle of Mull, just one of well over 100 different makes of whisky on offer.
"We might be famous for whisky in Scotland, but in Glasgow you won't find many pubs that serve anything other than the main brands," he says.
"Whisky is really a Highland thing, and this is one of the few places with a wide choice from the smaller distilleries that most people won't have heard of.
"If I want a taste of the Highlands, which usually happens about three times a week, this is where I come."