Winston Aldworth flies aboard Jetstar JQ259from Auckland to Christchurch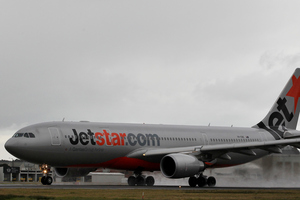 Plane: A320
Seat: 23E. Shifted into 23D
On time? Yes.
The airport experience: When boarding at gates 20-23, head up there early and turn left. There are comfy chairs and powerpoints to charge your gadgets. There's even a shower in the parenting room. Good to know if you're on a long-haul into New Zealand and transferring to fly south with little time between. Call it the Jetstar business lounge.
Service: There was an empty Jaffa packet on the floor by my seat and an empty Nicorette packet in the magazine holder. Maybe a nervous flier was here just before me. Evidently a cleaner wasn't.
Fellow passengers: This bird seats 172, though for my flight she was only three-quarters full, mostly with regular Kiwi sorts, including a massive bloke wearing a bush shirt (South Island, here we come). Half a dozen elaborately head-dressed Middle Eastern blokes join us. "It's my last ever flight," the woman next to me says. "For ages." By the time we're over Taranaki, I've had the full story of her relationship break-up and more besides.
"Hey," she leans in to ask discreetly. "Were you a bit worried when those Iraqis got on?" Er, no.
Food and drink: My neighbour insists I have her last toffee.
Entertainment: She lends me a copy of Woman's Day.
Luggage: Jetstar allows two carry-on bags, totalling 10kg. That's all you need for a weekend away.
Would I fly this again: Inevitable. It's too damn cheap to say no.