Rob McFarland finds a city of music, food and friendliness in Texas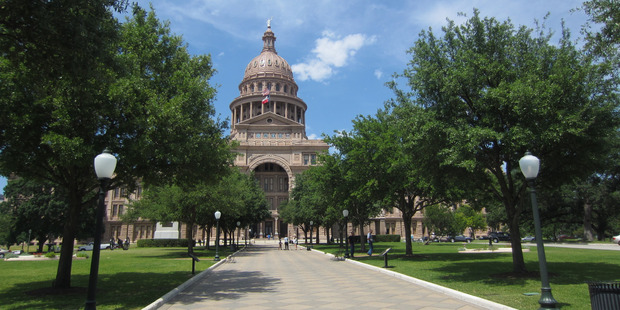 "We're like a blueberry in a sea of tomato soup," remarked one Austinite with a wry smile. It's a statement that explains a lot about this endearing little city. While most of Texas is republican and conservative, Austin is a democratic enclave; a laidback, liberal speck on the map that over the last few years has blossomed into one of the state's most appealing destinations.
This creative energy is most obviously reflected in the city's music scene. Austin has declared itself the "Live Music Capital of the World", boasting it has more live music venues per capita than anywhere else in the US. You'll find nearly 200 venues in the city, which for a population of around 800,000 is impressive.
The jewel in the city's musical crown is the Moody Theater, a 2750-seat venue that opened in February, 2011. It's the new home of Austin City Limits, the longest running music series in US history, and has already played host to an impressive range of stars including Aretha Franklin, Bruce Springsteen, Jay-Z and Coldplay. The venue is part-owned by country music legend Willie Nelson - his statue greets you outside and they've even changed the name of the street to Willie Nelson Blvd.
Two hours after arriving in town I was watching soul legend Al Green strut his stuff on stage, belting out classics like Let's Stay Together while throwing roses to an adoring crowd. It's easy to see why the venue won Pollstar's Theatre of the Year award in 2012 - no seat is more than 22 metres from the stage and allegedly you're never more than 22 steps from a bar.
If you can't catch a show, check out one of the venue's daily tours, which include backstage access and a look through two galleries of iconic music photographs.
The only downside to having 200 music venues is deciding where to start. During my visit, the Austin Chronicle had an overwhelming 18 pages of music listings. A handy resource is the CD sleeve-sized Music Guide booklet, which can be purchased from the Austin Visitors Bureau or downloaded free from their website. It breaks down venues by area and genre and even provides suggested itineraries based on your musical preferences.
The city's best known entertainment district is Sixth Street, a rowdy six-block stretch of bars, souvenir shops and tattoo parlours that is popular with tourists and undergraduates from the nearby University of Texas. Known affectionately by locals as the "dirty end", it's Austin's equivalent of London's Kings Cross.
For a more authentic, upscale feel, head west to the "other end" of Sixth Street - across Congress Ave and into the Warehouse and Market districts. Both are home to more interesting venues such as Ranch 616, a buzzy, Tex Mex-style restaurant with an eclectic decor of mounted animal heads and disco balls. In true Texas style, the portions are enormous (the T-bone steak was the size of a baseball mitt) and the drink options dangerous (try a Fire in the Hole - a shot of vodka served inside a jalapeno pepper with a beer chaser).
Next door is Rattle Inn, a popular bar and music venue part-owned by Ray Benson, front man of country music group Asleep at the Wheel. Benson often plays at the venue and it's worth a visit if only to check out the ceiling of the men's bathroom (I won't spoil the surprise).
He's not the only famous face in town. Matthew McConaughey, Sandra Bullock and Dennis Quaid all have homes in the city. Nearby are other funky venues such as Kung Fu Saloon, a bar lined with old-school arcade games, as well as a cluster of more traditional bars with spacious terraces and live music.
Over the course of my three-night stay I barely scratched the surface of Austin's music scene. One highlight was seeing a frenetic four-piece bluegrass band called the Whiskey Shivers in the upstairs bar at Lamberts. Another was watching couples twirl around the dance floor of the Continental Club on a Saturday afternoon.
There were disappointments too - a couple of the larger venues lacked atmosphere and intimacy, but overall the quality of the bands was impressively high.
While live music is Austin's biggest drawcard, there are lots of other reasons to visit.
Texas might not immediately spring to mind as a culinary destination but Austin has a remarkably vibrant food scene, including an intriguing selection of food trucks. You'll find a dozen of them clustered on a parking lot on South Congress Ave serving everything from hot dogs to fried pickles to cupcakes.
There are more traditional attractions too, such as the Bob Bullock Texas Museum, which will tell you everything you ever wanted to know about Texas (and more). Inside you'll find an entertaining presentation on the origins of the state called The Star of Destiny plus three floors of themed Texas exhibits.
There's also the imposing dome-topped State Capitol building, which is free to look around and houses two impressive paintings depicting the battles at the Alamo and San Jacinto.
Interestingly, my most enduring memory of Austin wasn't the museums or the food or even the music (although that was up there); it was the generous hospitality and unfailing courteousness of its residents.
Walk into any store, bar or restaurant and you'll be greeted with the same singsong: "How y'awl doin?" People in the city are almost exhaustingly polite, from laundrette attendants ("Here honey, let me help you with that") to lead singers ("I just wanna thank y'awl so much for comin' to see us tonight").
Once someone discovers you've visited "all the way from Noo Zeelan", you can expect a rock star's welcome. Which, coming from the Live Music Capital of the World, feels kinda neat.


Getting there: Qantas flies to Dallas/Fort Worth via Sydney. Austin is three-hour drive from Dallas.
Staying there: The Radisson Downtown enjoys great views of the river and is in walking distance of the city's major attractions. More information austintexas.org.