If the annual cheese roll in England or wife carrying competition in Finland is too boring for you, here are five very strange ones that might be worth visiting, even if it's just to tweet a pic from.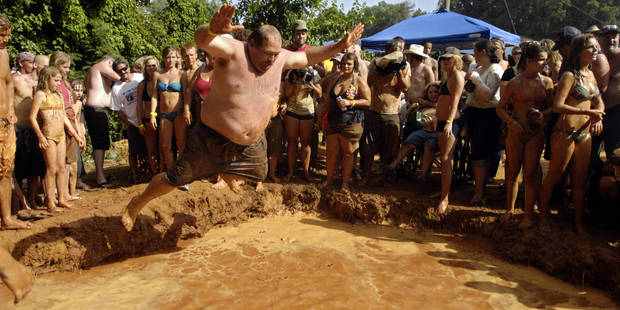 1. The Redneck Games
April - East Dublin, Georgia, USA
Taking offence at being dubbed "rednecks" during the Atlanta Olympics in 1996, a group of said rednecks got together and launched their own style of games which are sure to rival the real thing. Events include toilet seat throwing, bobbing for pig's trotters, mud pit belly flop, watermelon seed spitting and the charming armpit serenade.
2. Yorkshire Pudding Boat Race
June - Brawby, North Yorkshire
In one-metre diameter pudding boats made from flour, eggs and water, painted with layers of yacht varnish, competitors race across Bob's Pond in the village of Brawby. Special Yorkshire pudding poems and songs are recited and the race begins. Each boat uses 50 eggs, four bags of flour and 25 pints of milk.
3. Noche de Rábanos (Night of the Radishes)
December - Oaxaca, Mexico
Vegetable sellers used to carve their radishes as far back as the 16th century to sell them at the market. Now, two days before Christmas, radish growers gather for a huge radish-carving contest where abnormally large radishes are carved into elaborate sculptures including nativity scenes, Day of the Dead scenes, and even a radish version of Frida Kahlo.
4. Moose Dropping Festival
Second weekend in July - Talkeetna, Alaska
Nuggets of lacquered moose poo are numbered and punters by a raffle ticket. Then they are dropped from a hot air balloon and the piece that lands closest to the target wins a prize. This is what a small town does to bring in visitors, and so popular it's been over the years that they're having to scale the mayhem back.
5. The Baby Jumping Festival (El Colacho)
June - Northern Spain
First staged in 1620, you'd have to be a brave (or nutty) parent to allow your baby to take part. Grown men dressed as the devil (Colacho) leap over a row of babies lying on mattresses on the road. Apparently it will cleanse the babies from sin. It coincides with the Catholic feast of Corpus Christi, although the church is keen to distance itself from this bizarre event, also dubbed one of the most dangerous festivals in the world.