Winston Aldworth tastes Hong Kong's screwdriver.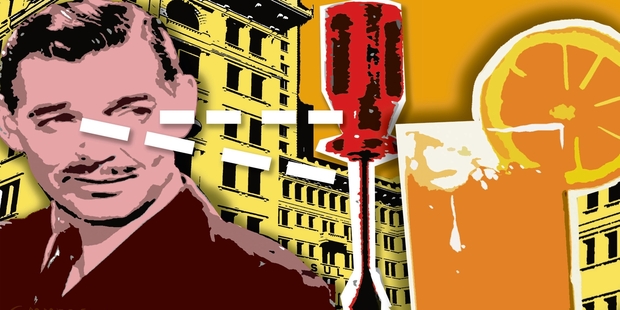 Clark Gable walks into a bar.
It was 1957 and the Hollywood star was in Hong Kong, filming a movie (the title of which no one can remember) and staying at the iconic Peninsula Hotel. He wanted a vodka and orange juice.
Inside The Bar, Gable walked straight up to the teenage kid cleaning glasses.
"Get me a screwdriver," said the star of Gone With the Wind.
The kid cleaning glasses, Johnny Chung, was on his first day in the job, having just graduated from busboy to junior bartender. Happy to help a guest no matter how strange the request, he went straight out the back and got a screwdriver.
In fact, Johnny brought Gable a whole toolkit.
"I wanted to help," Johnny tells me over a screwdriver - the kind you drink - in The Bar, the fabulous drinking lounge at the Peninsula, where dark polished wood and rich leather sets the tone for serious spirits appreciation.
Gable, who wanted the liquid screwdriver, not the Mitre 10 type, was cool about the muddle-up. He got out of his seat, walked around behind the bar and taught Johnny how to mix one. Johnny's been mixing them ever since.
"He was very easy-going, a nice man. I remember he had his handkerchief up his sleeve.
"After he had gone, somebody told me, 'That's a very famous man!"'
Johnny's head barman these days and although the ratio of grog to vitamin C sticks to the recipe imparted by Gable, the vodka is classier and the juice no longer comes in a can. They squeeze their oranges fresh each morning and use 40 per cent proof U'Luvka vodka. The ice is a ball about three-quarters the size of a tennis ball.
Screwdrivers are often served in a highball glass, but Johnny's come in a stumpy old-fashioned tumbler - it needs to, if that ice ball is going to fit.
"Before then, no one in Hong Kong knew how to make a screwdriver," he tells me.
The screwdriver is thought to have been created when American soldiers in North Africa just after World War II cheekily added vodka to cans of orange juice. Looking for something to stir the mixture, they reached into their toolkits.
Johnny has poured drinks for other big names ("William Holden - scotch and water"), but Gable's lesson in orange and vodka secured a place for Johnny and The Bar in tipple history.
Funny, then, that this is really a whisky bar, with about 100 single malts on the shelves.
Johnny runs me through the impressive collection, including a 40-year-old Highland Park and a bottle of Johnnie Walker Blue Label King George V edition that will set you back around $700. It's hard work keeping up.
Despite his brushes with fame, Johnny retains unfussy tastes. His preferred drink: vodka tonic (with Stoli) or a straightforward Johnnie Walker Red Label with chilled water. "Never ice."
No need. Johnny's cool enough.
JOHNNY'S SCREWDRIVER
4 ounces vodka
7 ounces freshly squeezed
orange juice
1 large piece of ice
Add a slice of lemon
Winston Aldworth travelled as a guest of Cathay Pacific, the Hong Kong Tourism Board and the Peninsula Hotel.