Justine Tyerman delves into the phenomenal rise of Airbnb, the holiday rental company worth an estimated $1.3 billion which began just five years ago with three airbeds on the floor.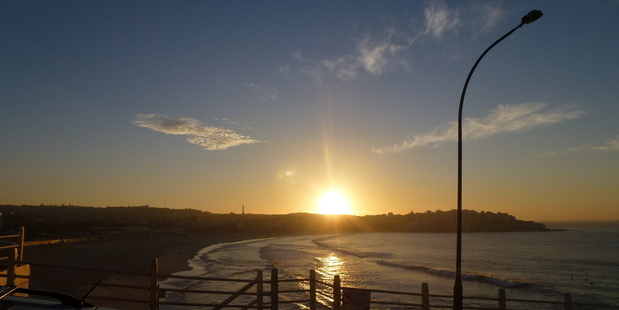 A palace in Spain, an igloo in Greenland, an aircraft in Costa Rica, a windmill in Greece or an entire island in Fiji. They are all out there for the renting. I feel almost apologetic for being so conservative as to book a beach-front apartment in Bondi when I could have rented a yacht or tree house, but with its stunning view and prime location just across the road from the Iceberg Pool complex, The Beach House ticked all the boxes and was a fraction of the price of a hotel room.
Airbnb - short for airbed, bed and breakfast - has an intriguing history. It all started in 2008 when young design graduates Joe Gebbia and Brian Chesky from San Francisco, were struggling to pay their rent.
There was a design conference coming to the city and the hotels were all fully booked, so they came up with the idea of renting out three airbeds on their living-room floor, cooking breakfast for their guests and offering themselves as tour guides. They created a website, airbedandbreakfast.com, and six days later they had three people sleeping on airbeds on their floor. They charged them $80 each a night.
As they farewelled their happy guests, they thought they might be on to something. So they enlisted Joe Gebbia's former flatmate, Nathan Blecharczyk, a computer science graduate and programmer, to develop the website.
Fast forward five years and Airbnb has moved on from its humble airbed and rent-a-couch origins to over 350,000 listings in more than 33,000 cities and 192 countries, from the quirky to the luxurious.
Worldwide, there are 11,000 villas, 4000 cabins, 500 castles, 1000 boats, 200 tree houses and even igloos and islands for rent. At the top of the Airbnb "Lap of Luxury Collection" is a ski house in Squaw Valley, California near Lake Tahoe that rents for $80,825 per month, but it's heartening to know that for a modest $13 a night, you can still rent a bunk in Tblisi, Georgia, share a couch with a cat in Vilnius, Lithuania, or hire a tent to go camping in Risor, Norway. Sadly, I couldn't find an airbed anywhere in my internet travels.
Airbnb deals with the business side of the transaction, the rent, bond, service and cleaning fee and provides a 24-hour customer support service including $1 million insurance for the host.
It doesn't cost anything for individuals to list or browse on Airbnb. Once a reservation is made, a small percentage of the booking sum is charged. Hosts pay 3 per cent, guests are charged between 6 and 12 per cent. Those transactional fees are the only revenue streams.
What the founders seem most chuffed about is the personal connections forged by Airbnb.
"When you share your space with somebody it is a personal, meaningful experience," Brian Chesky said in an interview with The Telegraph last year.
To date the company has had more than 10 million nights booked and is now so popular that every two seconds someone books an Airbnb room. The company is now reportedly worth an estimated $1.3 billion.
What appealed to me about Airbnb was the ability to negotiate a good off-season rate directly with the owner, and then meet her in person; the satisfaction of staying in a superb, spacious, fully-equipped two-bedroom, two-bathroom house for far less than a beach-front hotel room; and all the extra things for which you would normally pay a surcharge like a beach view, weekend nights, early arrival and late departure times, secure off-street parking, full laundry facilities, a sauna, wifi and basic food and household items.
My first-time hostess Jannifer liked it for the security of payment - all money is handled by Airbnb. The $1 million insurance cover for the host - just in case I found where she had hidden her Picasso, she joked.
I'm now a convert and already have my next Airbnb lined up: a villa in Elounda, Crete overlooking the Aegean Sea. I've been chatting with villa manager Nikolas for the past two months and he wants to teach us Cretan cooking and take us to a neighbourhood taverna to meet the local community. They love Kiwis in Crete.
Having been an Airbnb guest, I'm now contemplating becoming an Airbnb host and filling our empty nest with fascinating travellers from faraway lands.

* Justine Tyerman's stay at The Beach House was assisted by Airbnb.
- nzherald.co.nz