Liz Light discovers Bruges, the `Venice of the North'.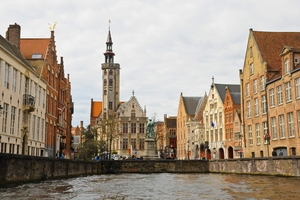 The centre of Bruges is egg-shaped, defined by a loop in a river that was turned into a watery and defendable full circle by a canal and wall. Its security, and closeness to England across the Channel, made it one of the biggest trading hubs of Europe from the 12th to the 15th centuries. Italians with products from the Mediterranean, Portuguese with Indian pepper and spices, French with grains and wines and English with wool, all traded here.
The Bruges Bourse, the world's first stock exchange, opened in 1390 and a sophisticated money market developed offering banking, money changing and maritime insurance. Manufacturing also evolved, especially spinning and weaving, making Flemish cloth famous.
By the late 1400s, Bruges had a population of 200,000 and was known for its extravagant architecture and luxurious living. Then the river silted-up and the action was over. Antwerp became the hub of the Low Countries and Bruges quietly withered away.
It wasn't important enough for either the allies or the Germans to waste bombs on.
But, after the war, when many heritage cities had been destroyed, Bruges, with its plethora of medieval and gothic buildings, became popular. Hundreds of buildings that had seen better days were snapped up and restored. Art, culture, festivals and fine dining flourished and still does today.
Buses and cars aren't allowed inside the egg. I'm on a Uniworld river and canal cruise and while the boat stays canal-side, in nearby Ghent, a bus takes us to Bruges. Uniworld has arranged for a young local guide, Brendon, to take us on a heritage walking tour.
We walk past Minnewater Lake, where locals picnic, play and canoodle on spring grass in front of a picture-perfect medieval castle. We continue through a large, wooded square covered in brilliantly golden daffodils, pass white swans cruising in canals, cross humped bridges and stroll past a dark stone monastery and a gothic church. We stop, briefly, at a heritage hospital (built in 1300 and decommissioned in 1976) that is now an arts centre. It happens to be showing a Picasso exhibition and I make a note to come back and quietly enjoy this.
At Market Square the group disperses and we have a few hours to explore. Market Square has magnificent old-world architecture but is heaving with visitors so I find cafe in a quiet street and order a cheese sandwich, which turns out to be a large, delicious baguette, and one of Belgium's 760 beers.
I could happily while away the afternoon, and sample a few more beers, but this may be the only time I visit Bruges so I head towards Picasso. En route I get sidetracked by an old lady sitting at a table in her doorway making lace, another product Bruges is famous for. Her lumpy, arthritic fingers are deftly weaving cotton spindles over and under while a lace collar grows beneath them.
There are markets to explore by the canal and superb antique shops. Steeped in thousands of years history, there is a drool-worthy selection of antique treasures.
When I eventually get to the Picasso exhibition I realise I'm foiled by time and need to return to follow Brendon through the knotted lanes, out of the egg, to the bus. Picasso will wait. Eight hundred years of living architectural history, still in mint condition, daffodils, swans and lace; all this beats Picasso.

___
Liz Light visited Bruges courtesy of Uniworld.
Uniworld's 10-day Tulips & Windmills river cruise travels between Amsterdam and Antwerp in March and April 2014.
www.uniworldcruises.co.nz.
Cathay Pacific has daily flights to Amsterdam via Hong Kong.
www.cathaypacific.co.nz