Andrew Potter flies NZ80 from Hong Kong to Auckland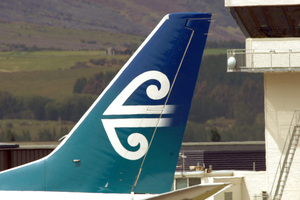 The plane: Boeing 777-200ER, the most numerous plane in Air New Zealand's long-haul fleet.
Class: Pacific, which is disappointingly only two letters towards an anagram of Cattle and only one towards Economy.
Price: 1100, as part of a return trip from London to Auckland via Kong Hong, booked on Air New Zealand's website but taking in legs with the airline's code-sharing buddies Virgin Atlantic and Cathay Pacific.
On time? Wheels up and wheels down both bang on schedule.
My seat: 45C. Comfortable aisle-dwelling, close to the toilet (but not too close) and a decent amount of space for my ample proportions.
Fellow passengers: A relaxed mixture of Chinese folk and older Kiwi couples. No reappearance of the phantom farter who terrorised my last flight on Virgin Atlantic. Big guy in front of me is reclined to the maximum most of the flight, which is annoying.
Girl by the window sleeps with her head on the tray table - can't be good for you.
How full: Pretty full. The odd empty seat is quickly gobbled up by passengers keen to extend their real estate for the next 10 hours.
Entertainment: Good selection of on-demand movies and other media via ageing seat-back entertainment console. No inflight Wi-Fi or USB plug ins on this Air New Zealand aircraft yet. I mostly read a book, Andy Summers' autobiography (Google him, kids).
The service: Seasoned flight attendants warm my Kiwi cockles by saying "smoking is a fy-ah hizzid" during safety briefing.
Food and drink: For dinner I go for spinach cannelloni washed down with Spy Valley sauvignon blanc and a couple of Steinlagers in tall, skinny cans. Enjoyable.
Toilets: Super-clean and no queuing at all, bonus. Flushing unleashes a throaty roar as the remains of those Steinlagers are blasted overboard.
Luggage: 23kg down below, another eight or nine in the overhead locker. No dramas.
The airport experience: So you can check in for your flight at the main train station in central Hong Kong and have your bags make their way to the airport independently as you squeeze in more sightseeing, how good is that?
Would I fly this again? Yis - service and Kiwi-ness on New Zealand's flag-carrier were choice.